Total Recall is a a hardcoreband from Italy. They relay make my day when I fist listen to them. They have recently been in Paris and played and now they was so kind to answer some questions from me for an interview. Mars-2022
Please tell me a little bit history of the group?
-Total Recall is a band formed by hardcore and metal veterans which are touring since more than 25 years in the scene. The band was formed because of the loss of a mutual friend who played with the band members for 20 and more years in different bands and tours. After his loss the decision was made to come back in the scene putting together a band playing music in his honor.
Please tell me a little about every member in the group right now, age, family, work, interests and something bad about everyone? Earlier bands? Other bands on the side?
-Andrea "Ronda" Rondanini is over his mid 30's and he was the singer of the post hardcore band Rise Above Dead. After living in London for several years he relocated back to Milan and he joined TR. He love metal music and horror movies.
Stefano "Stef" Anderloni is in his 40's and he always played guitars in touring bands such as K-again, Traces of You, Dying Trying and Face your Enemy. He was a really close friend of Massimo and after his loss he put up Total Recall together with Luca. He loves hard music in general mostly metal and all his subgenres we consider him a living wikipedia on this matter.
Luca "Pigo" De Simone is in his mid 40's and after living for several years in Holland he relocated to Milan. He played with Massimo for more than 20 years and considered him like a brother. After his loss he decided not to sing anymore and to play his bass in TR. He always played in touring bands such as K-again, Until we Bleed, Samaritan and Embrace Destruction. He loves metal and all his subgenres and basketball
Stefano "Bleed" Bigoni is in his mid 30's and he played in Rise Above Dead and Thunder Brigade. He joined Total Recall as he knew Massimo and a good part of the members for more than 15 years. He loves metal music but also country and blues, and he loves guitars.
Daniele "Danny" Calleri his in his 30's and he played in Mona Lisa Bay and in the last line up of Embrace Destruction. He is from Sicily but he relocated to Milan and joined TR as he toured with Massimo in Embrace Destruction. He loves metal music but also hardcore, punk and post hardcore. He is a very talented musician and he loves drums.
I can hear much different influences but mostly hardcore and metal? Favorites from the past?
-That's indeed correct. Not to mention the basic influences (considered our age) like Metallica, Slayer, Pantera and so on we would say Machine Head, Hatebreed, Korn, Will Haven, Norma Jean, Kyuss.
Total Recall are you satisfied with the name? How did it came up? Why nothing in Italian? You weren't afraid that some other band would be named like this? Which is the best bandname you know?
-Yes we are. It came up one day in the studio. We were writing the material for the first album and the sister of Massimo was there too. She told us that the first movie she ever saw in a movie teather was Total Recall and Massimo took here there. It was a vivid and nice memory of him. Then to us Total Recall sounded perfect as a band name and the resti s history. We never used Italian in any of our bands since 1998. We didn't make any research about Total Recall names, probably there are other bands named like this….we can only say "Hey you choose a great name for your band". Best band name we would not know, but best title of a song ever was from a support band during one of our tours and it was Boiled in your own Piss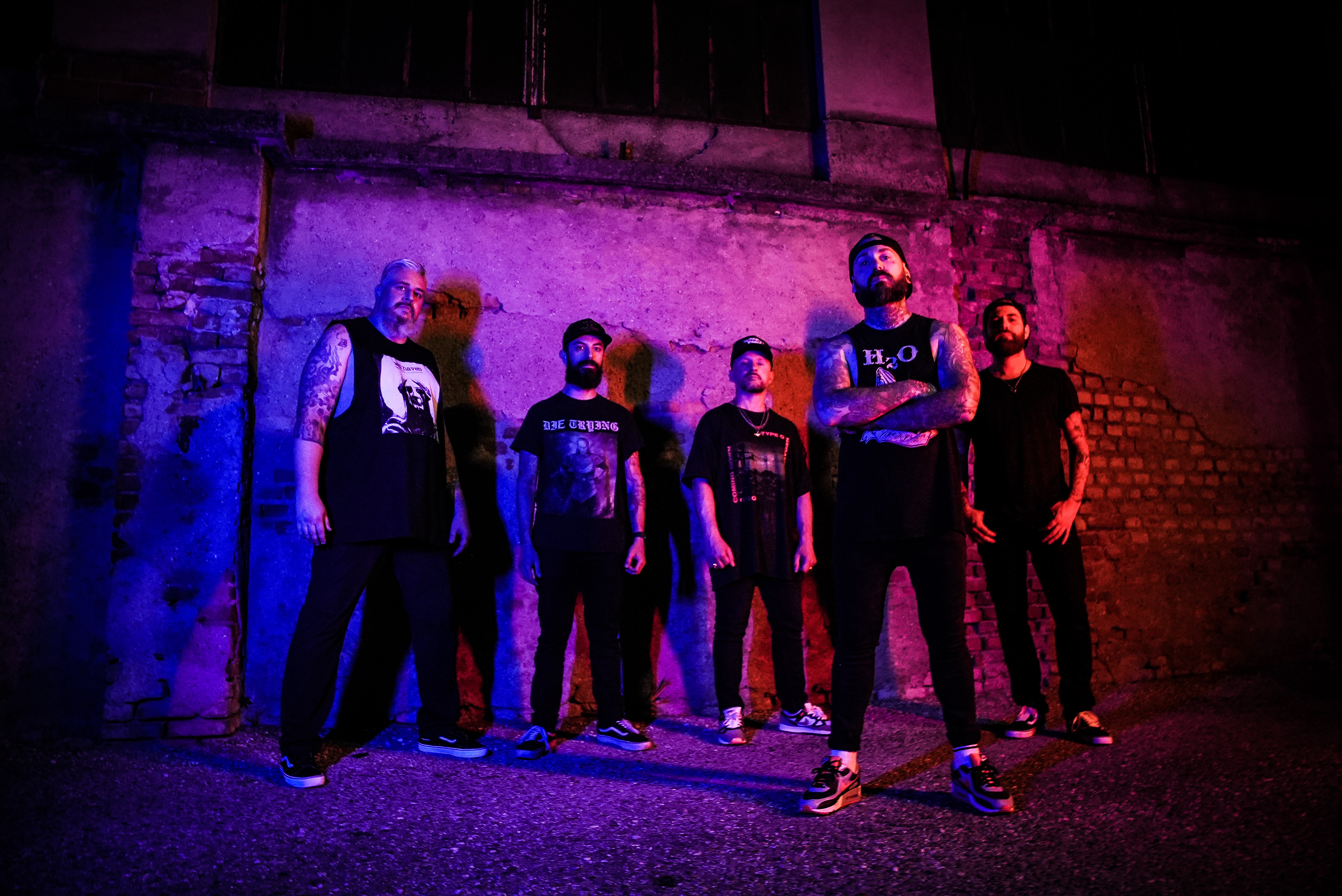 What´s the best thing with playing live? Have you done any since the covid came? What is your strength live
-The best thing is the connection you make with the audience and the feeling that you have when you are on a stage. When the covid was at it´s peak we played no shows, now since last year we are starting to catch up. Our strength is being ourselves. What you see is what you get. We do not put up an act we just come up on stage with the intent of giving you something to remember.
And where is best to play? And the worst place? Or is always a gig good?
-One of the best countries to play are for sure Germany, Holland, Belgium, Czech Republic. But I also have really good memories of the Swedish part of the tour I made with Samaritan and First Blood about 15 years ago (Pigo). There are no worst places, a gig is a gig, travel across Europe and not only to play your music and visit new places is what count the most.
How is to play this sort of music in Italy right now? Which types of bands do you have concerts together with?
-Not really good. It never have been. This type of aggressive low tuned hardcore metal never was a thing in our country. But we do not really care. We still play all the shows we can in Italy and we enjoy them very much, and we share stage with all sort of bands from punk to classic metal to hardcore and crust. We find this inclusive and we like it.
How would you describe your music in three words to people who never have heard you?
-Aggressive emotional and loud
What does punk mean to you, is it only a word or is it a lifestyle? Have it changed through the years?
-We hope it's a lifestyle more than music. Probably it changed like allot of other genres but the fact that is still there means that it was not fashion.
Which song/album or group was it who took you into punk/hardcore/metal and to play yourself?
-Metallica, Slayer and Anthrax back in early mid 80's.
What shall a young guy do today to shock their parents as the way we did when we were young? They have already seen everything ;-)?
-They already do. They disconnect from real life and loose themselves into tablets and telephones. The kids of nowaday are like the junkies in the 80's. If you look carefully they even have the same facial expression. I guess its pretty shocking for their parents
How is it to live in Italy right now? Politically? Fascists? And is is sorrow in all the country today because of the defeat yesterday in the qualification to World Cup?
-We never talked about politics as a choice even though we have pretty clear ideas. To live in Italy was tough since 1947 and it still is. We are moving forward to a more inclusive way of thinking and this is a good thing that new generations need to cherish. It's the second time we do not qualify….we are pretty used to.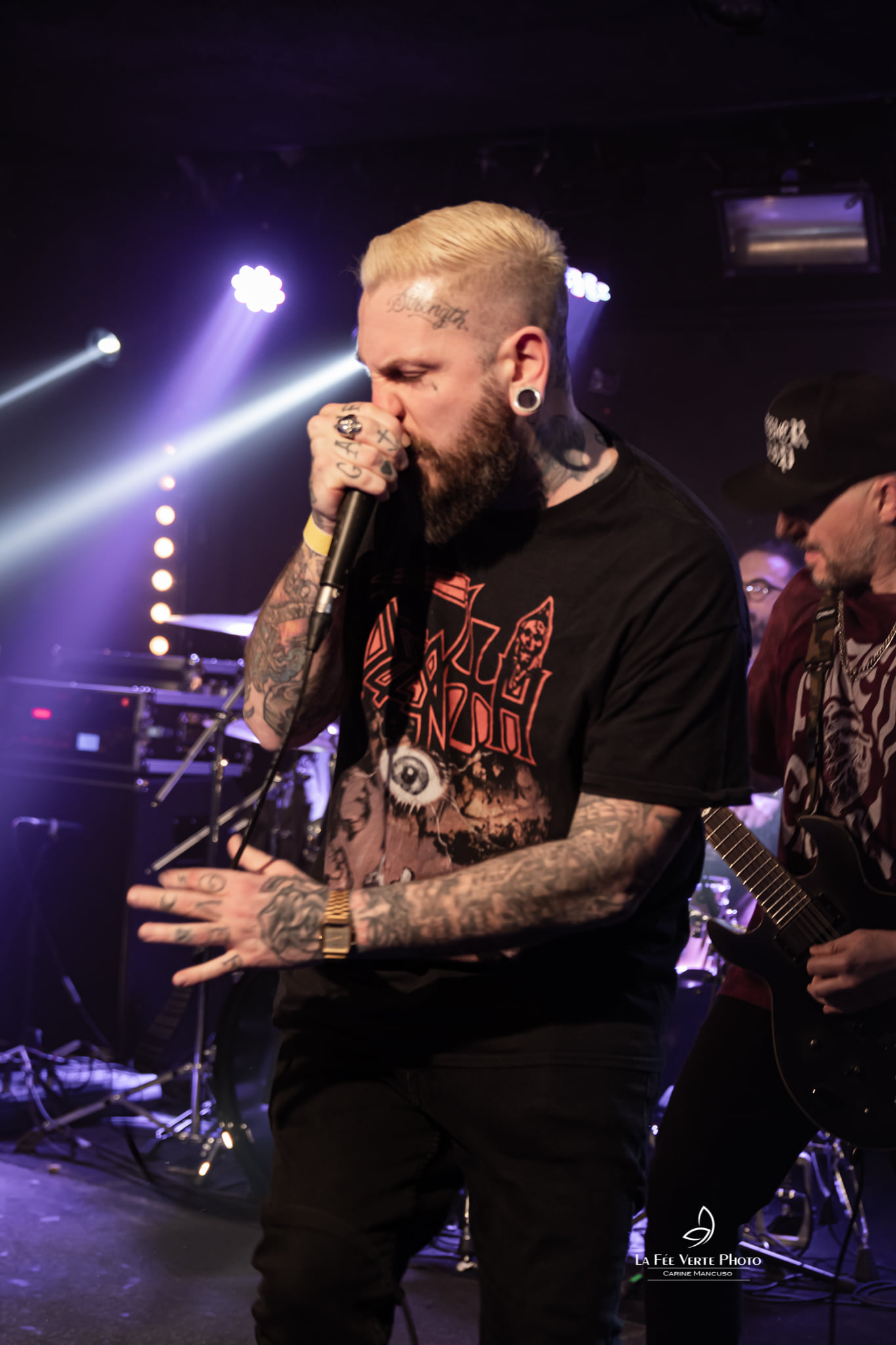 Is there any good bands from Italy right now? Is the punkscene/ metalscene /hardcorescene big? How is it in your hometown?
-In Italy the punk hardcore scene is pretty solid, the metal scene is coming a bit back. We think there are lots of really talented bands that should try to play more shows outside of the country.
What do you know about Sweden? Have you been here sometime? What is typical Swedish?
-Not much. I (Pigo) played couple of shows in Sweden during a tour in 2007 and I really liked it. People were really friendly and polite, never too intrusive. I was shocked when I saw some fans coming over for a Samaritan festival in Holland all the way from Sweden cause they liked us there. It was genuine passion it impressed me. We do not know what is typical Swedish, we hope you do not need to carry the weight of stereotypes like we do. You know…Pizza…Mandolino….weird english accent and so on.
Have you heard any good bands from Sweden?
-Refused,At the Gates, Meshuggah, we could already stop here don't you think? Fact is that there are many more. You need to cherish your scene and the fact that your bands go international.
Your lyrics, who does them and what influences you? Never in italian? You didn´t have a lyric sheet in your record?
-Andy writes all the lyrics and they are really introspective. We never wrote in italian, lyrically it does not fit. We did not put any lyrics in the record its a choice Andy made and we stand by it.
Please tell me a little about the following songs
-Never again(how did you dare to name a song like this if you think about that Discharge have done it)
There are millions of titles that are repeated over and over by millions of bands. As for the name of the band we never look around to see if someone else has the same title when we name a song
-Knife-cut brain
Making a carpaccio of brain is what society is doing since decades, and they are doing a pretty good job on the masses. We still hope people will wake up sooner or later.
-Zeitgeist paradise
Disinformation and mass media manipulation is the most powerful weapon to control the masses.
Is there any subject that you never will write anything about? Or isn´t anything sacred?
-Politics.
Politic and music, does it goes hand in hand? Which is your most political song? Is it important to get out your opinions in music? Or is it OK to play music and not sing about politics?
-We think that politics are obsolete cause they are polluted by the elite. We believe more in a common human conscience about inclusivity, respect, freedom and equality. We are billions they are a few.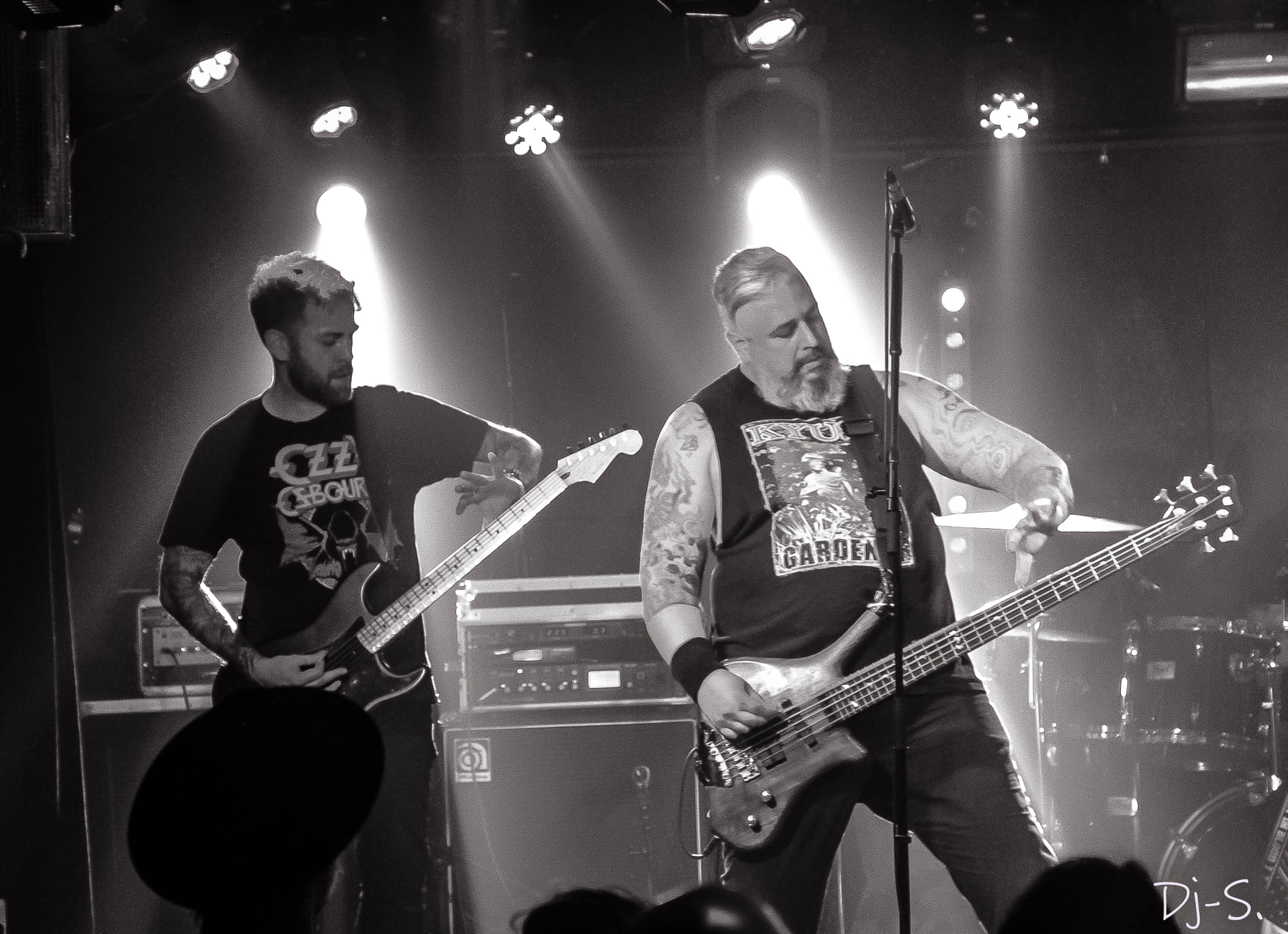 Best political band/artist?
-We like bands who talk about society and how media are manipulating the masses.
Do you think that music(lyrics and so on) can change anyones life, I mean people who listens to music? Do you have any example?
-When I was in Embrace Destruction we had a definite message of freedom to share, and we received several messages from many parts of the world thanking us for what some people said were informative lyrics. (Pigo)
Your favorite recordcover alltime? Who does your recordcovers? And do you have any good recordstores in your hometown?
-We cannot answer this one. There are way too many. Our record cover is a rip off from Carcass's Surgical Steel and his made with all the tool that Massimo used in his work. H e was a carpenter. Milan was full of great record stores. Lockdowns killed them one after the other. It's a real shame.
Is it important to get out physical records of your stuff? Why or why not? Vinyl, CD, cassette, what do you prefer if you could choose whatever ? The latest record came it on vinyl too?
-Yes it is. We come from an analogic era, we are still attached to the physical product. We love Vinyls, also for the quality of the sound. We did not print our album in Vinyl yet, our record label decided to do a first print in CD, we are still confident to make a second print in Vinyl before the second album will be released.
Please tell me a funny thing which have happened during your career and under some gig?
-Oh man…..we have been touring since 1999…..we have so many. Once in swden the guitar player was wearing some weird hat on stage and he went on fire. It was fun to have the feeling of what Metallica can see when they put on the special effects on stage. We put out the flames with orange juice, the rest of the show was pretty sticky.
How does your audience look like? Which people do you miss on your concerts? Which is the biggest band you ever have played together with?
-They look nice, but we miss young kids at the show. Millenials do not go to shows anymore but hey…long live the old ones. With TR due the Covid we did not played many shows yet so we do not have a big name, but with the previous bands we shared the stage with several like Walls of Jericho, Parkway Drive, First Blood, Sick of it All, Madball, Amen Ra, Aborted, Merauder, Hatesphere, Caliban, Napalm Death and many more.
Please rank your five favoriterecords, five favoriteconcerts and five most important things in life?
(replied by Pigo)
Machine Head – Burn my Eyes
Hatebreed – Perseverance
Korn – Korn
Will Haven – Carpe Diem
Norma Jean – Bless the Martyr and Kiss the Child
Machine Head
Korn
Metallica
Hatebreed
Pantera
Family
Friendship
Freedom
Health
Love
First, last and most expensive record ever bought?
-Duran Duran – Rio
Frank Sinatra – The Best of
Yann Tiersen – Kerber
Is it boring with interviews? Is it much interviews?
-No it´s never boring. We do quiet a few, also thanks to our agency.
Do you care about reviews? Which is the most peculiar you ever had, with this band or any other band you have been to? Have you ever changed anything after a bad review?
-No we don't really care. When you put out an album it's not your anymore and people can think what they want about your music. You need to make the music you like, not the music you think others will like.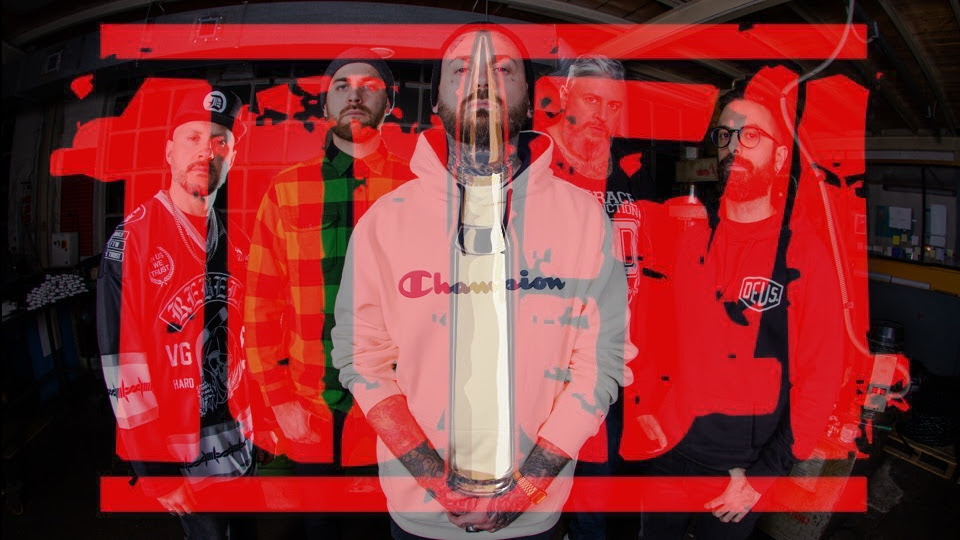 Which bands do people compare you to, is it boring that people compare you to other bands or is it understandable?
-It is totally understandable. Lately they compare us to Knocked Loose, Bodysnatcher, Kublai Khan, all bands that we also listen to.
If you could choose five bands from the past and the history and nowadays and both dead and living bands to have a concert together with your band. Which five have you been chosen?
-MC5
Iggy and the Stooges
NWA
Anthrax
Soundgarden
Is music a good way to get out frustration and become a nicer person outside the music??
-We think that music can heal. To us it was a great help in life in general.
Which is the most odd question you ever have got in an interview?(Except this one)
-Does Pinapple belong with Pizza? Our reply was a strong no.
Which is the question you want to have but you never get. Please ask it and answer it?
-Mango? Why Mango? It´s good for your skin, its good for your health….obviously if you eat it is better.
Futureplans for the band?
-More shows, short runs tour , and to finish writing the new material for the new album. After 2 years of almost nothing we cannot wait to get busy and busier.
For yourself?
-Remain together as a band and as friends.
Wisdomword?
-Carry on, never give up in general and not only in music. Believe us…it's worth it!
Something to add?
-Always Together. It's more than a record.
One more question…. beerfavorite sort? If you did a beer which sort would it be and what have it been called?
-Non filtrata. Its super fresh and with tiny bitter taste that make you enjoy the sun even better.
TOTAL RECALL HC
"WOODEN SCARS" - EP 2020 Out Now
"ALWAYS TOGETHER" - FL 2021 Out Now
LINKTREE: https://linktr.ee/totalrecallhc