Tiger Rouge release a 10 inch record on Wolverine a while ago. Their punkrock really made me like them. Here´s an interview with the group done in April 2022
Please tell me a little bit history of the group?
Evil_B:
Tiger Rouge formed in 2019 by Elmex Dead Cat and myself, with a different drummer at the time. The ways have then but relatively quickly separated again and Mo came along.
Since then we play in the lineup. We could then 2019 & early 2020 still play a few shows before Corona has shut everything down. The time was then used for the recordings and label search.
The label was quickly found it should be Wolverine Records with now 30 years of experience just right for us.
In 2021 it was still relatively quiet due to Corona with the shows, but we continued to rehearse and write more songs to record more albums.
On 01.04.22 the 10 "vinyl will finally be released and the day after there will be the record release show.

Please tell me a little about every member in the group right now, age, family, work, interests and something bad about everyone? Earlier bands? Other bands on the side?
Evil_B:
The thing is that as you get older you need different things. That's why the band members were chosen according to their jobs and not according to talent ;-) Elmex is an optician - sooner or later it happens to everyone, Dead Cat works as a dental technician, Mo is a trained carpenter and I work as a supervisor in logistics.
If I had to say something bad about the others, it would be the following things:
Elmex always tries to get the best out of the sound and sometimes drives the others crazy. e.g. I have a different amp with me today, oh Evil, I also installed different tubes in your amp, could something sound funny now etc.?
Mo could be a little less chaotic.
Dead Cat could decide more, play less Switzerland and stay neutral
and I...I´am just perfect without mistakes ;-)
Okay fun, sometimes I should really play the new songs more at home and not only in the rehearsal room.
Let's move on to the bands:
Elmex has played with Cobra Jim, Narcotic Nurses, Lazy Riots and some others. Currently he still plays with Dead Dates and Invaders from Venus.
Mo has played with Heisenberg FX, The Abberations and many other projects as a touring drummer. He currently plays with the Input Kinks and has helped the Abberations out with a few live shows.
Dead Cat has played bass for CBB, The Imploders and the GTO's among others. He has no other bands besides Tiger Rouge.
I was active in bands like Kein Plan, Angels Poetry, The Lazy Bombs and some other projects. There is no other band besides Tiger Rouge, but I still work as a DJ on some weekends and take care of the booking and social media stuff for the band.<![if !supportLineBreakNewLine]>
<![endif]>
I can hear much different influences but mostly punk? I hear Misfits and Godfathers in the same time… Favorites from the past?
Evil B:
Personally I listen to a lot of punk, but also metal and way up there are also bands like Gluecifer, The Hellacopters, Backyard Babies Turbonegro, Social Distortion...and so on. Of course, this has a certain influence on our sound, but Elmex also likes to listen to Iron Maiden or ACDC.
Elmex:
Yes, and when it comes to punk music, "The Adolescents" and "Social D." influenced me the most.
Tiger Rogue are you satisfied with the name? How did it came up? You weren't afraid that some other band would be named like this? Which is the best bandname you know?
Evil B:
We are happy with the band name, otherwise we would have looked further and taken another one.
We came up with the name when the band had been in its current line-up for just one month and we were looking for a name.
Dead Cat came to the rehearsal from work in the lab and had the name with him, I think he read it on some ampule.
But we were all quite quickly enthusiastic, we quickly looked to see if there was already a band with the name. No, so we gave it to him.
That's the whole story behind it.
Sure, we could say that the Tiger Rouge is the counterpart to the Moulin Rouge. We used to stop there on our old tours and as a homage to the Tiger Rouge in Bankog, that will now be our band name.
Puhhh, the best band name... Tiger Rouge of course ;-)
What´s the best thing with playing live? Are you playing any covers when you play?
Evil B:
For me, one of the best things about playing live is interacting with the audience and testing out which songs go down well or where we can improve. So far we don't have any covers in our set, but they can still come.
And where is best to play? And the worst place?
Evil B:
The best concerts I've had so far were at the Pitcher and at AK47 Düsseldorf.
There are always people there and you are always seen as a band and treated very well.
One of the worst venues was with my old band The Lazy Bombs, I don't know the name anymore.But it was an old factory ruin with a small hut and a generator for the electricity that was always out. The sleeping places were also in this "lost place" without glass in the windows and with damp mattresses.
Elmex:
Best Club was Pitcher in Düsseldorf or the Bla in Bonn, worst was Route 66 in Düsseldorf
How is to play this sort of music in Germany right now? Which types of bands do you have concerts together with?
Evil B:
In Germany there is a relatively good and big scene for punk rock music. Especially Düsseldorf is one of the origin cities of punk in Germany.
So far we have played more with local bands like the Jelly Janes, The Anchor Brakes, The Pighounds, Thin Lassie, and others.
How would you describe your music in three words to people who never have heard you?
Evil B: sarcastic lyrics, dirty and rough sound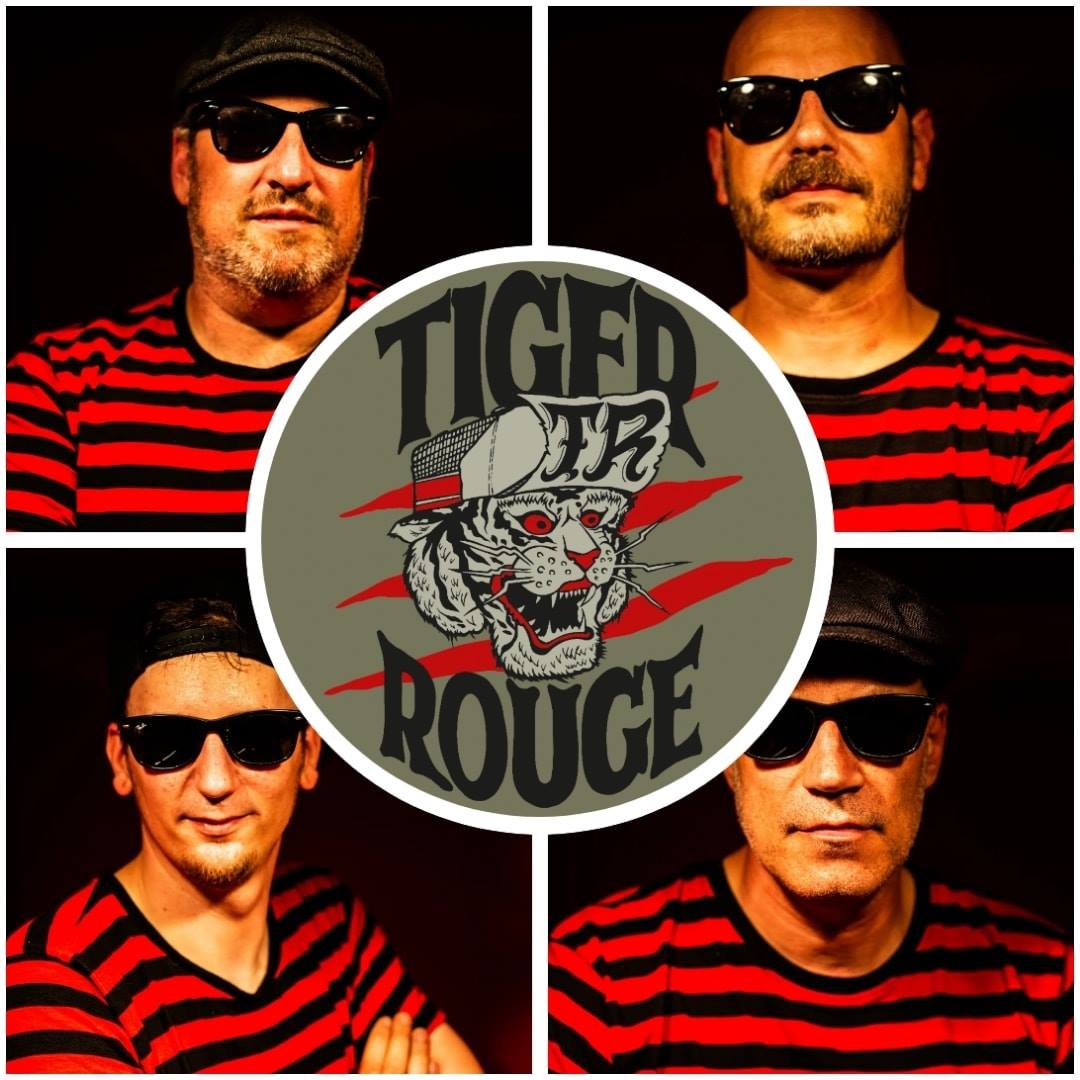 What does punk mean to you, is it only a word or is it a lifestyle? Have it changed through the years?
Evil B:
For me, punk means an attitude to life that is not tied to outward features. It's the attitude you have, it's not about the biggest mohawk, the most broken jeans, not working or something like that.
It's about pointing out injustice, educating people, being against it and not always conforming.
One of the best descriptions is "Sometimes antisocial but always antifascist".
I think a lot of things change over the years, even if it's just the outward appearance, but that doesn't change the opinion and attitude.<![if !supportLineBreakNewLine]>
<![endif]>
Which song/album or group was it who took you into punk/hardcore?
Evil B:
For me, it started relatively early with rock and metal. Guns N Roses' Appetite for Destruction was my introduction to guitar music back then. I was about 10 years old.
As I said before, Düsseldorf was one of the main punk cities in Germany, so you couldn't get past the music of the Toten Hosen, Male and other "old" punk bands. And that quickly led to the Ramones, The Clash, Sex Pistols and Social Distortion.
Elmex:
Maybe Punk in Drublic by NoFX
What shall a young guy do today to shock their parents as the way we did when we were young? They have already seen everything ;-)? Or isn´t it necessary to shock your parents?
Elmex:
To shock your parents these days, all you have to do is wear Dsquared or Camp David, be totally tattooed, and then you have to listen to German Schlager Music and finish your studies at the age of 22.
How is it to live in Germany right now? Politically? Fascists? What do the german government says about the war in Ukraina?
Evil B:
At the moment it's very exhausting to live in Germany, because I have the feeling that people are getting stupider and stupider. It started very badly with Covid and the anti-vaccination activists, who often come from the right-wing spectrum and whose presence also carries away normal people. And when people thought it couldn't get any worse, the war in Ukraine started. Exactly those people who think there is no Covid and I don't need to be vaccinated are now pro-Putin. And think there is no war...everything is just to confuse the issue of covid.
No matter how, I see it as my task to show these people that they are wrong and that it is not the opinion of the "Germans" as they like to portray it.
We as a band are against this war and at our last show at the Pitcher we collected donations to support an organisation to help in the Ukrain.
our government at least sees it similarly and also condemns the war in the strongest possible terms<![if !supportLineBreakNewLine]>
<![endif]>
Is there any good bands from Germany right now? Is the punkscene/metalscene/hardcorescene big? How is it in your hometown?
Evil B:
We have many good bands in Germany and especially from Düsseldorf that have done a lot for music in Germany, especially for the punk rock scene: Toten Hosen, Broilers, ZK, Male later the Krupps - all bands from Düsseldorf.
Other bands, to name just the biggest ones, are Beatsteaks, Die Ärzte, Donots and Ramstein.
The scene in Germany is great, no matter if it's punk, metal or hardcore, in every city there will soon be small clubs where bands can play or the big festivals Rock am Ring / Rock im Park, Ruhrpott Rodeo, Wacken etc.

What do you know about Sweden? Have you been here sometime? What is typical Swedish? And what is typical german?
Evil B:
I've never been to Sweden, but I'd love to go there. Just because of the landscape and especially because of the great music scene. The Sweden Rock festival, for example, would be something I would like to visit.
Mhhh typical Swedish...Red wooden houses at blue lakes and Ikea ;-)
Typically German always complaining, not being satisfied with anything and working hard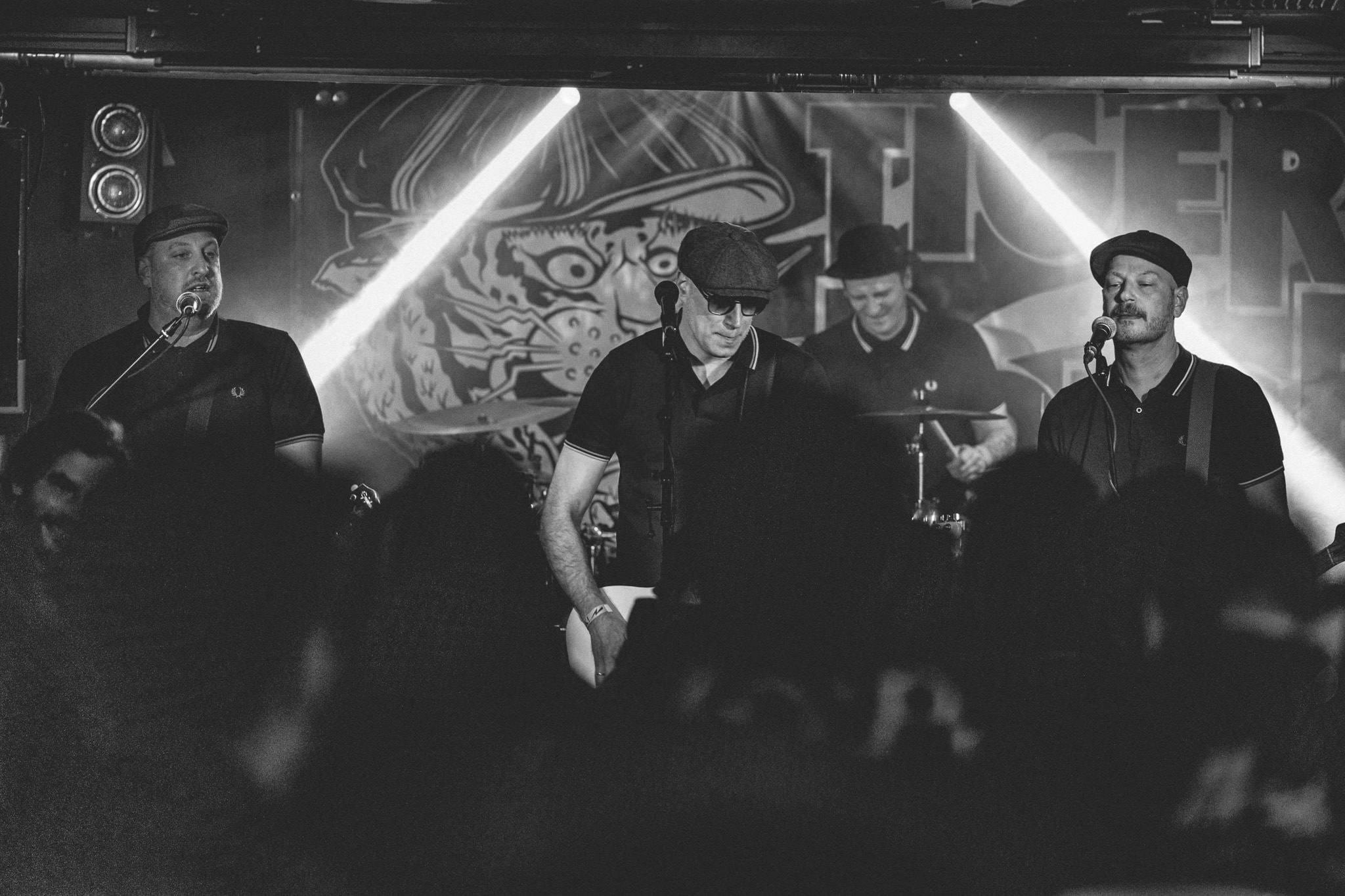 Have you heard any good bands from Sweden?
Evil B:
ABBA, that was the answer you wanted, wasn't it ;-)
I am an absolute fan of Swedish / Scandinavian bands. I'm currently waiting to finally get the new Hellacopters album. Otherwise Chuck Norris Experiment, who are also good friends of mine. Backyard Babies, The Hives, Millencolin The Bones to name a few. There are so many good bands from the Scandinavian countries that it would be too much to list them all.
Elmex:
I love "Royal Republic" and "The imperial state electric"
Your lyrics, who does them and what influences you? Never in german? Please tell me a little about the following songs
Elmex:
I wrote all the Lyrics. They are mostly about love, sex, violence and addiction. When you lead a boring working-class life, as I do, you long for these adventures.
-Punkrock in emajor
About a Pop Punk Band ( or maybe us?), waiting for the beginning of their show
-You reap what you sow
Violence against a child and some kind of consequences
-Play with me
S&M Games
Is there any subject that you never will write anything about? Or isn´t anything sacred?
Elmex:
About sports cars
Politic and music, does it goes hand in hand? Which is your most political song? Is it important to get out your opinions in music? Or is it OK to play music and not sing about politics?
Evil B:
I think that music and politics are connected. At least it depends on the music you make. With chart music I don't expect a political statement, its just made for the masses and not aimed at a special crowd.
We don't have a political song (yet), but it doesn't have to be in the songs. It is more important to reach the audience at the live shows through announcements and actions or to take a clear stand in interviews and actions.
Best political band/artist?
Evil B:
I can't say who is the best here.
Everyone who stands up for change or against racism, war and injustice is one of them.
Elmex :
The Adolescents
Do you think that music(lyrics and so on) can change anyones life, I mean people who listens to music? Do you have any example?
Evil B:
Music and especially the lyrics can influence people positively as well as negatively. It always depends on the mood and how a person consumes music.
Music can have a very emotional effect and also animate people to think and lead them through difficult times and changes.
I myself associate many beautiful memories with music and individual songs.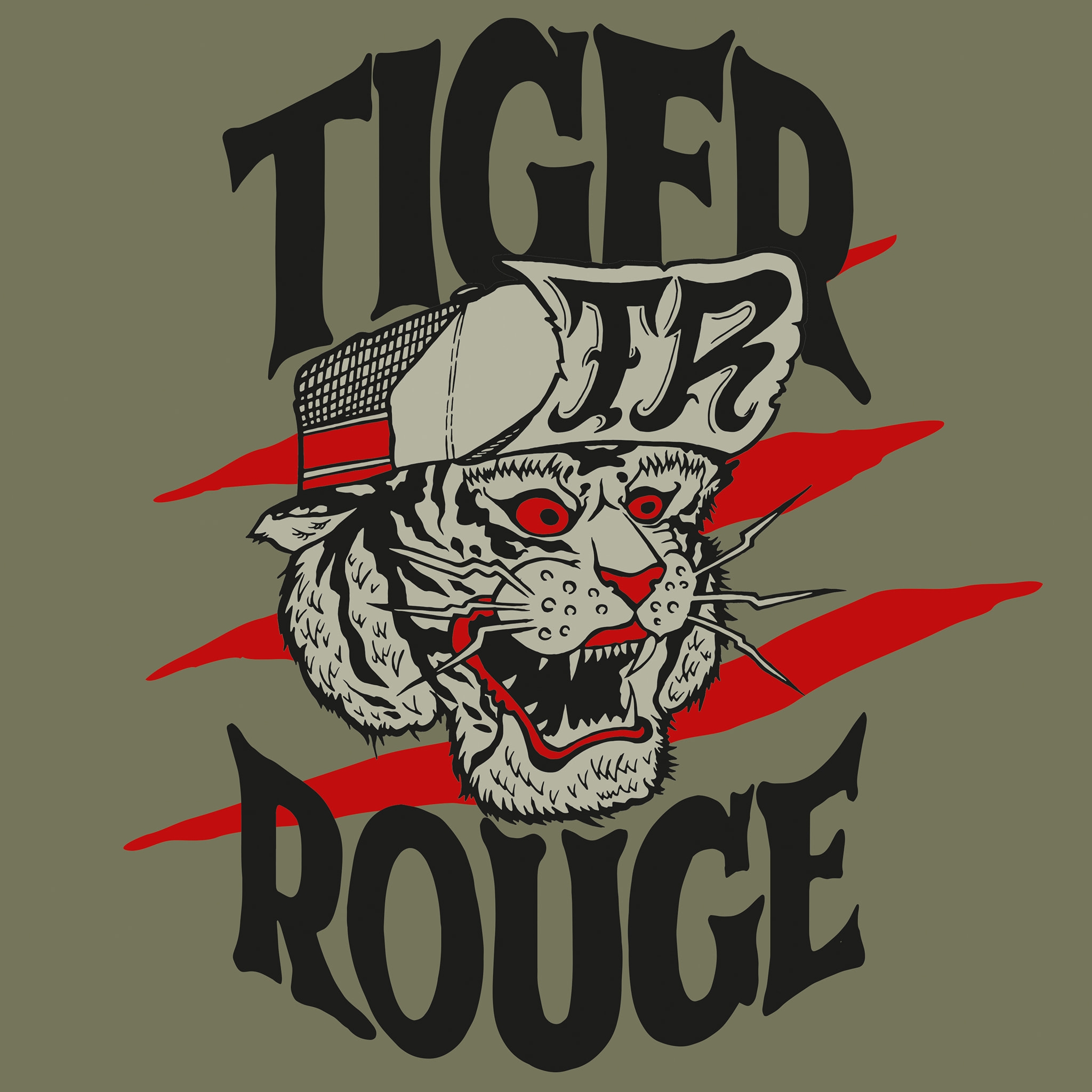 Your favorite recordcover alltime? Who does your recordcovers? And do you have any good recordstores in your hometown? Are you buyng records yourself? Evil B:
Again, there are so many good record coves, I can't decide on one.
Our cover and all graphics are made by a friend of us. He is a selfemployed graphic designer with his company "graphicstube" and also plays in a punk rock band in Düsseldorf. "Yps" is a really nice guy.
We have a few good record shops here in Düsseldorf, for example Hitsville records, which has been around for as long as I can remember. I've been buying my vinyl there since I was a teenager.
Or the Rainking Recordstore, to name just two.
I myself buy everything I can get on vinyl, I just love to put the record on the player and hear the crackling and the sound of the vinyl.
Elmex:
"Iron Maiden Killers" is my all time favourite record cover.
Of course, we also listen to records and buy them. The last record I bought was the new Tiger Rouge.
Is it important to get out physical records of your stuff? Why or why not? Vinyl, CD, cassette, what do you prefer if you could choose whatever Is 10 inch the best to do?
Evil B:
I want to have everything from my bands on vinyl or CD. I like to have something in my hand that is personalised with love. All this streaming stuff is handy when you're driving in the car or to reach a lot of listeners quickly, but it's no competition to a vinyl or CD.
Why 10 inch...for a 7inch there would be too many songs and for a 12inch not enough that we recorded. So simple it is.
Please tell me a funny thing which have happened during your career and under some gig? With this band or some other band you have been tp?
Evil B:
I remember a moment with the Lazy Bombs at a gig. We were in the middle of a song at a festival, suddenly all you could hear was an indefinable noise and a clang from the drums.I turned around and didn't see our drummer anymore. He slipped off the drum platform with his stool while playing and took half the drum kit with him.
So we quickly improvised on the stage until he has rebuilt everything and the set went on... He claims to this day that it didn't happen, so I blame it on the booze...
How does your audience look like? Which people do you miss on your concerts? Which is the biggest band you ever have played together with?
Evil B:
our audience is mixed, there is the punk with the mohawk but also the rockabilly girl or the guy in the suit. Today you can no longer define it by outward appearances.
Personally, it was a festival where I played with the Lazy Bombs and also Lagwagon played there.
Please rank your five favoriterecords, five favoriteconcerts and five most important things in life?
Evil B:
Favorite records:
<![if !supportLists]> 1. <![endif]> Hellacopters – By the Grace of God
<![if !supportLists]> 2. <![endif]> Backyard Babies – Total 13
<![if !supportLists]> 3. <![endif]> Social Distortion – White light, white Trash, white heat
<![if !supportLists]> 4. <![endif]> Toten Hosen – Damenwahl
<![if !supportLists]> 5. <![endif]> Gluecifer – Automatic Thrill
Favorite Concerts:
<![if !supportLists]> 1. <![endif]> Sepultura 1996 Düsseldorf Stahlwerk
<![if !supportLists]> 2. <![endif]> Turbonegro 1998 Düsseldorf AK47
<![if !supportLists]> 3. <![endif]> Sjock Festival Belgium – every Year 😉
<![if !supportLists]> 4. <![endif]> Toten Hosen 1993 – Philipshalle Düsseldorf
<![if !supportLists]> 5. <![endif]> Skunk Anansie – Cologne must be 2012
Things in life:
<![if !supportLists]> 1. <![endif]> My Kids
<![if !supportLists]> 2. <![endif]> Playing live Shows
<![if !supportLists]> 3. <![endif]> Hearing Music
<![if !supportLists]> 4. <![endif]> Go to live Shows
<![if !supportLists]> 5. <![endif]> Everything else 😉
First, last and most expensive record ever bought?
Evil B:
First record: Iron Maiden – No prayer for the Dying / Vinyl
Last record: Hellacopters – Eyes of Oblivion / Vinyl
Expensive record: Hellacopters – By the Grace of God 1st pressing / Vinyl approx 200 Euro
Is it boring with interviews? Is it much interviews? What do you prefer, liveinterviews or like this via email so you can think after before you say things?
Evil B:
I prefer live interviews, because you can interact more quickly and immediately react to an answer that is given. There is a better flow in live interviews.
Do you care about reviews? Which is the most peculiar you ever had, with this band or any other band you have been to? Have you ever changed anything after a bad review?
Evil B:
I have received both good and bad reviews with all my previous bands. With bad reviews it always depends on whether it is constructive criticism or the writer is having a bad day or doesn't listen to this kind of music himself and has no connection with it.
Which bands do people compare you to, is it boring that people compare you to other bands or is it understandable?
Evil B:
I've heard so many comparisons, there were Misfits, Volbeat, The Bones, Social Distortion etc...
People always try to compare and it's a bit of an honour to be compared to the big bands.
If you could choose five bands from the past and the history and nowadays and both dead and living bands to have a concert together with your band. Which five have you been chosen?
Evil B:
<![if !supportLists]> 1. <![endif]> Motörhead
<![if !supportLists]> 2. <![endif]> Social Distortion
<![if !supportLists]> 3. <![endif]> Gluecifer
<![if !supportLists]> 4. <![endif]> ACDC
<![if !supportLists]> 5. <![endif]> Hellacopters
Is music a good way to get out frustration and become a nicer person outside the music??
Evil B:
Music is an outlet to let out frustration. If I have a bad day and I can go to the rehearsal room, it's immediately better afterwards. And yes, it also does something to you outside of music, but I don't know if you necessarily become a nicer person ;-)
Which is the most odd question you ever have got in an interview?(Except this one)
Elmex:
So you make music according to the motto "asocial and proud of it"?
Mo:
I can't remember
Which is the question you want to have but you never get. Please ask it and answer it?
Elmex:
By a beautiful female journalist: "You are the best-looking man in the world. Will you come to my hotel room?"
Futureplans for the band?
Evil B:
Sell the Record, play Shows, go into the studio to record another vinyl
Mo:
Play a lot of festival Shows
For yourself?
Evil B:
Continue to have a good time with the band, spend time with the kids and my girlfriend and above all stay healthy
Elmex:
Stay healthy to be able to play music as long as possible
Mo:
Just made Music
Wisdomword?
Evil B:
Do what you want to do, even if others smile at you for it.
Hold on to your dreams and pay attention to your fellow people who don't have much and need help.
Something to add?
Elmex:
Maybe 38 more questions?
One more question…. beerfavorite sort? If you did a beer which sort would it be and what have it been called?
Evil B:
At the moment I quite like drinking a local beer from Bremen. Haake Beck or the Kräusen from the brewery.
Elmex:
Olbermanns aus der Düsseldorfer Altstadt
Mo:
Craft Beer!
Normally I don't drink at all, but when I do drink beer, it's usually the beer from the Düsseldorf private brewery Olbermanns in Düsseldorf's "old town".