THE RISEN DREAD comes from Ireland and is a really good metalband which I was so interested so I did an interview with them in february 2002
Please tell me a little bit about the history of the group?
-The Risen Dread was formed in the beginning of 2019 by William, Colum, Marco and Mat. Colum and William started playing together around summer 2018, Marco joined at the end of the same year. We decided the name only after Mat joined in early 2019. We had Robbie as a second guitarist for a few month after. He recorded our EP "Delusions" in May 2019 with us. But things didn't work out with him… we tried another guitarists a few time, until we decided to keep as 4 pieces.
Our EP "Delusions" was released in October 2019. After that we played a few gigs in Ireland… we received an invitation to open some date for Malevolent Creation in their Eastern European tour in 2020, we also booked our tour for the same year. Everything got cancelled due to the covid. We decided to work on our album in the meantime. We finally recorded our album during the summer 2021 and our first album "Night Hag" was released in January 2022.
Please tell me a little about every member in the group right now, age, family, work, interests and something bad about everyone? Earlier bands? Other bands on the side?
-We all work, we've got different jobs. Mat is 26, Colum is 33, Marco is 34 and I'm 36 (William). Mat, Marco and I are married and I've got a daughter. Colum is single. Back when I was used to live in Brazil I played in a Thrash/Death band called "Imperial Devastation" from 2002 to 2006. They don't exist anymore. Marco who is also from Brazil played in a Thrash Metal band there for a few years. I'm not 100% sure if Colum and Mat played in a band before. I know they were in bands before, but I'm not sure if they'd played live with them.
Marco likes making drinks and cocktails. He's a bar in his house… he makes some interesting stuff. He also specialized in cigars, he teaches cigar classes.
Mat is into gaming, whether is on PC or just candy crush on his phone hahahaah
Colum also likes gaming, but he's a busy man.. he works a lot, not much time for anything else but the band and his drums.
I'm the quite one, I like staying home with my family.
I can hear much different influences but thrashmetal and hardcore? Favorites from the past?
-We've got a lot of influences. I never thought that our mix of influences would make us sound as close to Metalcore as we sound in this album. I had a lot influences from bands like In Flames, Lamb Of God, DevilDriver, Thy Art Is Murder and so on. I believe those influences made us sound as we do in the album. Plus the production brought us closer to Metalcore as well.
Marco loves Pantera and how Phil Anselmo used to sing back then.
The Risen Dread are you satisfied with the name? How did it come up? You weren't afraid that some other band would be named like this? Which is the best band name you know?
-Yes.. we're very happy with the name. We had some brainstorms based on the theme we wanted as name. The name comes from the fear/voice we all have inside of us and it makes us to do something when it's risen.
No, we did a research to check if there was any band with the same name. We couldn't find any.
I've never thought about best band's name before. I like Rebaelliun a lot.
What´s the best thing about playing live? Have you done any since the covid came? What is your strength as a live band?
-Playing live is where you show to people what you're made of. The interaction with the crowd is one of the best thing about plying live. Since covid hit the world, We were able to finish the tracks and record our album. We tried to take advantage of that time to prepare our album.
Our energy and stage presence are our strength live. We leave our 100% on stage.
And where is best to play? And the worst place?
-The worst place is an empty venue. It can't be any worst than that. I don't have any favourite place to play.
How is playing this sort of music in Ireland right now? Which types of bands do you have concerts together with? Is it only similar bands or which type is it?
-I believe it's pretty much the same everywhere. You've got some small venue or bars to play. At the moment we have dates scheduled with Marduk and Vader in their United Titans tours. We also have a gig scheduled with CandleMass and Coroner in Dublin. They're not similar to each other.
How would you describe your music in three words?
-Heavy, Catchy and Dynamic.
What does punk mean to you, is it only a word or is it a lifestyle? I know you don´t play punk but I hear some elements of hardcore in your music?
-To me it's just word. I never looked into what punk means to punk people. I know it's a lifestyle for some of them. I believe the hardcore elements in our song comes from our metalcore influences.
Which song/album or group was it who took you into music and to be playing yourself?
-My best album is Imaginations From The Other Side of Blind Guardian. But what took me into playing was bands like Krisiun, Sepultura, Morbid Angel and so on. I remember having their albums when I bought my first guitar.
What shall a young guy do today to shock their parents the way we did when we were young? They have already seen everything ;-)?
-When we did, our parents took it as phase. I remember my mother saying "this is just a phase", "This phase happens to all teenagers". They always thought it was some kind of a teenager rebellion just because we liked those "crazy" music. Being a father myself, I can tell one thing would shock me is my daughter being racist, or homophobic, or something similar.
How is it to live in Ireland right now? Politically? Fascists? Anti Vaxxers?
-There's not many Anti Vaxxers here, Around 95% of the adult population took the vaccines. Politics are bad everywhere to be honest. But the inflation is on its rise, let's see what's going to happen.
Is there any good bands from Ireland right now? What do you like about old Irish bands like Thin Lizzy, Therapy etc. Is the punkscene/metalscene/hardcorescene big? How is it in your hometown? You don't like traditional irish folk music?
Does U2 count? Hahahah To be honest I don't listen to Irish bands much. But they're good bands like Ten Ton Slug, Gama Bomb, Words That Burn, Neon Empire and so on. None of those scenes are big in Ireland. They're a lot of people who like punk, metal or hardcore. But only a few that support the underground scene. I don't listen to folk music.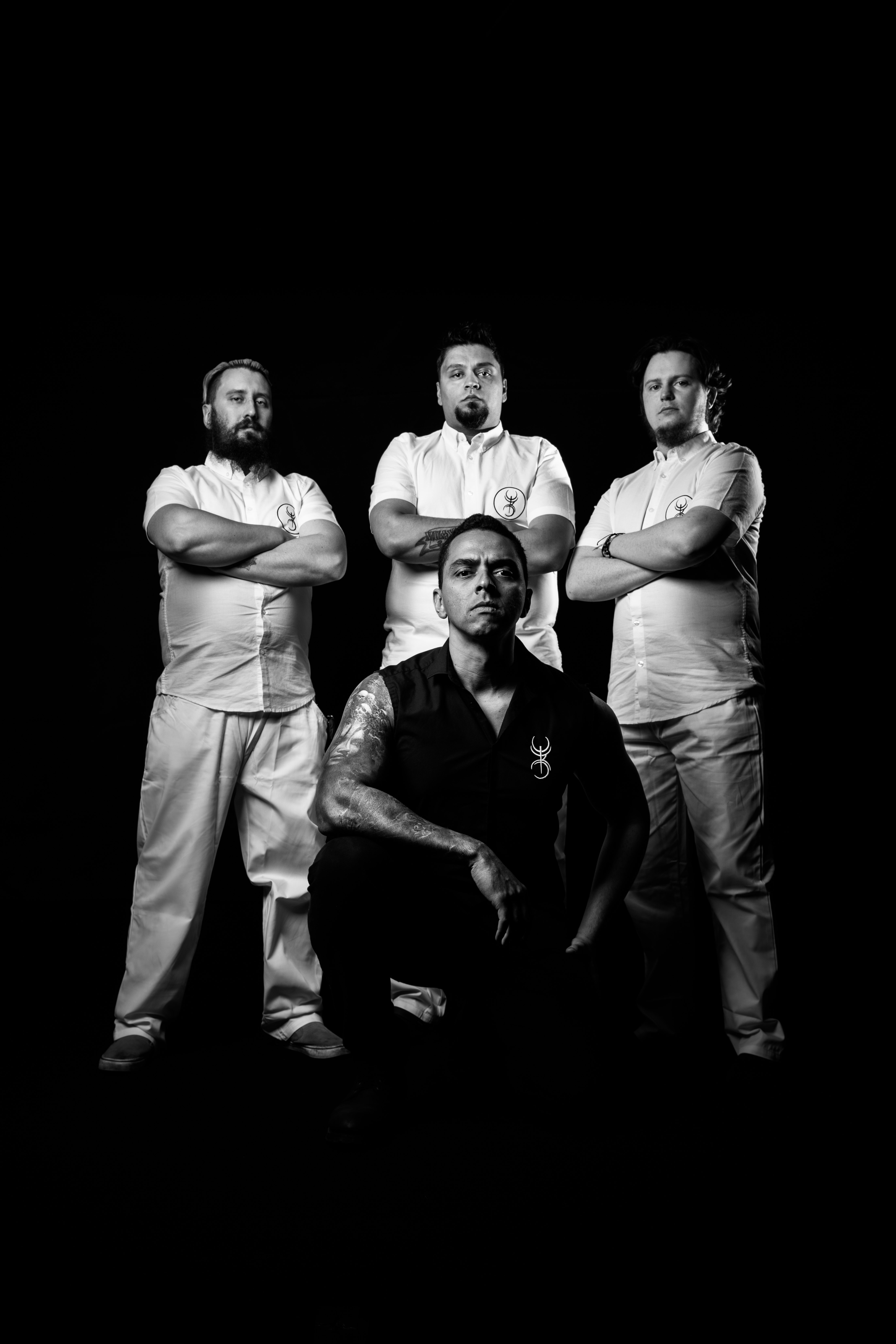 What do you know about Sweden? Have you been here sometime? What is typical Swedish?
-I spent 2017 Christmas in Stockholm. I absolutely loved the city, well organized and great food. I remember I stayed close to the Avicii arena.
Have you heard any good bands from Sweden?
-Yes.. I've got a lot of influences from Swedish bands like In Flames, At The Gates, The Haunted and Arch Enemy. I also like Dissection, HammerFall, Hypocrisy, Marduk and so on.
How do you do your songs, is it someone who comes up with an idea or are you jamming them together in the rehearsal room? Your lyrics, who does them and what influences you? ? Please tell me a little about the following songs
-In general, I've got the riffs and we start jamming them. After we have a rough structure done Marco starts writing the lyrics. He reads a lot and mental illness was the theme of the our album.
-Psychoses, we talk about mental disorder treatments that went wrong throughout history, such as lobotomy, electroconvulsive therapy and trepanation.
-White night, is about the Jonestown massacre that took place in 1978 in Guyana. It donate a crisis within Peoples temple, followed by a rehearsal of collective suicide. Reverent Jim Jones had ordered his entire community to drink a flavored drink mix treated with a mixture of potassium cyanide and tranquilizers, placed in industrial buckets. In total, 909 individuals died.
-Lazzaretto tells the story of Poveglia island and the doctor who allegedly experimented on patients with lobotomies and other unorthodox medical treatments. The doctor jumped the bell tower in the 1930s after claiming he had been driven mad by ghosts from patients he killed throughout the years.
Is there any subject that you will never write anything about? Or isn't anything sacred?
-Not really. I wouldn't write a love song ha ha ha ha. I don't think it fits to our style.
Politic and music, does it go hand in hand? Which is your most political song? Is it important to get out your opinions in music? Or is it OK to play music and not sing about politics?
-No, music is about freedom. You can write about whatever you want. Some bands talks about politics in some albums and some couldn't care less about it. It's important that you feel free to talk about whatever you want in your music and you're happy with it at the end.
Best political band/artist?
-I like Ratos De Porao from Brazil. They sing in Portuguese.. but punk and hardcore fans probably heard about them once.
How come that you could have Andreas Kisser from Sepultura on White Night, how did this happen?
-Renato Zanuto who's our guest in The Night Hag is a personal friend of Marco. Renato is Andreas friend as well. Renato worked in the last 3 Sepultura albums. Marco asked Renato to check with Andreas if he'd appear as a guest in our album. Andreas was in Renato's house on Marco's birthday, they recorded a video just to say happy birthday to Marco and in that video Andreas said "Marco, I'll give you a solo in one of the track in album as a present for you". After that we decided which track we were going to give to him and worked our both schedules.
Do you think that music(lyrics and so on) can change anyone's life, I mean people who listen to music?
-Yes… It can give people motivation to do something, or to fight for something. It doesn't need to have a good lyric. If you have a good harmony it'd do the job just fine.
Your favorite record cover all time? Who does your record cover? And do you have any good record stores in your hometown?
-I don't think I have a favourite album cover. Marcelo Vasco did our artwork, he's worked with big names such as Slayer, Machine Head, Kreator, Hatebreed and the list goes on. There's few good stores in Dublin, new with vinyl coming back. The stores are coming back too.
Is it important to get out physical records of your stuff? Why or why not? Vinyl, CD, cassette, what would you prefer if you could choose whatever ? If you only had released an album digitally would it feel that you have released an album then? Do you buy much records yourself?
-I don't buy records anymore. But I liked having a physical copy of an album. I always liked to read the booklets to know who the band is thanking for, where they recorded, who produced and so on. I don't think it's important to have physical copies of your record.
We didn't release any physical copy of our album. All we printed was for promotion only. We're an independent band and a new band as well. We couldn't put money towards to physical copies since we're still building our fan base. That doesn't mean we won't print it in a future. But, it isn't worth it as business right now. All I can see us being stuck with a lot of physical copies since we don't have enough potential buyers.
Please tell me a funny thing which has happened during your career and under some gig? With this band or any other band?
-It hasn't happened to this band yet. But, with my first band, we were almost at the end of the song and my pick fell off my hand. I finished the song with my fingers hahaha And I only had the pick, I couldn't find it, I had to borrow one from another band to finish our setlist. I hope this doesn't happen to me again. But I hope to have funny a lot of funny stories to tell with The Risen Dread.
How does your audience look like? Which people do you miss at your concerts? Which is the biggest band you ever have played together with?
-I actually don't know how our audience look like. I miss the people that stayed at home hahahah. But, to be honest I learnt to appreciate who showed up. I played with Torture Squad which is Thrash Metal band from Brazil. But, I'm about to play with bands like Vader, Marduk, CandleMass and Coroner. So, I'd say there's a lot more to come.
Please rank your five favorite records, five favorite concerts and five most important things in life?
-Records: Blind Guardian (Imaginations From the Other Side), Sepultura (Arise), Metallica (Kill 'Em All), Dio (Holy Diver) and Live (Mental Jewelry)
Gigs: Blind Guardian in Sao Paulo 2011, Slayer in Sao Paulo 2014, Iron Maiden in Sao Paulo 2014, Dio in Sao Paulo 2006, Slayer farewell tour in Dublin
Important things. My family!!! All my top 5 is my family.
And which is the record you would like to have been on and played?
-I don't know which record, but I'd like to have been a part of the Blind Guardian. Just give me one gig to play with them… I'll learn the setlist and will play live with them.
First, last and most expensive record ever bought?
-I can't remember when and which was the last time I bought a record. It's been at least 15 years since I bought my last record. But the most expensive one was a DVD from Blind Guardian released in 2003. It hadn't been released in Brazil and I imported it. As you can see… I'm a Blind Guardian fan hahahahahah
Is it boring with interviews? Are there many interviews?
-It depends on the questions. I usually don't like generic question. I've got some interviews that you can see that the person didn't even care to google about the band. They usually send the same random question to almost everyone.
Do you care about reviews? Which is the most peculiar you ever had, with this band or any other band you have been to? Have you ever changed anything after a bad review?
-I don't usually care much about. But there was one from our album "Night Hag" that bothered me a lot. Not because it was bad, but because it felt it was a personal attack to us. Nothing on the review was relevant… I get that reviews are made based on personal opinion as everything in life. But, this particular one was just an attack.
Which bands do people compare you to, is it boring that people compare you to other bands or is it understandable? Which is the most odd comparison you have got?
-Some people have compared our album to some of the old In Flames albums. Which I liked.. but I got surprised how people compared us to a Metalcore style. Not because I don't like Metalcore. Because I do.. it's just because it wasn't our intention at all. We didn't plan to sound a Metalcore band… the odd comparison was with Black Dahlia Murder. I don't even listen to them hahahaha
If you could choose five bands from the past and the history and nowadays and both dead and living bands to have a concert together with your band. Which five have you chosen?
-Dio, Pantera, Death, Blind Guardian, Parkway Drive.
Is music a good way to get out frustration and become a nicer person outside the music??
-Frustration, it does help you. Some people need to put their frustration or anger in something and music is one of them. That does help a lot. Having said, I don't know about making you a better person. Maybe it does… but it depends on each personality. We're in constant change, we're affected by what happens to us and around us. Personally, There's only a few things that make me to forget the outside world and band or music isn't one of them. I wish it was.
Which is the most odd question you ever have got in an interview?(Except this one)
-Ahhhh, I was going to say this one hahahah. I can't remember being asked an odd question. I probably was asked something weird at least once… I just can't remember. I remember my reaction to some questions like "what question is that?" or "this question makes no sense at all". But I can't remember what the question was. I've got good memories for a few things and bad for others. My wife usually says I have good memories for things that don't matter hahahahaha
Which is the question you want to have but you never get. Please ask it and answer it?
-I was never asked technical things. Like why did you guys choose this studio to record, or why we decided to work with those people and so on. But one question that would be good is. Why did I decide to get back with a band after over 10 years and having a family? I always missed the stage, being on a stage is something unique and you'll never be the same once you take that "drug". I think I found the right guys to be in a band with… we all want to take this seriously. If you come to me and say, let's get together and form a band and the band's intention is to play in pubs and bars in weekends. I'd say "No!, I rather stay at home". For me it'd be a waste of my time. I respect who likes that, it's not for me though.
Future Plans for the band?
-We've got this tour with Vader and Marduk coming next month (March) and a festival to play wit Candlemass and Coroner. We've got a few dates to announce in the UK, we're working on another EU tour for the end of this summer and let's see what's going to happen after that. I'd like to bring The Risen Dread to play in my home country (Brazil). Let's see if we can make that happen in 2023.
For yourself?
-Enjoy my life as best as I can and take care of my family. Educate my daughter as best as I can. Everything else will come around if you work hard… opportunities don't fall from the Sky and if they did. You have to be prepared for when they fall on your lap.
Wisdomword?
-Respect. Just respect each other and we'll have a better world to live.
Something to add?
-I'd like to thank for the space. I enjoyed this interview… you asked questions not easy to answer hahahaha
To your readers, If you don't know The Risen Dread yet. Go, check out our album "Night Hag". Come to see us live and I hope we get to play in Sweden soon. Hopefully this year… it's just a matter of a call or an email. We jump on a plane and that's it.
A last question. Beer Favorite sort? If you did a beer with your band, which sort would it be and what has it been called?
-Hummm, I'm afraid. But, I'll have to disappoint you on that. I actually don't drink beer. But, I'd name our beer "Outsiders". That's how we feel for a few things related to this band.