The swiss band Ragdoll Sunday have a style which is hard to put in a special genre. They play hard music and here have Manny and Adonis from the group answered a lot of questions from me. January 2022
Please tell me a little bit history of the group?
(Andonis) We all met through a random sequence of accidents. Gaetano was in a band looking for a guitarist. A common friend told me about him and I met him for pizza. We became instant friends and then we started jamming. Manuel found us through an old add on a newspaper. We had just found a drummer but after we tried him it was inevitable to not accept him. He is the best drummer we've ever played with and now we are also a family. Ollie came while we were looking for bassist further down the line. We had two guys before but both they left because our tour schedule becoming a bit demanding and it was hard for them to follow. I knew Ollie as a customer in the bars I was working and then social media magic happened and now we are all together the Ragdoll Sunday family. Toured in Mexico ( with Tarja Turunen, ex Nightwish), in the USA with Otep and Dropout kings, in the UK with the Anvil and we played shows together with Skindred.

Please tell me a little about every member in the group right now, age, family, work, interests and something bad about everyone? Earlier bands? Other bands on the side?
(Andonis) well I'll try to be quick and efficient! I won't give out the ages so let's say we are all on our 30s. Some of us later down the decade and some early in it. We are all not married yet although we are most of us happily occupied.
Manuel, our Portuguese drummer, works for the finance world as a banker for a Swiss bank. He is an active sports freak and he loves hummus. His most annoying part is that if he likes you he will annoy the life out of you just for fun. But we love him that way.
Gaetano, our British- Italian frontman is an IT mastermind. He is the fittest and healthiest member of the band. He is the driving force ( literally and metaphorically) of the Ragdoll Sunday engine. The only bad thing about him is that his healthy life style makes it hard for us ( me) to have late night drinks with him.
Ollie, our Caribbean breeze, is also into IT although he studied geography. He is my beer buddy and our comedian in the band. His weakness is that sometimes some jokes don't land where they should, resulting with inside pains that we quickly pass when he drops the next joke which 9/10 is great fun.
Last ( hopefully not least), I'm the Greek part of the machine. I work in gastronomy as a bartender, managing a cocktail bar in Zurich. My weakness I might say is that I talk a lot and constantly. Oh well, no one is perfect

I can hear much different influences but it´s mostly harder music? Favorites from the past?
(Andonis) We all come from different influences. I grew up with classic rock, heavy metal, doom and the older I got the heavier and more different my influences. I also love classic music and soul too. Manuel is more into prog stuff plus what I mentioned. Ollie is more the funkster, more the RHCP, RATM kind of type and Gaetano is more the hardcore style.
We write our songs collectively and along the way we use all our influences. I guess that makes our style a bit more complex

Ragdoll Sunday are you satisfied with the name? How did it came up? What does it mean? You weren't afraid that some other band would be named like this? Which is the best bandname you know?
(Andonis) It literal means a doll made from rags. In the early days of the band it was hard to come up with a name so, we were rehearsing Sunday mornings and me, as a bartender, I was always sleepless and feeling pretty tired. So I used to joke around and say that I feel abused like a ragdoll being thrown around. Then I suggested for fun that we could name us " Ragdoll Sunday". We kept it as a joke for a month or so but eventually it got meaning in us and we resonated with it. We searched and no other band had it so we decided to keep it as a homage to people that will spend their lives living for working nine to five jobs they don't like and waiting only for Sunday to be alive. Sunday is our day of freedom. So there you go

What´s the best thing with playing live? Have you done any since the covid came? You´re going out with Anvil, how come?
(Andonis) just the energy, the people, the stage, the whole vibe is insane. You spend months creating music, rehearsing it to perfection and then you take it to the stage and the whole thing takes life. Is the best part I guess. We haven't managed to play yet but we have some upcoming shows that they constantly get postponed due to the current situation.
I used to listen to Anvil on my teenage years and I was over the moon when Gaetano managed to book us on the same tour with them. Amazing guys

And where is best to play? And the worst place?
(Andonis) we haven't played that many countries yet. Everywhere so far we were warmly welcomed and received but Mexico… that was a beyond reality experience. These people are crazy
Thankfully we don't have any bad experience so far

How is to play this sort of music in Switzerlandright now? Which types of bands do you have concerts together with?
(Andonis) Generally we are not the mainstream kind of sound. We don't aim for that. We play music that speaks from our personal feelings. We play it with honesty and we welcome everyone that likes it to come onboard. If we are not your type it's fine. In Switzerland right now the mainstream sound is more popular at the moment with power metal being kind of the main crowd around these lands. There's a growth into heavier sounds lately so that gives us a bit of a hope

How would you describe your music in three words? Your music is hard to put in a special genre..
(Andonis) If I had to chose three words then I would safely say that we play : post grunge/ punk. But everyone will most likely give you a different answer

Punk is an attitude, not just a genre you say…what does punk mean to you?
(Andonis). To me personally "punk" is more of an ideology, an idea and same as all ideas and ideologies out there people take them and adopt them under their own expectations. To me punk is to question any established order, to not sit back on safety and stability but look out for your personal growth and be real through that journey. Punk is not to break stuff around, be a bandit or anything in my world. Try to be free, happy, fair, honest, that's pretty much punk to me.
<![if !supportLineBreakNewLine]>
<![endif]>
Which song/album or group was it who took you into music and to play yourself?
(Andonis) I was discovering metal when I was 12 but around 15 I started diving very deep into it. Savatage was and is my favorite band of all times so I guess they put that guitar in my arms and told me I should learn how to play. I haven't learned yet but in still in love with that band

What shall a young guy do today to shock their parents as the way we did when we were young? They have already seen everything ;-)?
(Andonis) well since shock is a reaction to something beyond normal and nowadays " normal" is really not great I would say that young kids that chose education over followers, science over superstition, egalitarianism over egoism are going to give their parents a pretty descent and positive shock I would say.

How is it to live in Switzerland right now? Politically? Fascists?
(Andonis) Fascists? Thankfully Switzerland is one of the most stable and easy countries to live at the moment, providing opportunities that in other places you wouldn't maybe dare to think of. I would say I live my American dream in this country I now call home.

Is there any good bands from Switzerland right now? Is the punkscene/metalscene/hardcorescene big? How is it in your hometown?
(Andonis) As mentioned above the metal scene is pretty big if you are more up for classic sounds, more power- epic style. That's why our best export right now is probably the Burning Witches which dominate crowds wherever they play. In Zurich, our hometown, our homeboys Shrinks do pretty well for themselves and generally the scene is slowly moving towards bigger crowds. We hope that punk is not dead yet but we will have to wait for COVID to move out first to see what's going to happen next.

What do you know about Sweden? Have you been here sometime? What is typical Swedish?
(Andonis) Haven't been there yet but I have a northern trip on my bucket list, hopping to catch some northern lights. I have many Swedish friends and they are all awesome people, full of life and big into party. You guys love to party and you have great music scene there. I grew up listening to Malmsteen and now I absolutely love Ghost.

Have you heard any good bands from Sweden?
(Andonis) Well as mentioned before Ghost and Malmsteen are my top names coming straight to mind

Your lyrics, who does them and what influences you? Never in your own language? Please tell me a little about the following songs
-Warcry
-Jimmie One Two
-Autoignition
(Andonis) Gaetano writes the lyrics. He is our voice and we are happy that he is very talented in both writing and singing his thoughts into great meanings. Society, wannabe politicians (official or otherwise) & personal challenges are what makes him grab a paper and write normally. According to him, Warcry is about the paradox between how you've been told to act, & what you authentically want. Jimmy One Two is based on James 1:2-4 from the Bible and Autoignition again is about how society puts pressure to everyone in order to make them fit to whatever the elit and the puppet masters want.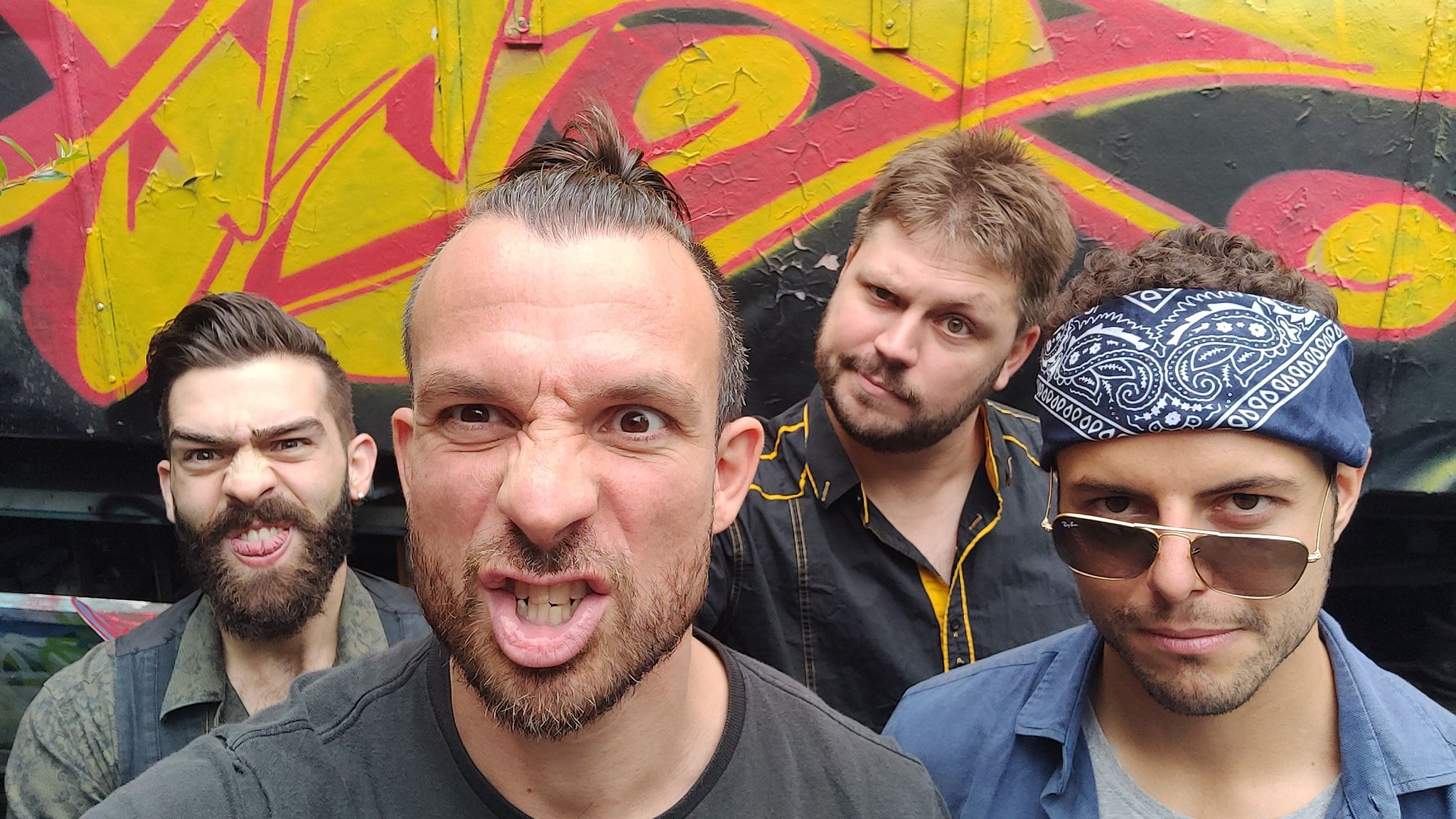 Is there any subject that you never will write anything about? Or isn´t anything sacred?
(Manny) We never label topics as such.. what we do try to always do is to write stuff that has a meaning or that feels right for us
Politic and music, does it goes hand in hand? Which is your most political song? Is it important to get out your opinions in music? Or is it OK to play music and not sing about politics?
(Manny) I think politics is intrinsically linked to music, regardless of the genre.. you see it in blues, metal, rap, reggae, everywhere and it is always in a way to convey an opinion unless it is very shallow a song... But more than that I think what matters most is to have feelings imbued in your music, and politics is only one way of coming out
Best political band/artist?
(Manny) I think Rage Against the Machine is probably the one that I would list as a best of.. there isn't a best I think.. there are many artists that do politics in music differently and with different vibes, but RATM is the one that I really think of first because of the punchiness they have – I mean just the name of the band already sets the stage (no pun intended)
Do you think that music(lyrics and so on) can change anyones life, I mean people who listens to music?
(Manny) I think so. And not just artistically, when you're starting to play and try to find a style that fits you, but in general it affects your feelings. It can inspire and galvanize crowds, and there have been literally country shaping revolutions where music was the trigger – for example, in Portugal, where I'm from, in 1974 the ruling fascist regime was overthrown by a revolution for which a song was the signal for the revolutionary troops.
Your favorite recordcover alltime? Who does your recordcovers? And do you have any good recordstores in your hometown?
(Manny) Our record "And now, we grieve" actually is one of my favorites covers because it was a photo snapped really spontaneously on set when we recorded our video "Postrona Perfect" so there's an element of spontaneity there I quite like. As for recordstores, I'm afraid not.. it has really become something technology rendered extinct to a certain level..
Is it important to get out physical records of your stuff? Why or why not? Vinyl, CD, cassette, what do you prefer if you could choose whatever ?
(Manny) I know vinyl keeps the best sound quality but I do think it is more important you get your music to listeners than how you do it.. At least in an early stage of a band, you should try and get as much exposure as you can. Leave the vinyl special editions for your 20th anniversary special re-masters I say
Please tell me a funny thing which have happened during your career and under some gig?
(Manny) There are way to many to pick one… We have some really cool tour Vlogs on Youtube I highly recommend you check out. You will laugh, I guarantee
How does your audience look like? Which people do you miss on your concerts? Which is the biggest band you ever have played together with?
(Manny) I have to say playing with Skindred was quite a thing. I was already into them and sharing a stage was something special. They also pull a cool crowd of all ages and backgrounds so the mix is really nice. Not to speak of the energy these crowds would throw at us..
Please rank your five favoriterecords, five favoriteconcerts and five most important things in life?
(Manny) records: Dream Theater "Train of Thought"; Michael Romeo "War of the Worlds"; Gojira "Fortitude"; Weekend "After Hours" (it's a great album!); Camo & Krooked "Red Bull Symphonic"
Concerts: Dream Theater in 2007 after Systematic Chaos came out – still have Portnoy's wrist band that he threw into the crowd; Skindred at Akvarium in Budapest; Machine Head at Rock in Rio Lisbon; Snarky Puppy here in Zurich; Guns n' Roses with Axel and Slash here in Zurich – epic.
I'll reduce my life advice to one simple thing – just have common sense and don't be a jerk to others – that will take you far
First, last and most expensive record ever bought?
(Manny) Damn.. been years since I bought a record.. but I bought fairly expensive concert tickets like Guns n' Roses – well over 200 bucks but was totally worth it
Is it boring with interviews? Is it much interviews?
(Manny) not at all, it is rather enjoyable. To reminisce and think over good questions is always time well spent.
Do you care about reviews? Which is the most peculiar you ever had, with this band or any other band you have been to? Have you ever changed anything after a bad review?
(Manny) I think in the day and age of social media comment section warriors you find tons of funny stuff… like comments in Russian lolz but I think you'll always find people who like and who dislike and that's fine – I think it just means you have a unique style that is able to make a mark. Like food, anyone will eat plain rice because it is flavorless but a spiced up dish will not strike home with everyone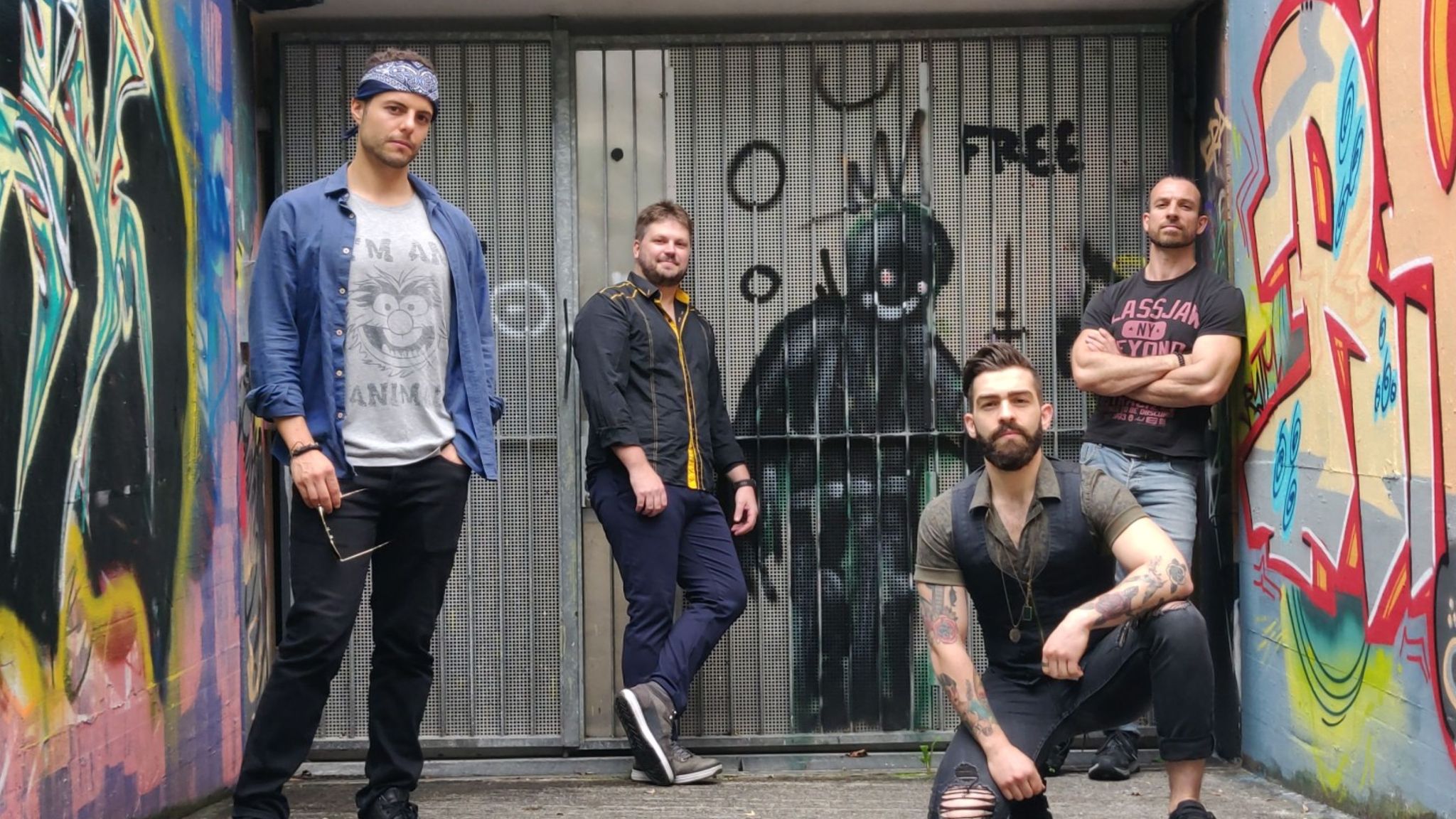 Which bands do people compare you to, is it boring that people compare you to other bands or is it understandable?
(Manny) It's understandable, everyone draws influences from previous bands and artists… we have been compared to a myriad of bands like Alice in Chains, Deftones, sometimes RATM and even Queen! I mean in general we seem to land in the post grunge heavy spheres but overall I like the bands that are mentioned so compare away dear listeners
If you could choose five bands from the past and the history and nowadays and both dead and living bands to have a concert together with your band. Which five have you been chosen?
(Manny) Pantera / Slash Snakepit / Dillinger Escape Plan / Alice in Chains / Soundgarden
Is music a good way to get out frustration and become a nicer person outside the music??
(Manny) I think it is a way to cope with your feelings at a given time and that is a mechanism to deal with issues, yes – I am not really a buyer of sticking to a genre to make a statement – like gangster = rap/hiphop or Emo = Metal or whatever – but rather that you listen to what resonates with your feelings at a given time. I mean, when I go snowboard I like listening to House and Drum n Bass and stuff like that, and when I work out or jog to metal and heavy music..
Which is the most odd question you ever have got in an interview?(Except this one)
(Manny) The physical records question before was funny, not because it is not relevant, just because it really kind of stopped being a thing
Which is the question you want to have but you never get. Please ask it and answer it?
(Manny) Would you swap instruments if you could ? I don't think so BUT I am very keen on learning more music and other instruments
Futureplans for the band?
(Manny) these are not easy times for anyone, but we will continued to write meaningful music – we have some cool concept album coming soon – and finding gigs. We hope touring becomes easier again this year so we can get back out there.
For yourself?
(Manny) I guess we'll see
Wisdomword?
(Manny) Worse than not knowing is to think you know
Something to add?
-(Manny) just our thanks for this great interview!