Offside Reidars comes from Finland and Finland have produced a lot of good punk/hardcorebands through the years and Offside Reidars is a band which is one of them. Jari M answered most of the questions And Jari K. and Juha T. added some comments. Here we go April 2022.
Please tell me a little history of the group, members and what you do when you don´t play music, what do you work and which ages are you in? I think you sound harder on the latest release…more rock n roll punk on the Lp and more hardcorestuff on Fuck off!
-Jari M: We started in 2019. We are all middle aged punks and we have all been in different bands for decades, touring and making records. We knew each other already before starting this band from the local scene, and we have been seeing each other weekly long before this band, playing ice hockey, in the same beerleague hockey team. Our original idea was to play fast hockey-punk, but since then, we have shifted towards raw and angry hardcore punk, which is the music we all started with. I started my first hardcore band Aivoproteesi way back in 1982… The shift towards hardcore stuff felt natural, just take a look at the world around you… just impossible ignore the madness, and that is best reflected with hc punk. Members are: Jari Mikkola, gt & voc. Works as a multimedia teacher in university, faculty of art and design Juha Tuiskuvaara, bass. Works with music/audio projects and random other stuff Jari Körkkö, drums. Hangs out in the woods and drives a truck
Have it been the same members all the time, or have it been many lineup changes?
-Jari M: Same members from the start.
Offside Reidars is the name, where did it came from and what does it mean?
-Jari M: As I mentioned we all play in the same beerleague hockey team. The name of the team is Reidars Hockey Team (or just "Reidars"). So, when we started and decided to play hockey themed punk, we wanted to use the same name somehow. We added "Offside" because it refers to how we suck at hockey. And it also refers to how the punks and outsiders are anyway sort of "offside" in our society. "Reidar" refers to a quite famous painter from Lapland "Reidar Särestöniemi". He was also a quite a notorious individual. And "Reidars" is also a twisted version of a common sport team name "Raiders". Offside Reidars is maybe not the simplest name for a band, but so what, there is story behind it anyway.
What´s best with playing live ? Are you missing it now or is it soon that you will play live after covid-times? Where is best to play, which country, town, place?
-Jari M: Playing live is always exciting. Playing live is like being one with the music. If you're feeling right and everything is working, it's like another level of consciousness. It's a mental and physical state, empowering and sometimes even exhausting at the same time. A real valve for emotions. And even the smallest reaction from the audience makes it even better. We are really looking forward to play more live, we have not played so much yet. We started in 2019, and the pandemic started in 2020… Now things look a lot better. Offside Reidars have not played outside of Finland yet, but with our previous bands we have toured all over Europe. Germany is usually very nice. "Treibsand" in Lübeck is a place I have always enjoyed. "Vastavirta" in Tampere, Finland is always cool.
Jari K: The best with playing live is the moment of euphoria after the gig is over, and you take a long sip of cold beer.
Juha T: Yeah, best thing is the adrenalin rush from the gig. Also meeting friends while on tour. One of the best places to play in Finland is "Tukikohta" in Oulu.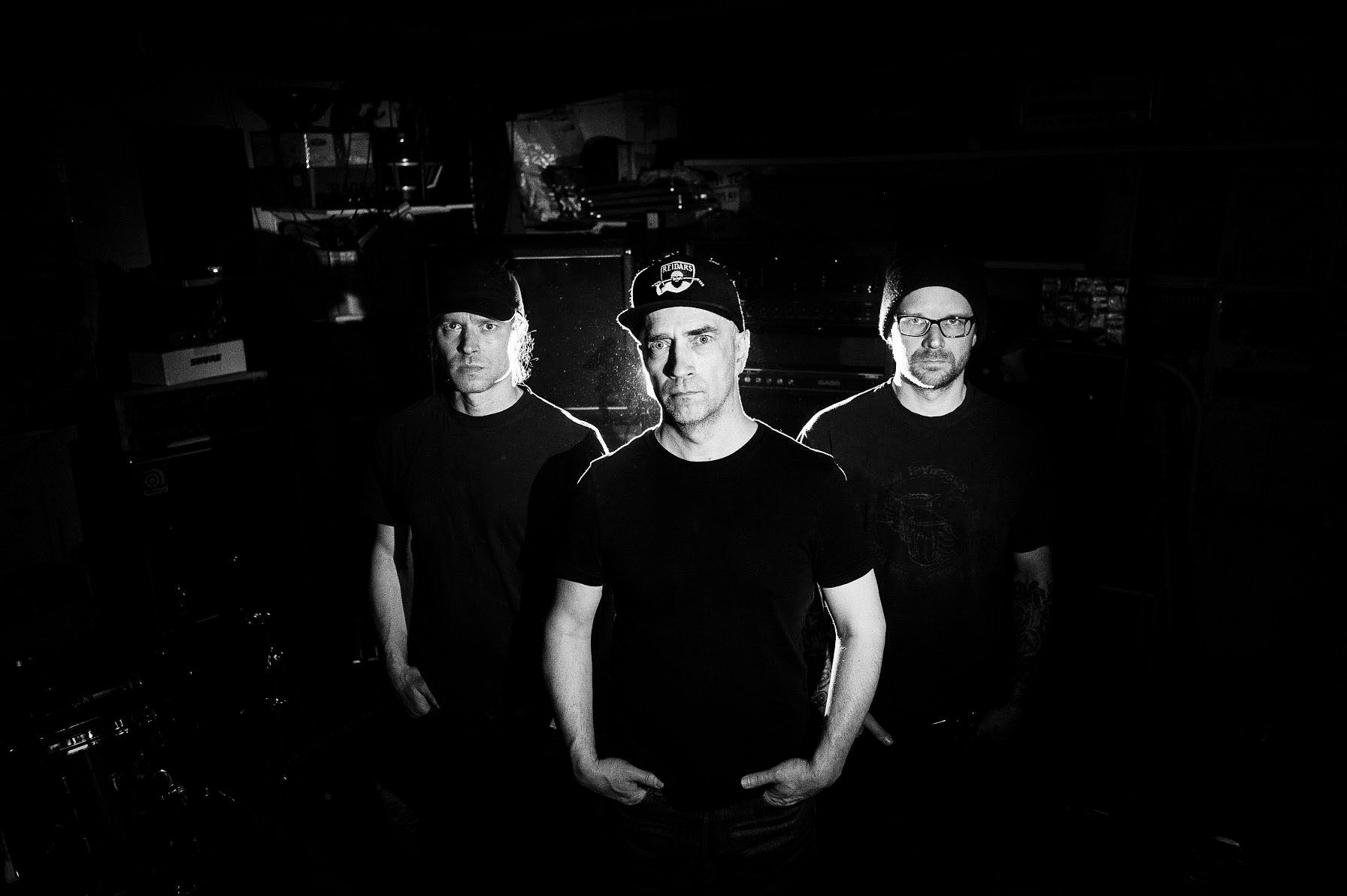 Is it important to give out the record as physical releases do you think? You did your last on cassette…why?
-Jari M: We are all kind of record freaks. Physical releases are at best like complete art works, that you can hold in your hands, with graphics and lyrics and so on. Cassette's are also cool, I think most punk bands have started with cassettes. They are very DIY friendly. Our latest release was on a cassette, because it was quite cheap and fast to make, and we knew the quality was very good in that small cassette company in Finland. And also, as the vinyl plants are very much in trouble and overbooked all over the world right now, we did not want to wait for months for a new release.
Jari K: Of course it is important to have more than just some files on internet. A record or a cassette is something you listen completely, while going through the covers
Juha T: Word!
Do you play any covers when you play live? If you do, which then?
-Jari M: Yes, we do play some covers live. We have played G.B.H.'s "Race against time", the Blitz's "Never surrender" and Cosmic Psychos "Fuckwit city". We also recorded these three songs and put them on our Bandcamp and youtube channels as a digital release, with name "Basement's hits EP". Maybe sometime on a physical release.
Please tell me a little about following songs
a)Shitshow Jari M: It's a song about things turning to shit, just when you thought that maybe things might finally turn better. Shitshow is always waiting around the corner. Original inspiration for the lyrics was the Trump supporters attack to Capitol building in Washington. I asked an American friend a day after the attack how he felt about it. At first he was just shaking his head, so I asked him to describe it in one word. And he said "Shitshow". But the song's point is that don't give up, don't let the shitshow assholes win.
Jari K: Shitshow is an excerpt from my diary
b) Outsiders Jari M: This is a song about global warming. We live in north of Finland, just on the Arctic Circle. Outdoor activities are a big part of people's lives here, also ours. The context in the song is playing hockey outside, in a rink, or on a pond, "pond hockey" or whatever you call it. (We call it "beanie hockey" in Finland). Anyway, it's great fun, and we have been doing it since we were kids. But we have noticed that year by year, the winter starts later and ends earlier. Not good. The climate is turning warmer, and we have a real experience of that.
c) I can´t play Jari M: Haha, this could be our theme song. It even mentions "offside". It's about being bad at hockey but still playing it because you love it. Or you can always make it fun. Like punk rock, it does not really matter if you can play or not. Just go for it, never mind what the others say. Jari K: This song is the description of the minute of ice hockey when I'm shaking on my skates on ice for my shift
Is it important to get out your opinions in your music, and is it a good way to get out frustration too?
-Jari M: Yes, it is important, and yes, it is a really good way to get your frustration out too. Stupid lyrics are ok for a while, if the music is good, but fucking annoying if it just goes on and on.
Jari K: Yes it is. It is a waste of time to listen all the blah blah blah love songs. Our new release has nicely some opinions put out.
Do you think that your lyrics can have effect on other people who listens to them…any example on it? Have you changed anyones mind? Never in finnish?
-Jari M: For me lyrics have always meant a lot, and good lyrics have effected me . So, yes, I think that lyrics can have an effect on a listener. And of course I hope that our lyrics can do that too. Over the years people have commented on my lyrics (Finnish and English), and it is always interesting. Especially when they find different meanings from what I originally meant. On one of the reviews of our "Fuck Off!"-cassette, the reviewer wrote that "condensing texts into the most relevant is especially pleasing". I take that as a compliment.
Jari K: I do hope that lyrics can have an effect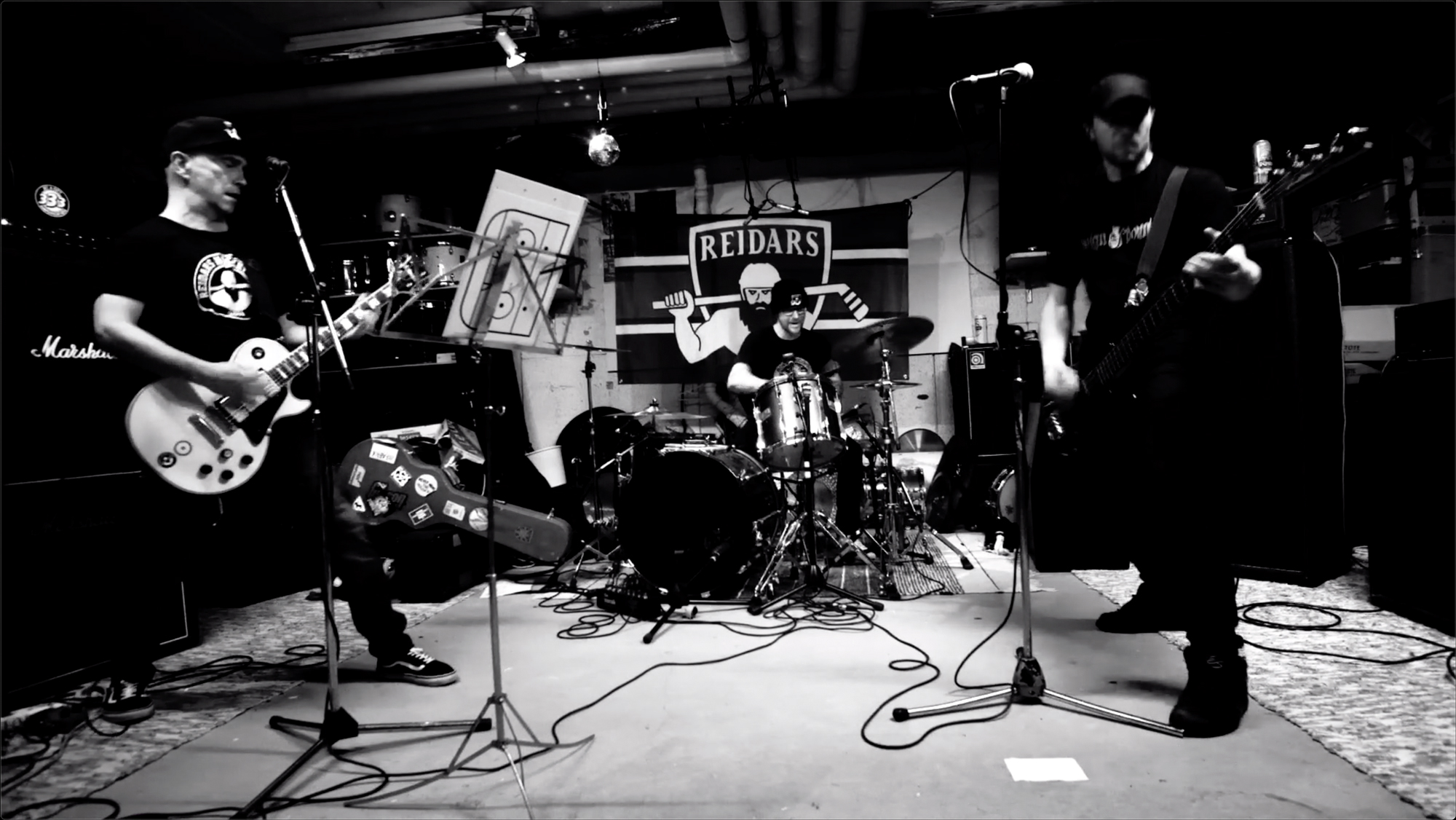 How is it to play this sort of music in Finland, which type of bands are you having concerts with?
-Jari M: Usually we play at venues that can handle and are used to loud punk rock music. And most of the time with other bands that are somehow in the same direction musically. But we have no problem playing with bands with totally different style, as long as you get along with the people.
Have you been one of all these bands which have made livestreams now during the covid-19 time or how is it?
-Jari M: Our first two shows were live streams in the middle of the first wave of covid-19 pandemic. First on facebook and then on youtube. Interesting experiences. Facebook was easy, but quality not so good. Youtube offered better quality, but it was technically more challenging. We streamed from our rehearsal basement, with a couple of friends were there as audience. Streaming gigs were better than having no gigs at all, at that point.
Jari K: Yeah…it was a substitute for a real gig, but you can't really get the same euphoria as on a real gig
I like beer and also make beer.. If Offside Reidars would do a beer , what would it be named and which sort of beer would it be?
-Jari M: Nice! We like beer too! I would like our band's beer to be an ale, something like English (strong) bitter. London Pride and Fuller's ESB are good mainstream examples. Name would be "Offside Ale" Our beerleague hockey team had its own beer some years ago, a small limited edition made by a microbrewery called "Maistila". It was quite hoppy citrus pale ale kind of beer.
How would you describe your music in three words to anyone who never have heard you?
Jari M: Fast, loud, punk
Jari K: Not-bowing-to-anyone reckless speeding
Juha T: punk rock hardcore
Which is your own favoritesong among your own songs?
-Jari M: "Gamesaver", "Fuck Off!" and "Brain Eater"
Jari K: "Fuck off! and "Fuck with the authorities"
Juha T: "Brain Eater"
What´s the biggest difference when you plays live nowadays if you compare when you first started to play in a band?
-Jari M: Less hassle. A little less nervousness. Easier to enjoy the live experience.
Old Finnish punk/hardcorebands which you really like?
-Jari M: Pelle Miljoona & N.U.S., Pelle Miljoona & 1980, Sehr Schnell, Lama, Terveet Kädet, Kaaos, Kansanturvamusiikkikomissio, Varaus
Jari K: What is old enough? Terveet Kädet and Lama Juha T: Lama, Mellakka, Varaus
What do you know about Sweden? What did people said about your corona-strategy?
-Jari M: We know north of Sweden quite well. Haparanda and snus are familiar to us. We can even manage with Finnish language there. South of Sweden feels like central Europe. Countries have had slightly different corona-strategies, and Finland has done quite well in general. The Swedish strategy seemed a bit crazy first, but we are all now in the same situation.
Jari K: I know that two of my cousins live in Sweden. And that the Swedes can't really play hockey. And they can't play handball either.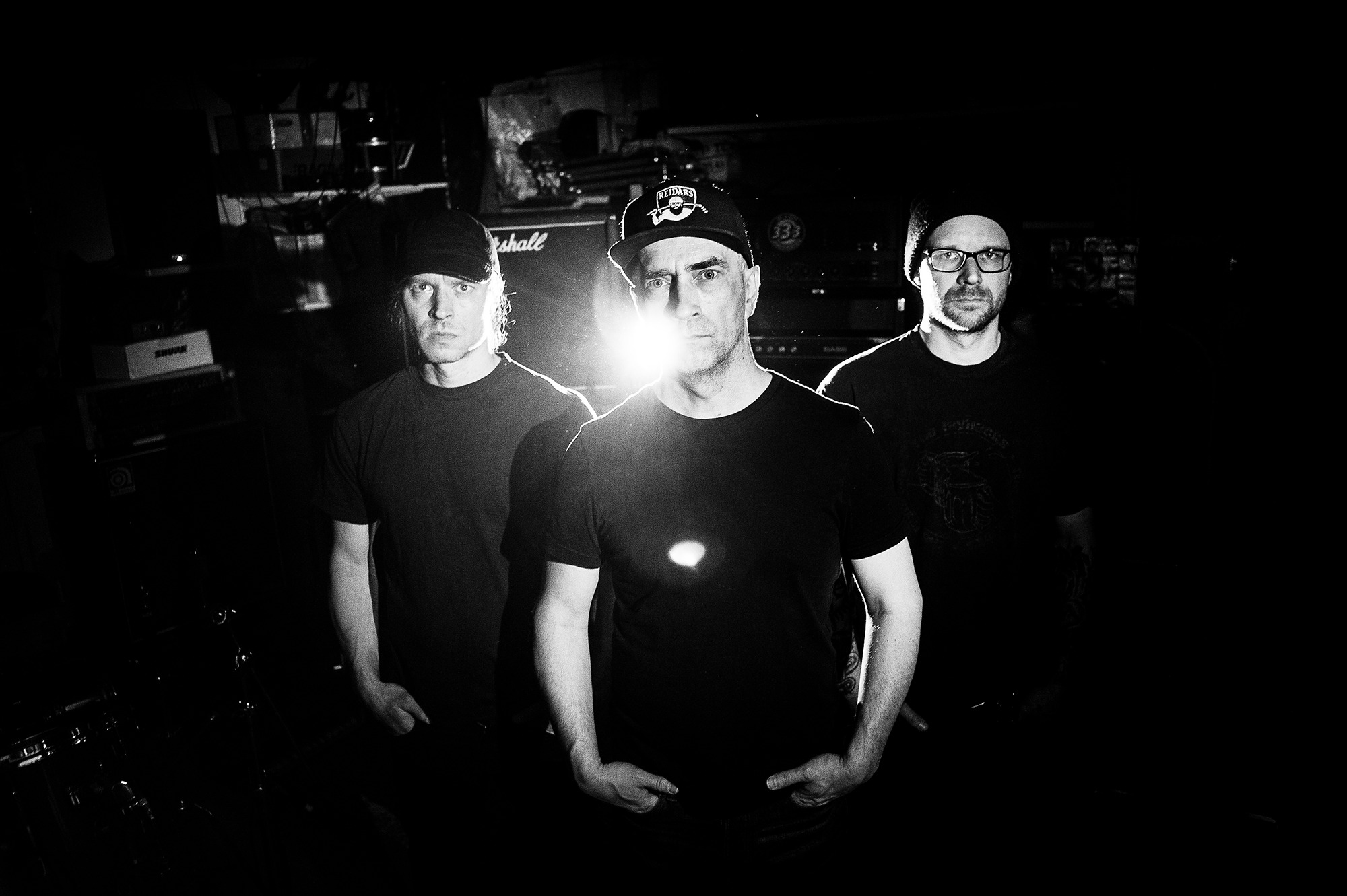 Have you ever been here? Any good bands from Sweden that you like?
-Jari M: Many times. Also in south. Ebba Grön, Anti-Cimex, Shitlickers, the Hives, early Hellacopters, Haystack..
Jari K: Yes, you have to go there, because you can't get snus in Finland. Masshysteri, No fun at all, and Millencolin.
Your audience when you play live, which type of people comes, age?
-Jari M: It's been quite mixed. Maybe slighly older people more, those who might recognize us from previous bands
Please tell me a funny thing which have happened during a livegig with your band?
-Jari M: Nothing really comes to my mind… It was a bit funny with our first streaming gig on facebook.. the camera we used did not put the video out automatically in horizontal direction for some reason, so with laptop or computer people had to watch it their heads 90 degrees tilted… some comments said "ouch, my neck hurts", hah hah. After the live stream we edited a straightened version of the show, for people to watch later.
Is there any good bands in Finland today? New bands which is good? Old bands which is still good?
-Jari M: Lots of good bands! Puhelinseksi, Kohti Tuhoa, Generals, Ydinperhe, Influenza… Jari K: There are many: Ydinperhe, Yhteiskunnan Ystävät?. ..and Wasted of course!
Juha T: Dodge is good new band
Which is the record that you always must have in the tourbus?
-Jari M: Well, our drummer owns the van, so he decides.
Jari K: So, when I decide, it will be talk radio.
Do you buy much records, or is it only Spotify and those type of things to listen to music?
-Jari M: Yes, we buy records. Music streaming is good when you're not at home, and for checking out new stuff. And it is good for putting your own music out for people to check out. I buy the record if it's good.
Jari K: Of course you should buy records, at least all the records you think are good. And then you should listen them with a thought, going through the covers and reading the lyrics.
Are you selling any records on your gigs, do people buy them?
-Jari M: Yes, we have records, cassettes and t-shirts at gigs. People could buy a bit more, it is the best direct support for a band.
Do you care about reviews? Which is the most peculiar you ever had, with this band or any other band you have been to?
-Jari M: Of course we read them, and if we know it's a person with a good taste, we maybe pay more attention to it. But it's only one person's opinion. Reviews are a way to get publicity also. One album review of my old band was really really bad from the very start, but as I read on, all the song names were written somehow wrong, and there were refences to lyrics, that were not referring to the actual lyrics but seemed to be assumptions based on the wrongly written song names. That was weird. Maybe that guy did not actually listen to the record.
If you could choose five bands from the past and the history and nowadays and both dead and living bands to have a concert together with your band. Which five have you been chosen?
-Jari M: This is tough one. Today my answer is: the Clash, the Fluid, the Eastern Dark, the Slits, and Bad Brains
Jari K: ABBA and Stiggan Andersson (from Rovaniemi, FIN). And maybe Souvarit (Schlager band from Rovaniemi). That's all. I like gigs with friend bands.
Juha T: Mellakka, Uutuus, Shitlickers and Rudimentary Peni
Are you living on your music or what do you work with on the side of the music?
-Jari M: Not living on music. Teaching job brings money to my table.
Jari K: Hell no. Playing music for the love of it, and money comes from the shitty job.
Wisdomword?
Jari M: Don't be stupid. Be smart. Never surrender.
Anything more to add to the interview?
-We are open for gig proposals! offsidereidars@gmail.com