Introduction: Nurse´s Dead Bodies
Four corpses, Audrey (Vocals), Timothée (Drums), Julien (Double Bass) and Laurent (Guitar), tell the sick stories of a disturbed nurse on wild punk riffs with psychobilly style. Niko helps them to work on the band's sound.
Band Story: Nurse's Dead Bodies was born on 2013 with Audrey, Tim and Julien .
The band quickly composed a few songs, mixing punk, rock'n'roll and psycho, in order to bring to life stories that deal with horror theme, freaks and mental disorder.
François (guitar) joined the band and a first 4 songs EP -Nurse's Dead Bodies says hell ...O !- was released in 2014.
The four living deads play in pubs, concert halls and festivals of their area, playing with bands like : The Bloodstrings (2018) ; The Monsters, The Devils, The Lucky Devils, Toxic Waste, Jodie Faster, Dr Loomis and the Freakies, Dunwich (2017) ; The Living Deads, Piss Me Off and Kitty in a Casket (2016).
Laurent joined the band in 2017 and remains the only guitarist after Francois left the band in
September 2020.
The four dead bodies record and release their first LP : BEYOND THE GRAVE in march 2022- making a videoclip for the single Zombi Queen. The 12 titles form a coherent and yet diversified album.
Now over to the interview…..done in june 2022
Earlier bands? Other bands on the side?
-In the past, we played in other punk bands, but also in ska/ reggae bands.
Julien (upright bass) actualy got another punk band named CTRL where he plays the guitar.

I can hear much different influences but mostly punk, psychobilly, horrorpunk? Favorites from the past?
-NDB's influences are almost 90spunk (Rancid, The Distillers, Hellcat Stuff) and psychobilly (Nekromantix, Tiger Army, Zombie Ghost Train, The Brains)

Nurse´s Dead Boides are you satisfied with the name? How did it came up? You weren't afraid that some other band would be named like this? Which is the best bandname you know?
-Julien found the name Nurse's Dead Bodies (the drum's wife is a nurse) and we wanted something to remind of horror movies theme (we former thought about Jack'O'lantern or Cold Miners). We think there's hardly nobody else as much crazy as us to name a band like this :D
We like the name (and the band) Nekromantix.

What´s the best thing with playing live? Have you done any since the covid came?
-We have recorded during the covid shit. As soon as it calmed down, we took back the road (since february 2022) and our album came out on march 2022. We played in bars, made our first gig in Paris, and we have already planned gigs for september and october (short Halloween Tour). We'd like to play in a few festivals in 2023 before starting to record our second album.
Playing live allow us to show our (crazy) energy and to share it with public, who always sings along with us.
And where is best to play? And the worst place?
-The best place to play is everywhere it pleases people.

How is to play this sort of music in France right now? Which types of bands do you have concerts together with?
-We played with french Lucky Devils, Bulgarian Yogurts, Dr Loomis and The Freakies (psycho bands), we would like to play with Monster Klub or Banane Metalik.
We also played with The Bloodstrings, The Living Deads, Kitty in a casket.
There's no many band with female singer. Would be awesome to play with Horropops or The Distillers.
Psychobilly/punkabilly in France is not much known and rarely seen on big festivals. We're broadcasted on radio in the US or UK but not in France (except a few local radios).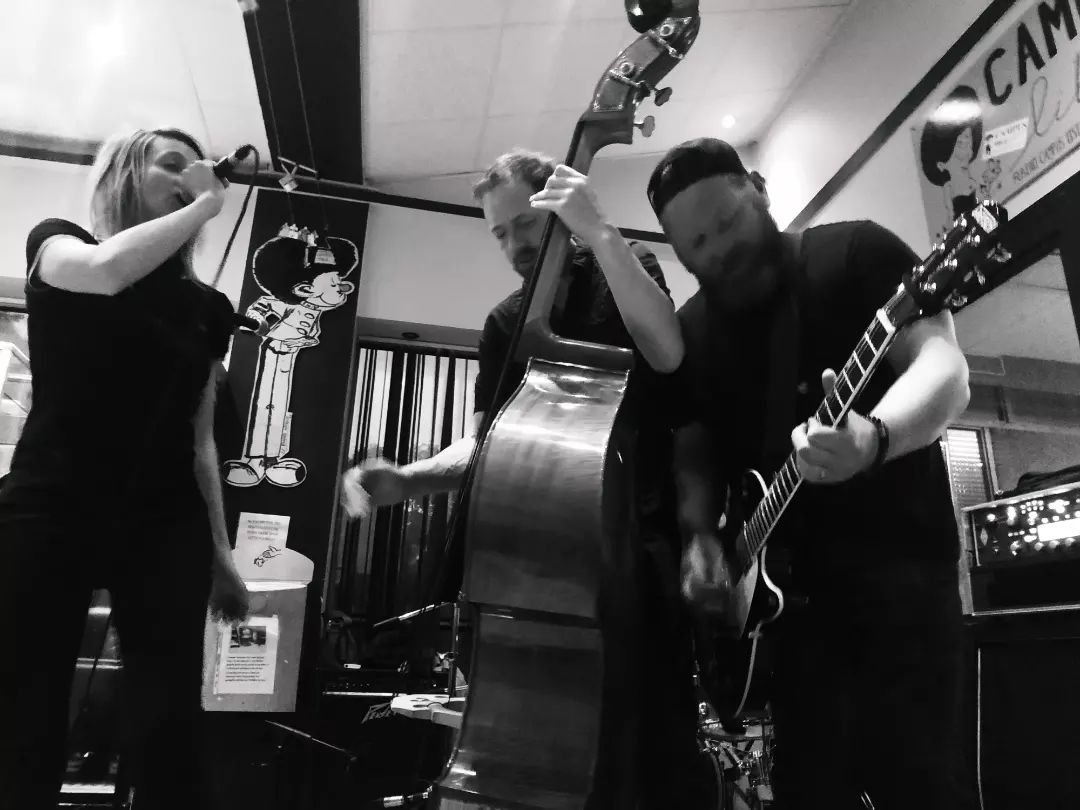 How would you describe your music in three words to people who never have heard you?
-Our music is Energic Horror Punkabilly

What does punk mean to you, is it only a word or is it a lifestyle?
Is there any good bands from France right now? Is the punkscene/ metalscene/ hardcorescene big?
-We got political ideas but music is really something apart! We just pay attention to the places we could play to not meet people we dont want to. Being punk is a state of mind, that is to incite to tolerance.
The french punk scene evolves, but still got a lot of work for women to get respect and equality in the scene.

Have you heard any good bands from Sweden?
-Good Bands from Sweden we know ABBA, Arch Enemy, Millencolin, Liberator, Meshuggah, …

Your lyrics, who does them and what influences you? You sing a little in French or do I hear wrong? Please tell me a little about the following songs -My Nurse -Wicked Mind -Zombi queen
-We wrote both in french and english (and even a little spanish on Santa Muerte), but the following songs should only be in english. Julien and Audrey writes most of the lyrics.
Behind the songs:
My nurse reveals the beginning of the band, we're just the four bodies that have been brought back to life to tell the stories of this mysterious and psycho nurse.
Wicked Mind is more about dual psychology, evil controls mind and makes someone killing people.
Zombi Queen is about zombies partying with their goddess in their cemetary.
These three songs are a good sum up: on stage we're kind of possessed by a common energy and we want people to party with us and to free themselves (and ourselves too) from all the bad things that can happen in everyday's life, like an outlet.

Is there any subject that you never will write anything about? Or isn´t anything sacred?
-We talk about death, blood, party, psychological disturbance (the second record will be more about this side, less bloody), we dont have to talk about politics in our lyrics.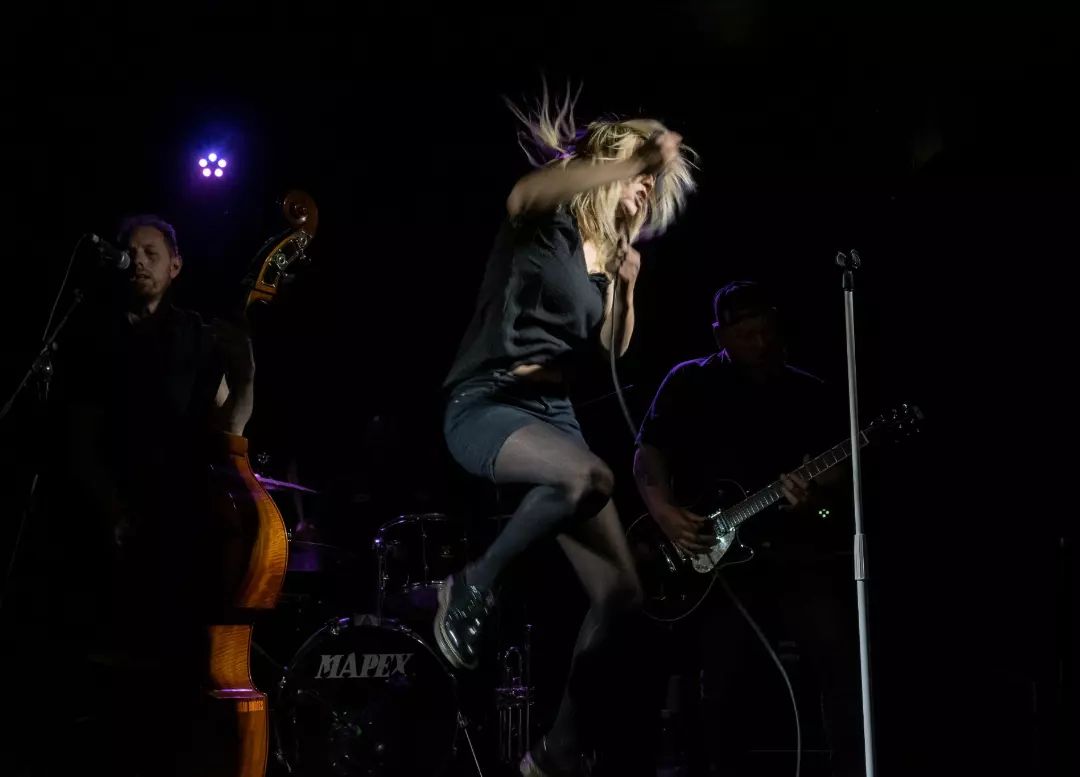 Politic and music, does it goes hand in hand? Which is your most political song or do you don´t have any political songs? Is it important to get out your opinions in music? Or is it OK to play music and not sing about politics?
-The only political aspect is in equality of rights (all the dead are equals aren't they?), freedom of being whoever you want to, tolerance, and unity.

Who does your recordcovers?
-A local artist named Colin made our cover and logo!

Is it important to get out physical records of your stuff? Why or why not? Vinyl, CD, cassette, what do you prefer if you could choose whatever ? The latest record came on vinyl or?
-We made our first record on cd and K7 but we plan to make it on vinyl too. It really matters to us to make itt on vinyl.

Is it boring with interviews? Is it much interviews?
-The interview's a little too long for a first one :D
As I'm the only one to speak english it would have taken too much time to translate all the questions in french, then all the answers from french to english, so I chose to answer for the band, hope they wont be mad at me:D

Do you care about reviews?
-Reviews are just a way to share our passion with a wilder public.

Which bands do people compare you to, is it boring that people compare you to other bands or is it understandable?
-We've been compared to Burning Lady (a french punk band) because they arre also from north of France and also lead by a woman. That's fine, we like what they were doing! https://youtu.be/fiIQq8L6O7s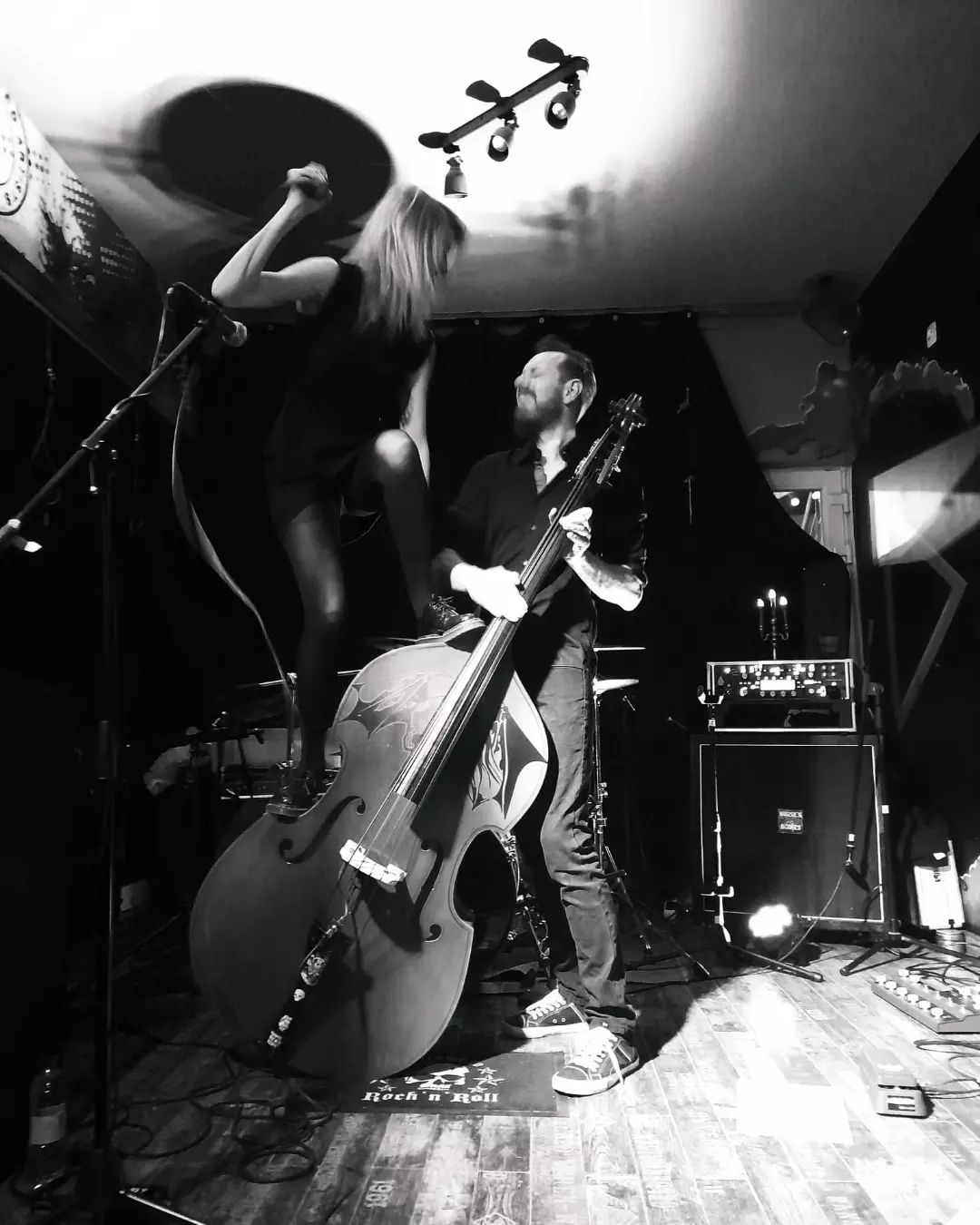 If you could choose five bands from the past and the history and nowadays and both dead and living bands to have a concert together with your band. Which five have you been chosen?
-They're would be too many bands we would have liked to play with, or we would like to play with.:) It's interesting to play with bands we do not often hear/see live , like we're going to play at the end of june with Ghost Bastards, a psychobilly band from Argentina !

One more question….Beerfavorite sort? If you did a beer which sort would it be and what have it been called?
-We're from the north of France, we drink belgian beer and some local really good beers ==> https://www.facebook.com/BrasserieDePlus/
Something more to add?
Hope you'll be good with these answers, I didnt answered all of the interview but if there are other things you really need to know, you can always ask:)

Thanks again !(

(Julien) – Nurse's Dead Bodies
Inledning: Nurse´s Dead Bodies Fyra lik, Audrey (sång), Timothée (trummor), Julien (kontrabas) och Laurent (gitarr), berättar de sjuka historierna om en störd sjuksköterska på vilda punkriff med psychobilly-stil. Niko hjälper dem att arbeta med bandets sound.
Band Story: Nurse's Dead Bodies föddes 2013 med Audrey, Tim och Julien. Bandet komponerade snabbt några låtar, blandade punk, rock'n'roll och psycho, för att väcka liv i berättelser som handlar om skräcktema, freaks och psykisk störning.
François (gitarr) gick med i bandet och en första 4 låtar EP -Nurse's Dead Bodies says.. hell O !- släpptes 2014.
De fyra levande döda spelar på pubar, konserthus och festivaler i sitt område och spelar med band som: The Bloodstrings (2018) ; The Monsters, The Devils, The Lucky Devils, Toxic Waste, Jodie Faster, Dr Loomis and the Freakies, Dunwich (2017) ; The Living Deads, Piss Me Off and Kitty in a Casket (2016).
Laurent gick med i bandet 2017 och är fortfarande den enda gitarristen efter att Francois lämnade bandet i Augusti 2020.
De fyra döda kropparna spelar in och släpper sin första LP : BEYOND THE GRAVE i mars 2022- till vilken det görs ett videoklipp för singeln Zombi Queen. De 12 titlarna bildar ett sammanhängande och ändå diversifierat album.
Nu över till intervjun.....gjordes i juni 2022
Tidigare band? Andra band pvid sidan?
-Tidigare spelade vi i andra punkband, men även i ska/reggaeband. Julien (stå bas) ahr faktiskt ett annat punkband som heter CTRL där han spelar gitarr.

Jag kan höra mycket olika influenser men mest punk, psychobilly, horrorpunk? Favoriter från förr?
-NDB:s influenser är 90spunk (Rancid, The Distillers, Hellcat Stuff) och psychobilly (Nekromantix, Tiger Army, Zombie Ghost Train, The Brains)

Nurse's Dead Boides är ni nöjda med namnet? Hur kom det till? Ni var inte rädda för att något annat band skulle heta så här? Vilket är det bästa bandnamnet du vet?
-Julien hittade på namnet Nurse's Dead Bodies (trummisens fru är sjuksköterska) och vi ville ha något att påminna om skräckfilmstema (vi tänkte tidigare på Jack'O'lantern eller Cold Miners). Vi tror knappast att det finns någon annan som är så galna som vi som och hetersom ett band som detta :D Vi gillar namnet (och bandet) Nekromantix.
Vad är det bästa med att spela live? Har ni gjort något sedan covid kom?
-Vi har spelat in under covid-skiten. Så snart det lugnade sig tog vi oss tillbaka på vägen (sedan februari 2022) och vårt album kom ut i mars 2022. Vi spelade på barer, gjorde vår första spelning i Paris, och vi har redan planerat spelningar för september och oktober (kort Halloween Tour). Vi skulle vilja spela på några festivaler 2023 innan vi börjar spela in vårt andra album. Att spela live tillåter oss att visa vår (galna) energi och dela den med allmänheten, som alltid sjunger tillsammans med oss.
Och var är bäst att spela? Och det värsta stället?
-Det bästa stället att spela är överallt där det glädjer människor.

Hur är det att spela den här typen av musik i Frankrike just nu? Vilka typer av band har ni konserter tillsammans med?
-Vi har spelat med franska Lucky Devils, Bulgarian Yogurts, Dr Loomis och The Freakies (psycho band), vi skulle vilja spela med Monster Klub eller Banane Metalik. Vi har också spelat med The Bloodstrings, The Living Deads, Kitty i en kista. Det finns inget många band med kvinnlig sångerska. Skulle vara häftigt att spela med Horropops eller The Distillers. Psychobilly/punkabilly i Frankrike är inte särskilt känt och ses sällan på stora festivaler. Vi sänds på radio i USA eller Storbritannien men inte i Frankrike (förutom på några lokala kanaler).
Hur skulle du beskriva din musik med tre ord för människor som aldrig har hört er?
-Vår musik är Energisk Horror Punkabilly

Vad betyder punk för dig, är det bara ett ord eller är det en livsstil? Finns det några bra band från Frankrike just nu? Är punkscenen/metalscenen/hardcorescenen stor?
-Vi har politiska idéer men musik är verkligen något som vi tar isär! Vi är bara uppmärksamma på de platser vi kan spela för att inte träffa människor vi inte vill ha. Att vara punk är ett sinnestillstånd, det vill säga att uppmana till tolerans. Den franska punkscenen utvecklas, men det är ändå mycket arbete för kvinnor för att få respekt och jämställdhet i scenen.
Har du hört några bra band från Sverige?
-Bra band från Sverige vi känner till är ABBA, Arch Enemy, Millencolin, Liberator, Meshuggah, ...
Era texter, vem gör dem och vad påverkar er? Ni sjunger lite på franska eller hör jag fel? Berätta lite om följande låtar
-My Nurse
-Wicked Mind
-Zombi queen
-Vi skriver både på franska och engelska (och till och med lite spanska på Santa Muerte), men följande låtar är bara på engelska. Julien och Audrey skriver de flesta texterna. Om låtarna:
My Nurse avslöjar bandets början, vi är bara de fyra kropparna som har väckts till liv igen för att berätta historierna om denna mystiska och psykosjuksköterska.
Wicked Mind handlar mer om dubbel psykologi, ondska kontrollerar sinnet och får någon att döda människor.
Zombi Queen handlar om zombies som festar med sin gudinna i sin kyrkogård.
Dessa tre låtar är en bra sammanfattning: på scenen är vi typ av besatta av en gemensam energi och vi vill att människor ska festa med oss och att befria sig själva (och oss själva också) från alla dåliga saker som kan hända i vardagen, som ett utlopp.
Finns det något ämne som ni aldrig kommer att skriva något om? Eller är inget heligt?
-Vi sjungerom död, blod, fest, psykisk störning (den andra skivan kommer att handla mer om den här sidan, mindre blodig), vi behöver inte prata om politik i våra texter.

Politik och musik, går det hand i hand? Vilken är er mest politiska låt eller har du inga politiska låtar? Är det viktigt att få ut dina åsikter inom musiken? Eller är det okej att spela musik och inte sjunga om politik?
-Den enda politiska aspekten är jämlikhet av rättigheter (alla döda är jämlikar eller hur?), frihet att vara vem du vill, tolerans och enhet.

Vem gör era skivomslag?
En lokal konstnär vid namn Colin gjorde vårt omslag och logotyp!
Är det viktigt att få ut fysiska skivor? Varför eller varför inte? Vinyl, CD, kassett, vad föredrar du om du fick välja vad som helst? Senaste skivan kom på vinyl eller?
-Vi gjorde vår första skiva på cd och K7 men vi planerar att göra den på vinyl också. Det är verkligen viktigt för oss att göra den på vinyl.

Är det tråkigt med intervjuer? Är det mycket intervjuer?
-Intervjun är lite för lång för att vara en första :D Eftersom jag är den enda som talar engelska har det tagit för mycket tid att översätta alla frågor till franska, sedan alla svar från franska till engelska, så jag valde att svara för bandet, hoppas att de inte blir arga på mig:D

Bryr ni er om recensioner?
-Recensioner är bara ett sätt att dela vår passion med en vildare allmänhet.

Vilka band jämför folk er med, är det tråkigt att folk jämför er med andra band eller är det förståeligt?
-Vi har jämförts med Burning Lady (ett franskt punkband) eftersom de också kommer från norra Frankrike och även de leds av en kvinna. Det är bra, vi gillar vad de gjorde! https://youtu.be/fiIQq8L6O7s
Om du fick välja fem band från förr och historien och nutida band och både döda och levande band att ha en konsert tillsammans med ert band. Vilka fem hade du valt?
-De skulle vara för många band vi skulle hade velat spela med, eller så skulle vi vilja spela med.:) Det är intressant att spela med band vi inte ofta hör/ser live, som att vi ska spela i slutet av juni med Ghost Bastards, ett psychobillyband från Argentina!

En fråga till....ölfavoritsort? Om ni gjorde en öl vilken sort skulle det vara och vad hade den kallats?
-Vi är från norra Frankrike, vi dricker belgisk öl och några lokala riktigt goda öl ==> https://www.facebook.com/BrasserieDePlus/
Något mer att tillägga?
-Hoppas det blir bra med dessa svar, jag svarade inte på hela intervjun men om det finns andra saker du verkligen behöver veta kan du alltid fråga:)

Tack igen ! (

(Julien) – Nurse´s Dead Bodies