The answers comes from Filip who plays drums and sings in Nic Smiesznego. One of Polands best bands right now. In the end of the year 2021
Please tell me a little bit history of the group?
-The band was formed on Pasiak's (the guitar) initiative in 2003 in the village Brzeznica in the south-east Poland. At first the band consisted of Pasiak (the guitar), Gieru (the bass), Rysiek (the drums) i Gumiś (vocals). The lineup changed, in the meantime Gieru left, whereas Ariel (the bass) joined, Ariel left , and Kefir (the bass) joined, Rysiek left and Filip (the drums) joined, etc. We recorded two demo albums, we played quite a few concerts and, unfortunately, life forced us to cancel the bands activity for an indefinite time. In 2018, after a meeting, we started playing again in the line-up of Pasiak (git), Gumić (voc), Ariel (bass), Filip (per). Initially, it was supposed to be a comeback for only one concert, but as it turned out later, we got along well so we decided that we would take the matters further. We started playing concerts and doing completely new material simultaneously. In 2020, we released our first full album "NIHIL RIDICULUM" on our own and with four publishers (HC Tatoo Rec., Beskid Punkowy, Pasażer and Stradoom). It was received quite nicely. This would probably be it if it comes to history.

Please tell me a little about every member in the group right now, age, family, work, interests and something bad about everyone? Earlier bands? Other bands on the side?
-The variety of the jobs we do is wide, from head of the company, through the chimney sweep, factory worker, to the caretaker of the disabled. Each of us has different interests, model building, motorcycles, etc. But we have one common interest which is music and its creation. The earlier, or actually a parallel playing band we were involved in was Ortodox, and now Ariel still has his project called Anver Void.

I can hear much different influences but mostly punk and some hardcore, old polish bands like Dezerter? Favorites from the past?
-Actually, everyone will sense something different in our music. In general, we somehow fit into the broadly understood term hc / punk, but it was not intended. We don't want to label our music. Each of us listens to a bit different music, from jazz, through punk, hc, industrial, to psychorap and electronic pieces, and it is this mix of musical preferences that makes us play the way we do. It's hard to name your favorite bands from the past because each of us would have to write a long list and there isn't enough space in the interview for it, hahaha.

Nic Smiesznego are you satisfied with the name? How did it came up? What does it mean? You weren't afraid that some other band would be named like this? Which is the best bandname you know?
-There was once a Polish film with the same title. It portrayed Polish society, all its flaws, concerns and general crap. This is where the name came from. We believe that despite the appearance of happiness, there is really nothing to laugh at when looking at the world around us and the direction in which it is heading. Is anyone else called that? Probably not in Poland, and abroad we don't know because we don't know languages, ​​hahaha. Best band name I know? I don't know, I can't answer ... hahaha

What´s the best thing with playing live? Have you done any since the covid came?
-The best thing about playing live is the energy and feedback you get from people in front of the stage, it doesn't matter if it's 100, 200, 300 people or 1 person. Playing live is different from studio playing in that sense that there is space for spontaneity, a lot of things during live shows come out naturally without planning, and that's the coolest thing about it.
Covid complicated a lot of things, including the possibility of touring. We've had 3 lockdowns in Poland so far and we don't know how many more there will be, but between them we played and are playing quite a lot of concerts, in total there will be around 20 so it's not as bad as you might expect.

And where is best to play? And the worst place?
-Hard to say. Wherever someone puts their energy, their free time and often their money to organize a gig, people come, sometimes more, sometimes fewer, but they come, there is a good place to play. And it does not matter whether you play professional equipment with sound engineers, or you only play with the backline. And the worst place? Each one where politicians, the church, the army, the police, etc. are involve.

How is to play this sort of music in Poland right now? Which types of bands do you have concerts together with?
-For sure the times we live in and what is happening now in Poland and in the world gives us reasons to shout out everything we disagree with and what makes us angry. We play as we feel and we treat our playing as something normal, so I can briefly answer that playing such music in Poland is now normal, just like any other :)
As for the bands we play with, the easiest way to say is that they are independent , without right-wing / national / Nazi fascist influences, regardless of the type of music they play.

How would you describe your music in three words?
-90' style hc/punk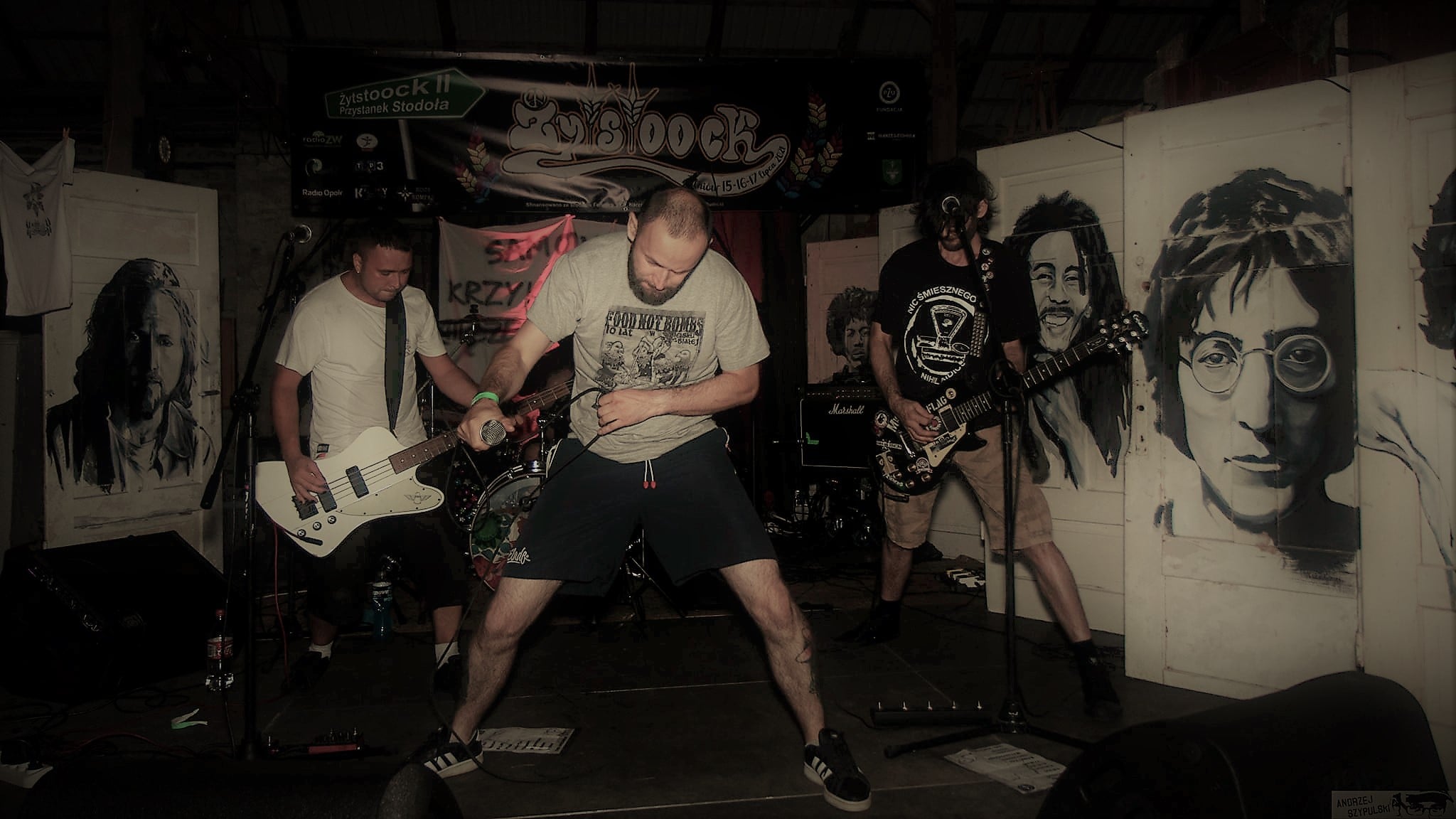 What does punk mean to you, is it only a word or is it a lifestyle?
-Definitely a lifestyle, living in harmony with yourself, but also in harmony with others. If you feel good as you are, and at the same time you do not hurt others, you see their needs, you react when someone wants to oppress the weaker, destroy what is different from themselves, divide, etc., it can be said that this is punk and it does not matter whether you dress in a suit, tracksuit, jeans or any other way suitable for you, no matter what music you listen to, who you love, etc.

Which song/album or group was it who took you into punk/hardcore?
-There was no particular song or band. In the times when tapes were popular, we exchanged music from metal, through punk, hc, even rap to industrial, etc. The whole thing in a way led us in this and not another direction and you can hear it in our playing, many different influences.

What shall a young guy do today to shock their parents as the way we did when we were young? They have already seen everything <![if !vml]>
<![endif]>?
-Shocking by force makes no sense at all, unless they really want to mess with their parents. Did we try to shock the parents by force? Probably not, it is just that the generation gap causes a change of interests and what is the norm for us is a shock for the older generation. Have the parents seen everything possible? It seems to me that no, because the 21st century surprises us every day and for the current young generation, "our shocking" is an outdated standard, and the creativity of the young generation is now enormous and it would be better if they did not try to shock the parents too much, because the consequences may be, to put it mildly, unpleasant.

How is it to live in Poland right now? Politically? Fascists?
-Life in Poland is strange at the moment. On the one hand, it is theoretically "normal", on the other hand, the country is ruled by a conservative, right-wing party that only has eyes for the church, so you can guess in which direction this is going. In addition, we have a tacit consent to the Nazi's running rampant under the guise of patriotism and hooliganism, which is also strongly concentrated on the right. So this normality is, as I mentioned, "theoretical".
It is not communism, but unfortunately it is heading in this direction.

Is there any good bands from Poland right now? Is the punkscene/metalscene/hardcorescene big? How is it in your hometown?
-There are a lot of really great bands from the broadly understood "scene". It's hard to mention all of them, so I'll just mention a few: Eye For An Eye,Skorup/a, Wara, 1125, Schizma, The Corpse, Morus, Regres and many others. Some are shutting down, others are reactivating, others are being built from scratch. I recommend delving into the Polish scene because it is specific and really interesting.
In our town, apart from us, there are 4 bands from the broadly understood hc / punk scene: Mamusiu Ratuj, Ortodox, Prokurator, The Dickens. Some of them perform and record, some work on material.

What do you know about Sweden? Have you been here sometime? What is typical Swedish?
-In Poland, there is a conviction that it is one of the best countries to live in, but it is very expensive and the language is difficult to learn. What do we know about Sweden? At school in geography, they taught us what the capital city is, with whom it is neighbors, where it is, what currency it has, etc. so we have basic knowledge hahaha. We haven't been to Sweden yet, but we hope that someday we will have a chance to play something in Sweden. And a typical Swede in our opinion? – a VIKING :)

Have you heard any good bands from Sweden?
-Sure. The first three for me are 1. Refused, 2. Misconduct, 3. The Hives

Your lyrics, who does them and what influences you? Never in english? Please tell me a little about the following songs
-Pseudo
-Anormalnosc
-Robotnik
The texts are all written by all of us. One of us will write something, the other will add something, the third and the fourth will make corrections and that's how it goes. We are inspired by life, everything that is happening around us, we try to transfer our views and our attitudes to life into texts, regardless of whether they suit someone or not. We try to be honest in what we do, which is why we never think about whether we can offend someone with a text or not. For the same reason we don't sing in English, we live and make music in Poland, we mainly sing about what pisses us off in this country, so we don't see why we should do it in English, it wouldn't be sincere.
And now about the songs:
"Pseudo", a song about the fact that everything modern politics is built on is pseudo. It doesn't matter where, politics is evil whether it is right, left or center. It is a cancer that consumes society, leading to differences, conflicts, wars, poverty and all the evils of this world
"Anormalnosc" ("Abnormalities") - the issue of the complexities in the recesses of the human soul or more of the mind really. On the outside, we are completely different than inside ourselves, we have trained behaviors and rituals, formulas that come out of our mouths. All of this may seem just abnormal. It is about the discrepancy between what is in the head and what is real.
"Robotnik" - a number to the text of the Polish poet - Edward Stachura. The first of the two "old" pieces in the "new" version. A song about 75% of the society, about the nonsense of the work performed and about the "worker's day", about the mundane everyday life of "ordinary Smith". At concerts, this song is dedicated to all those who have to wake up every morning and reluctantly stand at the assembly line for 8 or more hours.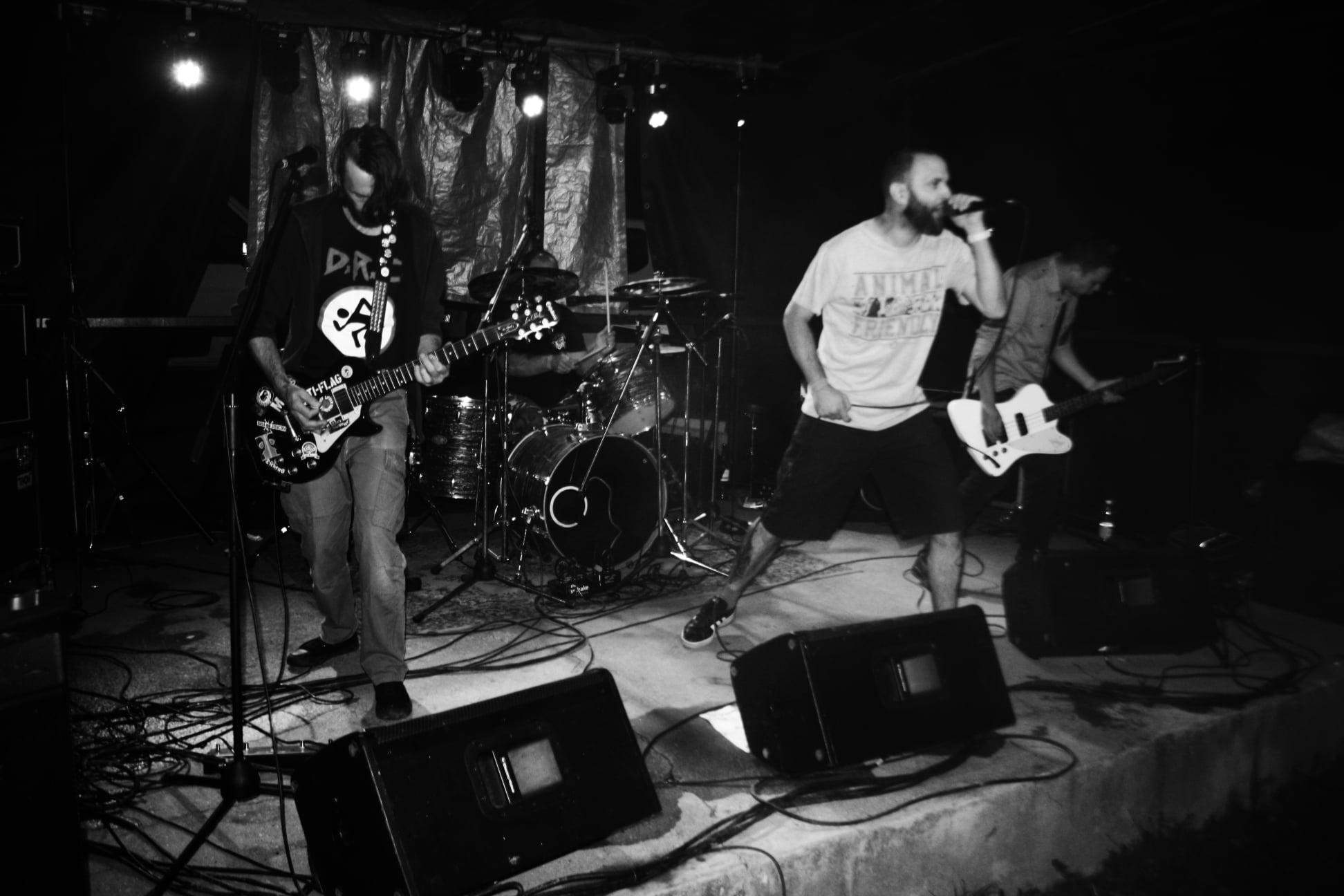 Is there any subject that you never will write anything about? Or isn´t anything sacred?
-There is no question of writing any texts praising any power or political system, and in fact this is probably the only topic that we will never touch on in the texts.
Politic and music, does it goes hand in hand? Which is your most political song? Is it important to get out your opinions in music? Or is it OK to play music and not sing about politics?
-There are bands that cut themselves off from politics completely, as if everything that happens around them would not apply to them. We did not do that and we will never do that. We are not going to say that something is white when it is clearly black, we are not going to turn our heads or close our eyes if we disagree with something, and politics is the best example of that. I believe that the hc / punk scene is very closely related to politics, and more specifically to opposition to it, regardless of which side of the political scene we look at. Is it OK to skip politics in texts? Everyone sings about what they think is appropriate, I do not want to judge here, everyone does and sings as they please. What matters is honesty, not being catchy.

Best political band/artist?
-For me, definitely Rage Against The Machine

Do you think that music(lyrics and so on) can change anyones life, I mean people who listens to music?
-What we sing about is an expression of our thoughts, our approach to life and the world, shouting out everything that worries us, but we always want to reach people who listen to us with the message. I think this applies to all bands that pay attention to the lyrics and not sing about crap as long as somebody gets hold of it and can sing with them. So the answer is yes, the lyrics can, and often should, change the attitudes to life.
Your favorite recordcover alltime? Who does your recordcovers? And do you have any good recordstores in your hometown?
-The best cover ever made for me is the cover of the King Crimson album "In the court of the crimson king". Our cover was designed by a friend from our friendly band, Burek Dobry Pies. He wanted to undertake this project, he proposed such a design, we agreed, a few corrections were made and here it is :) In fact, there is only one music store in our town. It is called Debut, really great, run by a real enthusiast of music and a walking encyclopedia. You can find gems practically unavailable anymore. Another thing is that in the age of the Internet, music stores cease to exist. There are retail chains that have, among other things, CDs in their assortment, but they are one of many other goods, so it's hard to treat such places as music stores.
Is it important to get out physical records of your stuff? Why or why not? Vinyl, CD, cassette, what do you prefer if you could choose whatever ?
-We are in the 21st century, so it is known that 99% of recordings are available on the Internet both legally and illegally and we will not escape from it. Nevertheless, it is always worth having a medium with your music because not everyone likes to listen to music from the Internet. As for the choice of a vinyl, cd or cassette, the vinyl fashion is back and the cassette is also slowly coming back, so if you want to fit in with the fashion, you have to say that one of these two, but I think that the best medium at the moment is a CD. We treat vinyl and cassettes as "collector's editions", especially because vinyl is damn expensive to release.
Please tell me a funny thing which have happened during your career and under some gig?
-Actually, it's not about Nic Śmiesznego, but we went to a concert with the band I played in before, everything was great, the time passed nicely, then the time came to enter the stage, and we realized that the guitars had been left in the rehearsal room - some 150 km from the concert venue so there was no chance to quickly drive and pick them up. We had to borrow equipment from another band, and our right-handed bass player was playing the bass for left-handers, so he had the strings upside down. We played somehow, but we still remember this situation and have a lot of laugh hahaha.
How does your audience look like? Which people do you miss on your concerts? Which is the biggest band you ever have played together with?
-The audience is diverse, from old punk rockers to teenagers and sometimes kids. We always miss all those who, for some reason, could not come, but wanted to. Well, it happens sometimes and it is always a pity that they are not there. Of course, all those who have passed away, with whom we will never meet again at any concert. We miss them a lot.
As for the "greatest" we've played with, each of the bands we've ever played with is great for us because they create something of their own, something honest and try their best. The most recognizable bands in Poland with whom we had the pleasure to play are probably Dezerter and Los Fastidios, but we will not mention the rest, so as not to skip someone;)
Please rank your five favoriterecords, five favoriteconcerts and five most important things in life?
-As many as five ?! :) OKAY. 5 CDs: Sepultura "Chaos A.D." , Pink Floyd "The Wall", King Crimson "In the court of the crimson king", 1125 "Nieugięci", New Model Army "Thunder and consolation". 5 concerts: New Model Army in Brighton, Gogol Bordello in London, Skindred in Redhill, D.O.A. in Bielsko Biała, GBH in Canterbury. 5 most important things in life: love, friendship, honesty, joy, happiness - it may be cliche, but true :)
First, last and most expensive record ever bought?
-The first album I bought was Sepultura "Chaos A.D." and the last one was Kult "Live Poland Rock Festival" (great album). The most expensive was probably King Crimson "In the court of the crimson king" limited on vinyl.
Is it boring with interviews? Is it much interviews?
-Good question. No, they're not boring as long as you don't have to answer the same questions over and over again. We don't have many of them, so we haven't got bored yet.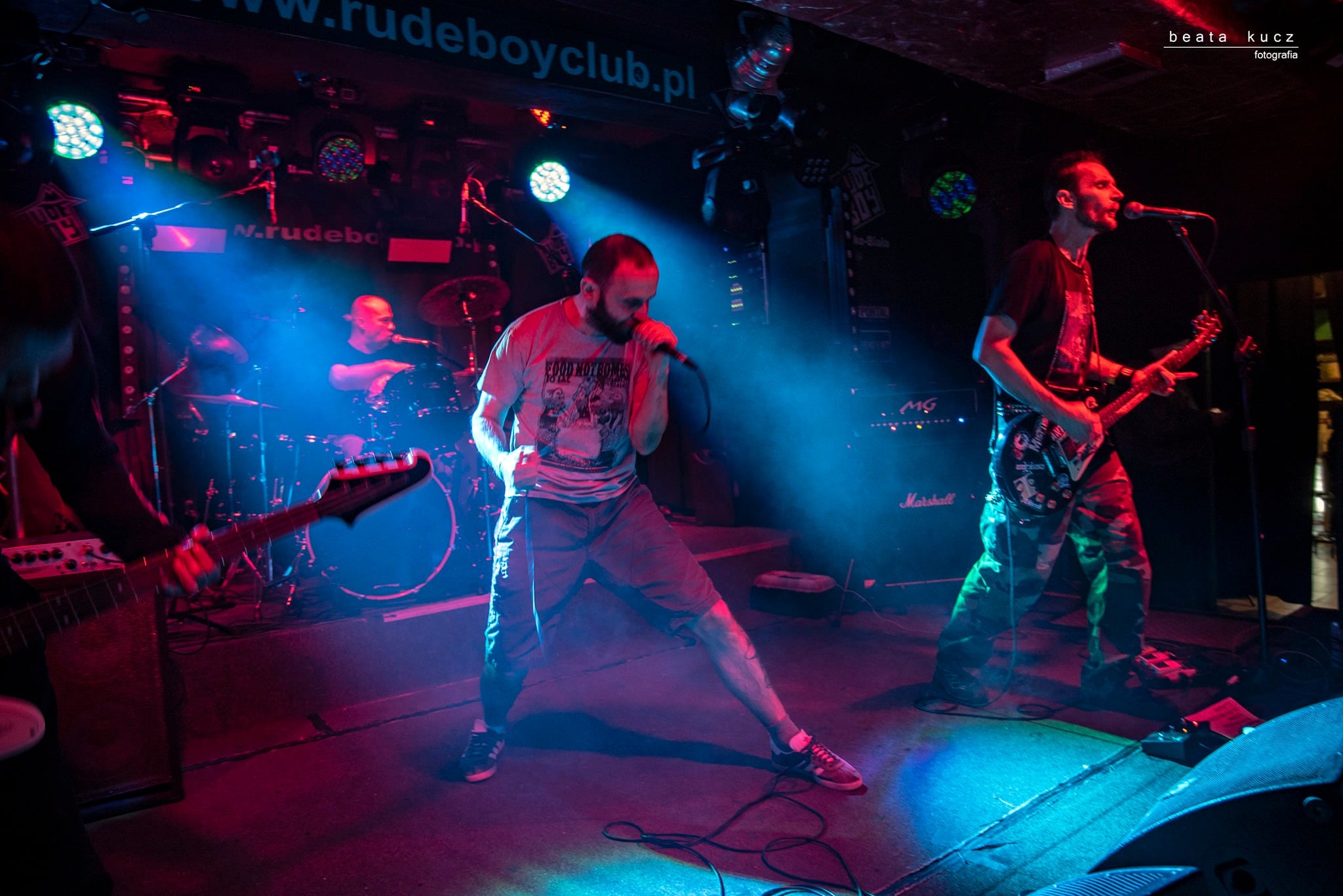 Do you care about reviews? Which is the most peculiar you ever had, with this band or any other band you have been to? Have you ever changed anything after a bad review?
-Reviews are important because they, apart from the concerts and the reactions of people in front of the stage, show whether the reception of what you have created is positive or negative. We do not follow opinions and we do not change anything after hearing the bad ones, we always do as we feel, regardless of the opinions of others. Not everyone has to like what we do, everyone has different musical tastes and this is the most beautiful thing about this scene, that you can be a part of it, and at the same time can be different. And the strangest part of our review is that "you barely start to pogo to the music, they change the rhythm and pace and you can't" :)
Which bands do people compare you to, is it boring that people compare you to other bands or is it understandable?
-We are usually compared to bands such as Apatia, Złodzieje Rowerów, Guernica Y Luno (these three, unfortunately, no longer exist) and to Dezerter. We are not annoyed by it, and indeed it is an honor for us to be compared to such great and significant bands. Everyone will find something different in our music, everyone will hear different influences, but it is all outside of us and we have no control over it. We consciously do not try to imitate anyone, and the fact that we like these or other bands somehow subconsciously influences our music.
If you could choose five bands from the past and the history and nowadays and both dead and living bands to have a concert together with your band. Which five have you been chosen?
1. Pink Floyd, 2. Bad Brains, 3. Ramones, 4. Body Count, 5. New Model Army

Is music a good way to get out frustration and become a nicer person outside the music??
-Making music or playing concerts gives us incredible energy and allows us to recharge our batteries, forget about everyday life for a moment, such a hard reset and thus it can be said that thanks to music we become better in everyday life for a moment.

Which is the most odd question you ever have got in an interview?(Except this one)
-In an interview for a pally zine we were asked: "Where and for how much can you buy human bones by weight" :)
Which is the question you want to have but you never get. Please ask it and answer it?
-I don't think there is such a question :)
Futureplans for the band?
-If everything goes according to our plan, next year we are entering the studio with the second album, which we hope to release in 2022. and then maybe a promo tour J
For yourself?
-We just want to live well and be happy.
Wisdomword?
-Live in harmony with yourself ...
Something to add?
-Thanks for the interview and your interest in us. We hope to see you sometime at a concert in Sweden, of course, if there is someone willing to invite us, which is what we are counting on, and feel invited to us hahaha.