Lost Wisdom comes from my old hometown Uddevalla and in the group is my old colleague's son so it's fun to hear what they think about things. January -2022
Tell me the story of Lost Wisdom?
–Osvald and Kalle met via the culture prize-winning musical Momo where both played in the houseband. We started playing together in 2013. After a while we stopped playing Creedence covers and we started writing our own songs when Elliot joined the band in 2016. Since then we have had two tours in the Czech Republic and so far released 3 singles and one EP.
Current members and what do you do when you're not playing with Lost Wisdom. Other bands? Working with what? Former members?
-Lost Wisdom has had the same members all the way. Osvald, Kalle and Elliot. Osvald, who is a singer and guitarist, only plays in Lost Wisdom while Kalle who plays drums and also sings plays in Terrapine and live with Stella sleeps and Elliot who is bassist also plays live with Stella sleeps. Osvald is a carpenter, Kalle works in the home service and Elliot is studying.
I think there are influences from many styles punk indie hardcore and metal, what do you say? What style would you say you are closest to?
-We're aware that we play a lot of different genres and that's exactly how we want it. We listen to many different types of music and are not afraid to mix different styles even in a single song. It feels as natural to write a pure punk song as it is to write a hardcore song with a doom breakdown. It's hard to put a genre we're closest to, but usually it's punk, metal or action rock.
Tell me a little about the songs... Ain't got no time to fear? Do it Schnöös
-There are three short fast punk songs that simply jammed forward and felt right.
Are you happy that I can't put you in a particular genre? What types of bands do you play with?
-We've never wanted to be just a genre, some like that we're a little sprawling, others don't. We are aware that it can be racially difficult to mix genres with as wide a range as we do, but we love that freedom to be able to do what we want. We have played mostly with punk bands but could have played more with metal bands.
When we're talking about music, how do you see punk? Is it just a style of music or a lifestyle? Is here some punk bands before in Uddevalla like Straw Dogs, IFK Gamla Saxon etc, is there anything you listened to?
-For us, punk is about daring. We're keeping an eye on the old punk bands from the city. At the time of writing, Elliot is wearing an IFK Gamla Saxon shirt, and we have also played live recently with Straw Dogs.
Lost Wisdom how did that name come up? There are both synth and metal bands called that before? Didn't you check if any other band was called that? Have you received any complaints?
-We have taken the name Lost Wisdom from a painting that Osvald's mother's cousin has made. The name does not refer to a lost wisdom that we have now recovered, but rather that we have lost our wisdom.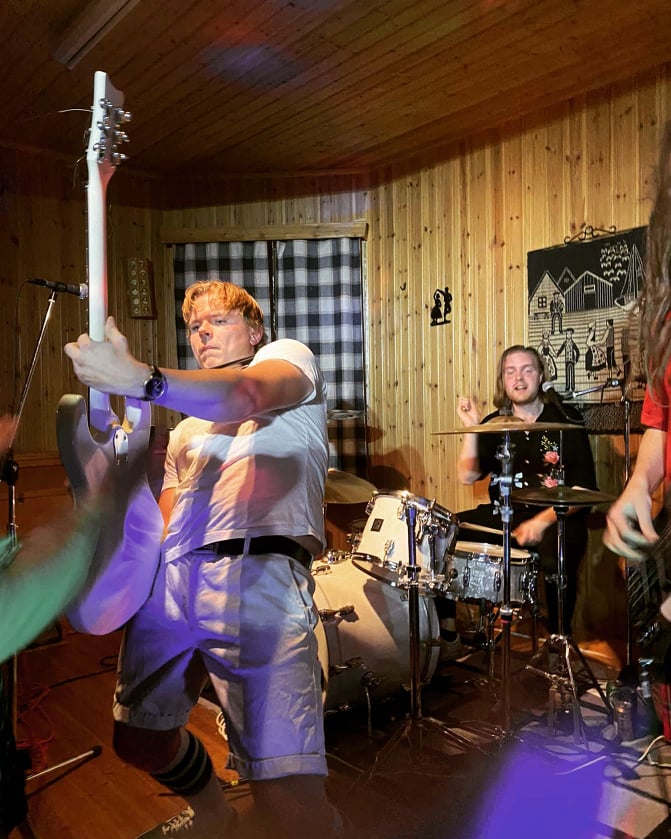 Why else do you play this kind of music today, what kind of groups inspire?
-Bands like Hellacopters and The Hives have been relevant to us throughout our lifetime and probably made us pick up the instruments. They simply wanted to do the same thing as them.
What kind of audience do you draw? Are there any varieties you are missing?
-We probably draw mostly older people who are used to seeing this kind of music live. But we would love to see more people our age and that live music is becoming more common to watch.
You've got a pretty lovely sound on your recording, do you do everything yourself or is there any producer involved?
-We mostly record in our rehearsal room together with skilled technicians. But it is on our initiative and we know how we want it to sound. We don't want to sound too modern, but want to convey the feeling that we're just pushing the rec and go.
Your lyrics otherwise, what are they all about? Does music and politics always go together? Why or why not?
-We would not say that we write political texts, but the texts are usually either self-perceived or observant. Deficient Time, for example, is about the feeling of being stuck in your squirrel wheel.
Are there any good political bands you like?
-None of us are actively looking for music for political reasons.
Are there any other bands in Sweden that you can recommend?
-There are a lot of bands you would recommend, but some of them are: Bombus, Headstag, Konspirationen, The Master Boys and ABBA.
Any good bands in your hometown?
-Sterile Hermaphrodite, Konspirationen, Black House Hill, Electric Hydra.
Do you think it's important to get out physical records? Have you released anything physical yet? Why or why not? Do you still have a good record store in your hometown? Evolution exists, right?
-Yes, we think physical records are important. Buying records is a great way to support bands. There is a Lost Wisdom CD.
Do you buy a lot of records yourself, are you collectors? What is the most expensive album you have?
-We often go and buy records at, for example, Evolution Records, which is Uddevalla's only record store. The most valuable thing is probably a really old press on KISS "Rock n roll over".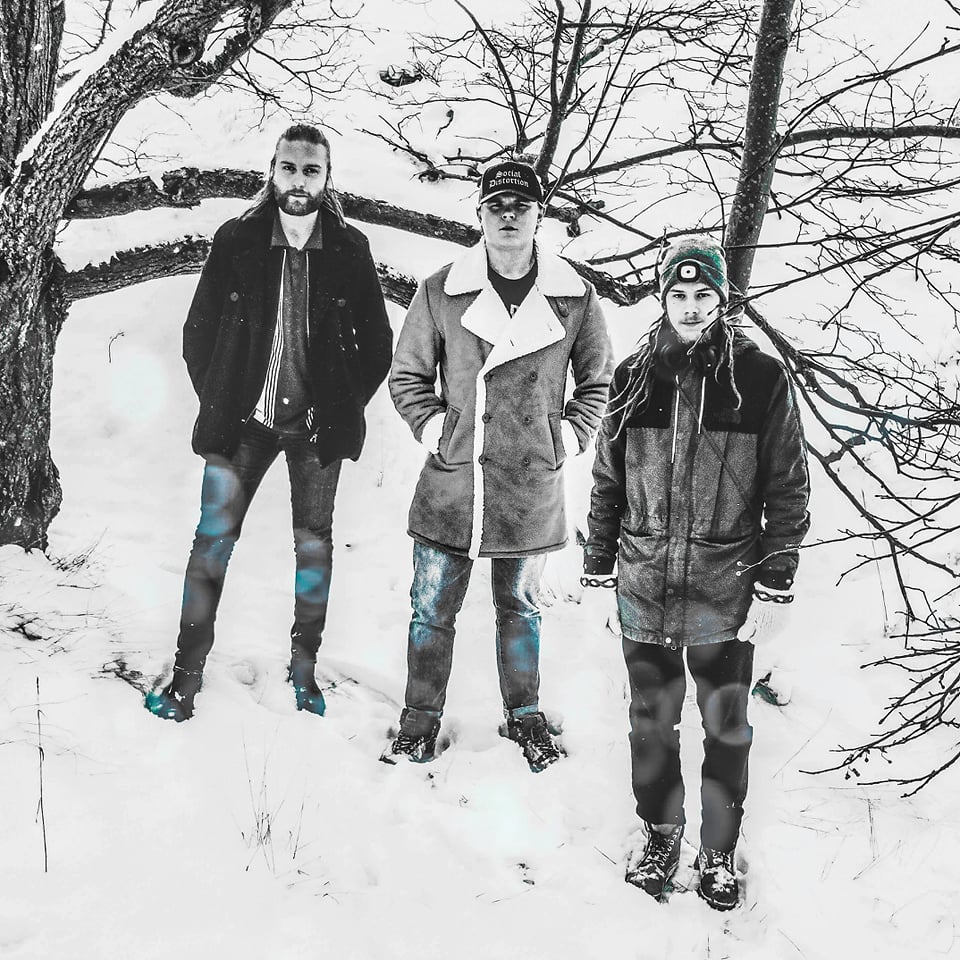 Just releasing music digitally, is that for you? Do you feel like you'd even release an album if you were just released on Spotify?
-Every release counts and feels important. Spotify is an incredibly important market these days. We are not purists when it comes to physical media, even if we value it highly.
How else do you think it is to live in Sweden today, politically with the brown-blue mess and covid strategy etc?
-I guess the situation feels a little unstable. The political situation feels very messy and slow. When it comes to covid, we obviously find it really boring that it is so difficult to get out and play. We encourage people to get vaccinated!
Do you play a lot out? Abroad? How was the gig with my old friends Straw Dogs from Uddevalla (I'm from Uddevalla from the beginning)?
- The Straw Dogs gig was good. The audience might not have been heated, but they seemed to like us and we got to sign some shirts afterwards. We have played in all places that can be played in Uddevalla, but also some in Gothenburg, Trollhättan and the Czech Republic.
If you made a beer like many other bands do, what would it be called and what kind would it be?
-Osvald already brews his own beer called Baloba's IPA which became a success among friends.
What's the best thing about playing live?
-The most fun thing about playing live is when you get good feedback. To see a moshpit or a really strong cheer.
Please rank your five favorite records, your five favorite concerts? The most embarrassing record in your collection?
-Some of our favorite records are Clayman-In flames, Guldkorn-Delta Rhythm boys, Vulture Culture-Bombus, Automatic Thrill-Gluecifer, Powerage-AC/DC. Some of the best concerts are In flames at Borgholm Brinner (2019), Foo Fighters when Dave Grohl broke his leg at Ullevi (2015), Red Hot Chili Peppers at Tele2 (2016), Hellacopters at the Globe (2021), Bombus at Pustervik (2020), and The Poodles at Torp 2006. The most embarrassing record in the collection is Aqua's record Aquarium
Do you play a lot of covers live? If so, which ones?
-We almost never play covers live, the only cover we really played is The Creeps by Social Distortion.
Is there a lot of interviews, is that boring?
-We've done a few interviews, so far it's still fun! .
What is the most common and boring question?
-The most common and boring question is probably how we started playing together.
Another question addressed only to Kalle. Is it dad who made you play music and what do you think of his taste in music?
-Yes, dad has shaped my taste in music and everything I listen to today.
Future of the band?
-Our future plans are probably just to keep us as busy as we can. Play live, record, record live, record.
Anything to add?
- There's not much to add. We just want to go on!