Lee Harveys is a band whch really touched my punkheart. Good 77-punk with a modern sound. I was "forced" to interview and that took time in the end of june 2002.
Please tell me a little history of the group, members and what you do when you don´t play music, what do you work and which ages are you in? You have done four fullengthrecords before 221 I understand, how can I get them?
...The Lee Harveys formed in early December 2009 and played their first gig two weeks later...the idea was to play punk cover versions but then we decided that we still had something to say so we started writing original songs...
Bitzy is our singer/rhythm guitarist
Paul is our drummer
Peter is our lead guitarist
Sam is our Bass player
Bitzy is aged in his sixties and the other members are all in their late 50s...
Peter runs his own record label called FOAD and his own pressing plant called Rotator Records
Paul is an artist and landscape gardner
Sam is a special needs assistant in the education system
Bitzy is an addiction support worker
Gun City, Still Angry, Bullet For The President, Resistance is not Terrorism are our first four records and they can be obtained through advancerecords.com...bandcamp or by contacting the band on facebook.
Have it been the same members all the time, or have it been many lineup changes? Please tell me a little about every member? Earlier bands?
...Bitzy and Paul are the only members left from the original lineup...Peter and Sam have been with The Lee Harveys for the last five years...we started off as a three-piece band but added another guitarist after the first record...there have been six past members who have been and gone since 2009...
Bitzy was a member of The Strougers who formed in 1977 and gigged until 1981
Paul was a member of Thee Amazing Colossal Men, Guernica and Firewater Creed who were active in the 80s/90s
Sam was a member of At Gunpoint in the 1980s
Peter was a member of The Golden Horde and is a current founding member of Ireland's longest punk band Paranoid Visions who formed in 1981...
Lee Harvey is the name, where did it came from and you wasn´t afraid that some other group would be named so?
...Bitzy came up with the name for the band as he had a vision that it could be used as a mouthpiece to tell all the world all that was good, bad and indifferent about the USA..''.I didn't bother checking if another band had the same name as I knew that they wouldn't''...the closest is The Lee Harvey Oswalds or The Lee Harvey Oswald Band...Obviously our name is the best!
What´s best with playing live ? Have you been start playing after covid-times? Where is best to play, which country, town, place?
...Playing live is where it's at...we feed off the crowd, ourselves, the atmosphere, the danger, and the fact that we still enjoy playing live...no two Harveys gigs are the same...we are not formulaic...we don't play or say the same things each gig we play...we are often spontaneous...most importantly we have fun! The band has played around six gigs since Covid restrictions were lifted this year...we obviously enjoy playing bigger and better venues whenever we get the chance but smaller gigs are always the best for me...I like to see the whites of the punters' eyes...The Academy, The Grand Social, Fibber Magees and The Thomas House have been favourite venues for us to play plus The Button Factory...all in Dublin...
Is it important to give out the record as physical releases do you think? Would it feel like you have released a record if you only release it digital?
...Physical releases are very important...it connects the people with the band in that they have an actual hard copy of their record...we sometimes launch a new record at a gig and the audience can purchase the record there or later in the shops...it's also important to chat with the people who come to your gigs and buy your records because without them you are nothing! technology now allows you to download or stream a song or an album...but all you then have is a virtual copy that you can only look at on a screen...boring!!
Do you play any covers when you play live? If you do, which then?
...We are known for always playing at least one cover in our live set...
Covers we have played over the years include...
Do you wanna dance...Ramones
Silly Thing...Sex Pistols
Vaseline...Elastica
Police On My Back...The Clash...
First Time...The Boys
Janie Jones...The Clash
Swallow my pride...The Ramones
Ran so far away...Flock of seagulls
Gimme some truth...John Lennon/Generation X
Think were alone now...Tiffany
Suck or blow...Heavy Drapes
Born to lose...Johnny Thunders
Stepping Stone...Monkees/Sex Pistols
I turned out a punk...Big audio dynamite
Action time vision...ATV
At the moment we play Part time punks by the Television Personalities
Please tell me a little about following songs a) Generation Kill b) From Russia with love c) Stand up
...Generation Kill
is about the state of the world as it is now...war, war, war everywhere...a generation of worldwide murder through genocide, famine and ethnic cleansing
Russia with Love
This song was written before the current war with Ukraine...Its about Putins paranoia and his desire to plunge Russia back into a total totalitarin state where he can reclaim and unite Russia of old...
Stand Up
This is about people uniting to fight fascism, rascism, dictatorships, oppression, apartheid...
Is it important to get out your opinions in your music, and is it a good way to get out frustration too?
….There are people who will tell you that music should not be political...BULLSHIT!!somebody once said or maybe they didint that'' if you cant say it in under three minutes it aint worth sayin'' The vast majority of our songs are uner three minutes.
Do you think that your lyrics can have effect on other people who listens to them…any example on it? Have you changed anyones mind?
...We wrote some songs on the treatment of the Palestinian people by the IDF and its government which Amnesty International said is Apartheid...we wrote our songs a long time before that conclusion was arrived at..,.I have spoken about the BDS movement (Boycott, Divestment, Sanctions) to people who were not aware it existed...a song we sang called ''One way in, one way out'' which is on the ''Resistance is not terrorism'' record deals with some of that and people asked me the meaning of the song and then became more aware of what was happening...''no one ever wants to listen, in Palestine theyre killing children'' check out ''Can you hear the sirens'' from the Still Angry record which deals with people fleeing wars.
How is it to play this sort of music in Ireland which type of bands are you having concerts with?
...We have a loyal following and a lot of the people who attend our gigs are good friends of ours...
We have played with Buzzcocks, Stiff little fingers, Paranoid Visions, Trouble pilgrims, Cockney Rejects, The Members, The Beat, The Dubtones, 999, Penetration, Conflict, The Nilz, The Outcasts, The Defects, Patrik Fitzgerald, The Dickies,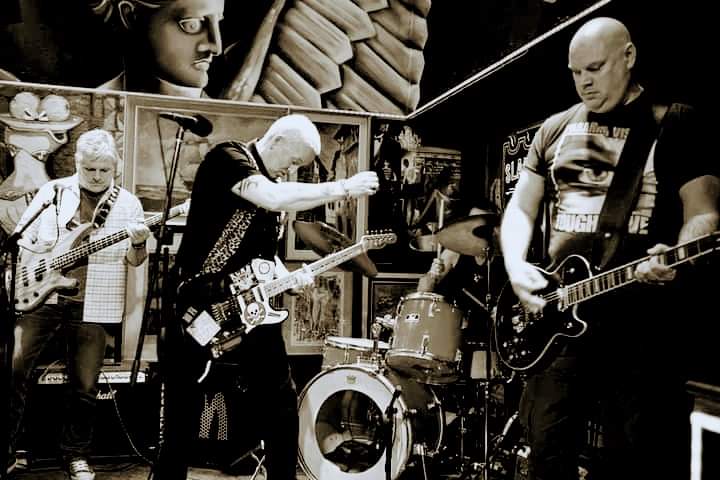 Have you been one of all these bands which have made livestreams now during the covid-19 time or how is it?
...We did not do a livestream during Covid...
I like beer and also make beer.. If Lee Harveys would do a beer , what would it be named and which sort of beer would it be?
...If we made beer it would be called ''Patsy Beer''...Lee Harvey Oswald called himself ''Im just a patsy''...So when you order you could say ''A pint of Patsy'' please.
How would you describe your music in three words to anyone who never have heard you?
...I will use a quote that an Irish music magazine used to describe us as ''music to sing along and dance to but with something a little more sinister bubbling underneath the surface'' (Jackie Hayden)
Which is your own favoritesong among your own songs? And which song is the people choice?
...My favourite song at the moment is one which we have not played live yet called ''Just Because'' other than that it varies from the ''Killing of America'' to ''Dead Pop Star'' the people attending our gigs shout up different songs to play e.g Still angry...rock n roll
What´s the biggest difference when you plays live nowadays if you compare when you first started to play in a band?
...The gigs are not violent!! back in the 70s if there was no violence at a punk gig something was wrong...I´ve played at and attended gigs where people were stabbed or got bottled or badly beaten...violence was normal at gigs back then
Old irish punk/hardcorebands which you really like?
...Old Irish Punk bands I dig are Radiators from space, The Sinners, The Outcasts,(still going) The Threat
What do you know about Sweden? What is typical Swedish?
......Stockholm syndrome...dont jaywalk in Sweden (good song title) ABBA of course...brilliant pop songs...IKEA...Northern lights...friendly people
Have you ever been here? Any good bands from Sweden that you like?
...Never been to Sweden...love to go sometime...I have heard The Accidents...good catchy songs
Your audience when you play live, which type of people comes, age?
...People from teenagers to people in their 70s,,,die-hard punks
Please tell me a funny thing which have happened during a livegig with your band?
...When we played Rebellion punk festival for the first time in 2013 it was a disaster...drinking heavily the night before did not help at all...I forgot to check the band in...bass player broke a string after two songs...guitarist broke his guitar strap and had to sit down to play the rest of the gig...I forgot the words and my guitar lead fell out, I did not know this and i played on until someone told me...we were so hungover that we finished the set 10 minutes early, said thanks and started to walk off until the stage manager told us to ''get back on and finish your time'' still have nightmares about it
Is there any good bands in Ireland today? New bands which is good? Old bands which is still good?
...Paranoid Visions
The Nilz
The Blackpitts
Trouble Pilgrims
Which is the record that you always must have in the tourbus?
...We have not toured much since Covid...we tend to talk and drink beer when we are travelling
Do you buy much records, or is it only Spotify and those type of things to listen to music?
...I buy records as much as possible...I use Spotify when I use the gym
How is it to live in Ireland overall, covid, racists etc etc?
...Ireland is very expensive but a very good place to live...we are friendly...racism unfortunately is everywhere even in Ireland
Do you care about reviews? Which is the most peculiar you ever had, with this band or any other band you have been to?
...I couldnt care less about reviews...I dont bother reading them...Only time I did was when we opened for SLF in 2011 in Dublin...the reviewer said we were''punk by numbers'' and I was taking the piss etc I got a great laugh from this
If you could choose five bands from the past and the history and nowadays and both dead and living bands to have a concert together with your band. Which five have you been chosen?
...The Ramones, The New York Dolls, The TV Personalities, The Sonics, Jerry Lee Lewis...These are my choices, I am sure the other guys have their own choices
Are you living on your music or what do you work with on the side of the music?
...There is no money in Rock n Roll...We do it coz we love it...I work as an addiction support counsellor
Wisdomword?
...''The path of excess leads to the palace of wisdom''