Frontalangriff is a german hardcorepunkband which sent me their record. So good and so hard. This interview was done in april 2022

Please tell me a little bit history of the group?
Pete: The foundation stone for FRONTALANGRIFF was given by a film project. "Part Of The Problem", a thriller in the Pank Milleu shot by friends. Were looking for people who represent a band, with concert recordings and contribute a story part in the film. In the basement hit a few songs recorded, have fun and just want more. With Dima I play in CUT MY SKIN, Ralle I know from punkbars & party making and Sascha came after the film shooting as a singer.When we had vocals on all songs, we recorded our first record in May 2021.

Please tell me a little about every member in the group right now, age, family, work, interests and something bad about everyone? Earlier bands? Other bands on the side?
Dima: age 37, having a family with 3 kids, playing drums, doing back vocals, doing artwork, working as a industrial climber in Berlin, love and do Tattoo/Bodyart . Musicaly, connect myself to a worldwide metal and hardcore punk scene. Punk and hardcore is the closest idea generator for my way of life and beliefes, the most honest and strongest way to be, based on my life expirience. Played before with :Dreadful Craving, Dagor Dagorath, Deadlock, Dead Rabinz, Shitty CT, Sphera, City Rats, Arafel, Molotov Cocktail(NY), Barreleye, Tilidin. Bands on the side: Cut My Skin, Rambukk.
Ralle/Sascha: We are "professional youth" in Berlin punkscene so age etc doesn t matter.
Pete: Playing bass, archery, fitness, having beer with friends, punkrock shows
early bands: Soul For Sale, Slack Jaw, Psychopathen, Six Päx. Band on the side: CUT MY SKIN

I can hear much different influences but mostly hardcore? Favorites from the past?
Pete: Bad Brains, Black Flag, Exploited, 7 Seconds, Suicidal Tendencies, GBH,
Circle Jerks, The Freeze, SNFU, Vorkriegsjugend, Youth Brigade, FEAR, DRI, Discharge
Dima: Sick Of It All, Agnostic Front, Suicidal Tendencies, Exploited, Black Flag, Henry Rollins Project, Off Spring, Sepultura, Pantera, Cannibal Corpse, Death, Morbid Angel, Unearth, Killswitch Engage and more.
Ralle/Sadcha: We are influenced by german punkbands like Upright Citizens, VKJ, american hc bands like Bad Brains, Minor Threat and english bands like Discharge and Exploited.

Frontalangriff are you satisfied with the name? How did it came up? What does it mean? You weren't afraid that some other band would be named like this? Which is the best bandname you know?
Pete: Forward attack without regard for loss, Fight for your opinion and interests.
Ralle/Sascha: Ralle had the idea. It means a powerful march straight ahead for us.
Dima: The name of the band reflects fully and complitly the position in the ideas we want to bring to the people with our texts and our music. The best band names i know are the ones that fit the energy they bring through their music in the best way.

What´s the best thing with playing live? Have you done any since the covid came?
Ralle/Sascha: Live means interaction with people. The best thing in life.
Dima: Playing on a stage and having a good time after the concerts with the people who gets us is the best. Luckily we had the opportunities to do it through the last two years as well, even thou it wasn't much.
Pete: Yes we played a few great shows. People are hungry now for punkshows. each show a big party pogo dancing, just smiling faces, free emotions, lot of fun

And where is best to play? And the worst place?
Dima: It is hard and no need to point on some specific places, but of course it's always more fun to play in front of a moving crowd , to enjoy the concert with feeling of unity. I don't think I have to explain that in the extreme/underground scene are really different ways and conditions for gigs organisation. Surely the most important to get a drink , a bed, a breakfast and a good hospitality. The worst place would be probably a place where our music and ideas wouldn't be understood.
Pete: Worst place was a little bar in Belgium (8 workers having their after work beer)& Sleeping Place: cat crappy rooms – Best Place: Berlin
Ralle/Sascha: There are a lot of good places, but our favorites are the subculture places.

How is to play this sort of music in Germany right now? Which types of bands do you have concerts together with?
Pete: Shows still start after the Corona shutdown. In Germany punkshow at Musicbars, Squats, Street Party, Festival, ... We played show with Rawside, Subhumans, next concerts with Toxoplasma & Exploited
Dima: It feels very good. I think that what we do is the most relevant and the most needed right now in the (german)punkrockscene.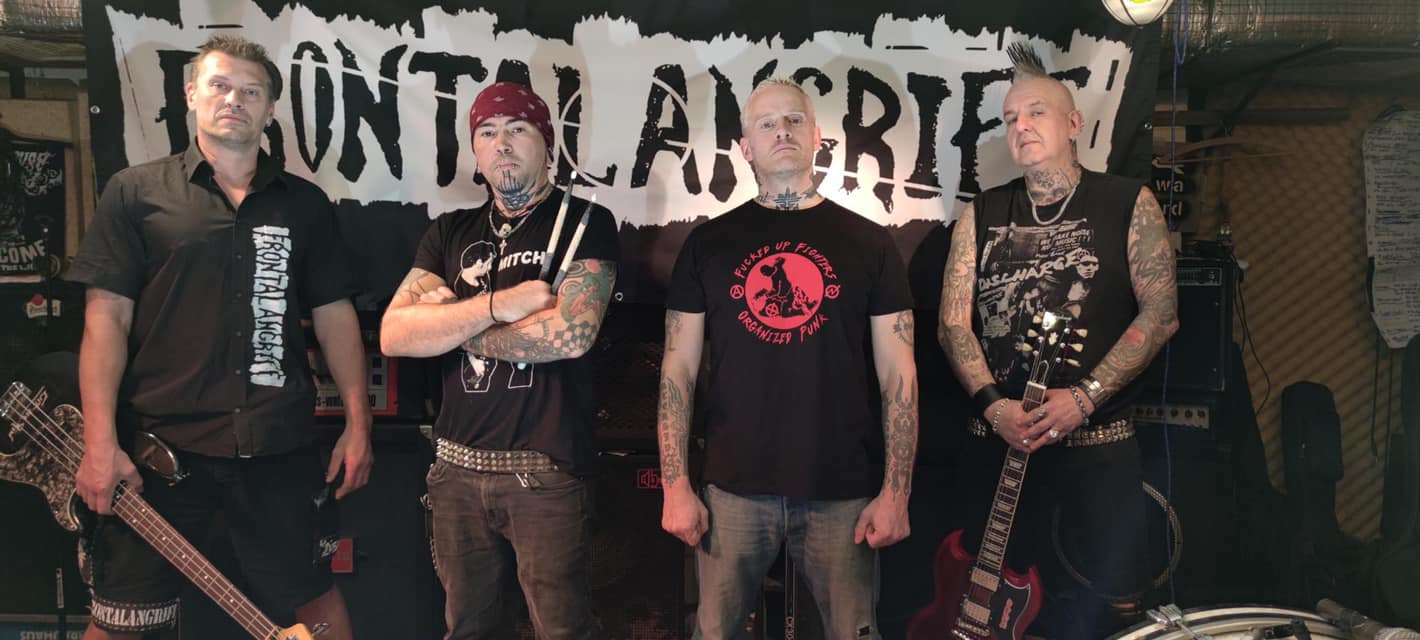 How would you describe your music in three words to people who never have heard you?
Pete: Fast, aggressive, pure power
Ralle/Sascha: Dirty. Aggressive. Street.

What does punk mean to you, is it only a word or is it a lifestyle? Have it changed through the years?
Ralle/Sascha: Lifestyle. 24 ta life.
Dima: It is definitely a part of a culture which can show to a person the perspective and the choice that is not based on the forced excepted norms of behaving. It is protest, it is freedom , it is a free way of judgement. Personaly for me the punkrock music was not the factor that connected me to the scene but the people and their ideas did.
Pete: Away from the mainstream - live my Life. Make my own impressions & Experiences. Surely some changes through the years. Not looking anymore every day for party, chaos, thrill ... but the music & the experiences are still the elixir of life

Which song/album or group was it who took you into punk/hardcore?
Pete: Black Flag, Dead Kennedys, Sex Pistols, GBH, Exploited, ZSD, Cockney Rejects
Dima: Sick Of It All, Exploited, Off Spring, Comeback Kid
Sascha: BRD Kampflieder 2. Sampler
Ralle. Exploited -Lets start the war-

What shall a young guy do today to shock their parents as the way we did when we were young? They have already seen everything ;-)?
Pete: Do exactly the opposite of the neighbor's son
Ralle/Sascha: We think the kids will found their ways and dont need our advice
Dima: I guess I'll see in some years

How is it to live in Germany right now? Politically? Fascists? What do the german government says about the war in Ukraina?
Pete: Fascists still here and get angry about refugees., Germany, like any other country with a big gunlobby tries to maka as much money as possible with this war, politicians raise taxes on essential products and blame it on war.
Ralle/Sascha: It´s like in every other european country. Politics gives a fuck for the people. We don t care about what the goverment says. War is allways a wrong decision.

Is there any good bands from Germany right now? Is the punkscene/metalscene/hardcorescene big? How is it in your hometown?
Pete: Berlin have a big punk/hardcore scene, metal still lives but not so many shows. Before corona, hope it will come again you can daily visit shows. Every second friend/person i know play or played in a band.
Ralle/Sascha: We come from Berlin and here is always a big punk scene. Metal I don't know.

What do you know about Sweden? Have you been here sometime? What is typical Swedish?
Dima: I love swedish death metal scene. Unfortunatly still had no chance to visit you.
Pete: IKEA & Abba. Kingdom. Never been there. Just with bands in Norway/Oslo and Denmark/Copenhagen.
Ralle/Sascha: We haven´t been there and we have no idea, but you can invite us and you can show us.

Have you heard any good bands from Sweden?
Ralle/Sascha: Disfear, Wolfpack and Slöa Knivar.
Pete: ABBA, Clawfinger, Wolfsbrigade, Anti Cimex, Disfear
Dima: Meshuggah, In Flames, The Crown, Disfear, Wolfbrigade, Anti Cimex, Mnemic, Darkane.


Your lyrics, who does them and what influences you? Never in english? Please tell me a little about the following songs
-Punkrock fur immer
-Endstation U8
-Zombie nation

Sascha: Punkrock für immer is about punklifestyle. Nothing or nothing less. Endststion u8 is about the Berlin drug adicts who end begging in the U-Stationline u8. Zombie nation was my feeling in the time of the pandemic as I was walking throuh the streets and the people looked like zombies behind their masks.

Is there any subject that you never will write anything about? Or isn´t anything sacred?
Sascha: Nothing is fixed

Politic and music, does it goes hand in hand? Which is your most political song? Is it important to get out your opinions in music? Or is it OK to play music and not sing about politics?
Pete: CUT MY SKIN – All Of Nothing, Yes, it is very important to give people food for thought, to point out grievances.
Ralle/Sascha: I think everything is political. But not in the way the politicians do it. From the people for the people.
Dima: I wouldn't want to connect music with politics directly, but as we express our pain and feelings through this..It's not even politics specifically, it's more about people looking on what is going on and questioning if what they have been told is realy good for their daily or future life and if the choise they are given to make is the choice they do want to get.

Best political band/artist?
Pete: Punkrock is a political movement. Sex Pistols, Clash, Dead Kennedys, Kortatu, MDC, Conflict, .....
Ralle/Sascha: Too many.

Do you think that music(lyrics and so on) can change anyones life, I mean people who listens to music? Do you have any example?
Pete: Certainly. Music brings people together. Concerts, pubs, band reports, people talk together about lyrics, attitudes and of course like to sing along loudly.
Ralle/Sascha: Absolutely. For me it did and does. As a consumer and as an activist.

Your favorite recordcover alltime? Who does your recordcovers? And do you have any good recordstores in your hometown?
Pete: Cover: Iron Maiden – Killers I purchased just for the cover J & the Bad Brains – Capitol. Coverart Dima & mostly me. Berlin have a lot of nice record stores. New stuff i find at Coretex and all my old favourites i find on flea market or in second hand record stores
Ralle: Iron Maiden - First

Is it important to get out physical records of your stuff? Why or why not? Vinyl, CD, cassette, what do you prefer if you could choose whatever ? The latest record came on vinyl or?
Pete: I love records. When you have the time to hear records you are in the mood. Looking on the big cover, looking at pictures, lyrics, feel the big record in your hand, that´s it. Cassette Mix tapes also the best ever. My last record – America War Machine

Please tell me a funny thing which have happened during your career and under some gig?
Pete: After our last radio interview we were all sick with corona

How does your audience look like? Which people do you miss on your concerts? Which is the biggest band you ever have played together with?
Pete: Our audience looks sometimes crazy, sometimes energetic, sometimes drunk. Most of all, I miss all my friends who have moved away or died. But that is part of life. Biggest Band: Jello Biafra and the Guantanamo School Of Medicine
Ralle/Sascha: They look like punks most of the time. Don´t miss anyone. Who is there is there and if we get in interaction it´s great.
For us are all bands big.

Please rank your five favoriterecords, five favoriteconcerts and five most important things in life?
Pete: Black Flag – Damaged, Bad Brains – Rock For Light, Sex Pistols – Never Mind The Bollocks, GBH – City Baby Attacked By Rats, Exploited – Punks Not Dead // Black Flag, Sex Pistols, Suicidal Tendencies, Cro-Mags, 7 Seconds // be relaxed with each other, have fun, be fit/healthy, independent, free
Sascha: Most important things in life and all equal. Sport. Music. Work.
Ralle: Just music.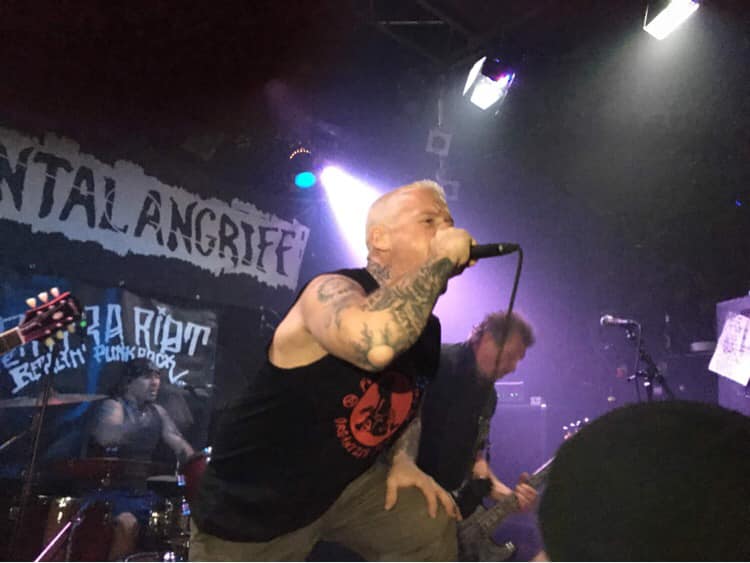 First, last and most expensive record ever bought?
Pete: Good Question ... Ramones – Adios Amigos, Dickies – Killer Clowns
Sascha: I have records but i am not a collector.
Ralle: Have the original VKJ single.

Is it boring with interviews? Is it much interviews?
Pete. I like Interviews, like the last question, good reason to browse my records. If there are questions I dont wanna answer, we are 4 people in the band
Sascha: Not boring but long ;)

Do you care about reviews? Which is the most peculiar you ever had, with this band or any other band you have been to? Have you ever changed anything after a bad review?
Sascha: Sometimes it makes you think but it shouldn´t, because you must do what you must do. So I would neverchange anything after a review.

Which bands do people compare you to, is it boring that people compare you to other bands or is it understandable?
Pete: I find nothing negative in comparisons. Compare and share about it is a good way to get to know new things. Without comparisons you don't get your own opinion and you don't learn anything.
Sascha: Not really,but we are in the germanstreethcpunktration i think.

If you could choose five bands from the past and the history and nowadays and both dead and living bands to have a concert together with your band. Which five have you been chosen?
Pete: Bad Brains, No Means No, La Fraction, The Freeze, Vorkriegsjugend
Sascha: I take what comes and dont think about those things.

Is music a good way to get out frustration and become a nicer person outside the music??
Ralle/Sascha: Absolutely.
Pete: Oh yes, get rid of everyday stress, switch off, have fun together with others, dance, laugh, exchange feelings, find your own peace and freedom

Which is the most odd question you ever have got in an interview?(Except this one)
Sascha: "Please tell me a little bit about your group ";)

Which is the question you want to have but you never get. Please ask it and answer it?
Sascha:" Can I pay you a big house with pool and rehersal room."

Futureplans for the band?
Pete: New record, shows & have fun with my band
Sascha/Ralle: Playing live and doin more records.

For yourself?
Pete: Stay alive
Sascha/Ralle: Same

Wisdomword?
Sascha: Be yourself.

Something to add?
Pete: Hope there will be a concert in Sweden someday - greetings to the scene and thanks for the interview

One more question…. Beerfavorite sort? If you did a beer which sort would it be and what have it been called?
Sascha: Ask the others i dont drink.
Pete: Kampfdackel – Vollbier
Ralle wants Grapefruitbeer.
Cheers