Feelgood McLouds took their time to answer this interview but I haven´t a deadline så that was more than Ok. Because this group plays punk with folkinfluences. I love the group and here they have been answering a lot of questions from me in the end of June-2022
Please tell me a little bit history of the group?
-The Feelgood McLouds were founded in 2015 in the basement of Michael (bass player) with Günther (vocals). Quickly, the both decided to increase the number of musicians to shift the sound of the band from the boring "unplugged" style to a rowdier and punkier attitude. So Matze (drums), Julian (Bagpipe, whistle, etc.) and Dennis (guitar) joined the McLouds. Latter on Dennis left and was replaced by Ben (guitar) and the Irish section was strengthened by Benni, playing banjo and accordion. In this formation we're playing together since 2018
Please tell me a little about every member in the group right now, age, family, work, interests and something bad about everyone? Earlier bands? Other bands on the side?
-We are a mid-thirties band that is not mid-thirsty 😊 We all got jobs, but music is our live. The band consists of nice guys only, no one is bad at all. Nearly all members played in bands before ranging from skapunk, german punkrock, to hardcore bands.
I can hear much different influences but mostly old punk and folkmusic? Favorites from the past?
-As said before we all play in different bands before so there is definitely an influence of all this bands hearable in our songs. But we aren't geared to other folkpunk bands. In first line for us it's important that our songs sound good for us and then we are happy if the audience like our songs too.
The Feelgood McLouds are you satisfied with the name? How did it came up? Superb name I think. You weren't afraid that some other band would be named like this? Which is the best bandname you know?
-Our name fits quite perfect. With our songs we intended to have everyone a good time and we play them very loud 😊 and probably no one else would use such a "extraordinary" name 😊
What´s the best thing with playing live? Have you done any since the covid came?
-Playing live is the definitely the best. Is astonishing when the crowd love sour songs and sings our songs along with us. Every time this happens we get goosebumps and puts a big smile on our faces 😊 During the pandemic we were happy that we could play a few shows. In 2020 we played only 2 shows but 2021 was quite better we played around 9 shows 😉.
And where is best to play? And the worst place?
-Playing live is always cool. But there are a few venues we could recommend warmly to you, like AJZ Bahndamm (Wermelskirchen), Studio 30 (Saarbrücken), KUZ Mittendrin (Walsrode), Riez Rockbar (Bausendorf), Kubana Live Club (Siegburg) and many more. Already when we arrived at these venues we felt like home, got a warm welcome of course with some beers and had the best time in our lives 😊 But of course there are also amazing festivals like Pell Mell (Obererbach), Alternation-Festival (Neu-Bamberg), KEIN BOCK AUF NAZIS-Festival (Kusel) and Heimatzoo (Grindau). There are no worst places, you always gotta make the best of it 😉
How is to play this sort of music in Germany right now? Which types of bands do you have concerts together with? Which is the oddest band you have been playing with? It´s not so common with folkpunkbands in Germany or?
-It is amazing to play Folkpunk in Germany. There is a big community enjoying this kind of music. Normally, we're playing together with a bunch of different bands from punk, hardcore to folk bands. In Germany there are a lot of Folkrock/Folkpunk bands like Fiddler's Green, Mr. Irish Bastard, The Porters, The O'Reillys and the Paddyhats and so on.
How would you describe your music in three words to people who never have heard you?
-Thirsty Celtic Punkrock
What does punk mean to you, is it only a word or is it a lifestyle? Have it changed through the years?
-Punk is definitely not only a lifestyle but rather an attitude towards life. For us it's important to take a clear stand against the right and try to create awareness for this at our concerts. Therefore, we're part of the protest sound band network and support the initiative "Kein Bock auf Nazis". Of course, Punk have changed, but it has to. Nobody wants Punk to be dead 😊
Which song/album or group was it who took you into punk/hardcore or music and to play music yourself?
-Günther: Less than Jake: Pez Core forced me to found a skapunkband 😉
What shall a young guy do today to shock their parents as the way we did when we were young? They have already seen everything ;-)?
-Listening to Hip Hop, K-Pop, Pop etc. 😊
How is it to live in Germany right now? Politically? Fascists? Antivaxxers? What do the german government says about the war in Ukraina?
-Too many corrupt politicians, too many fascists (one fascist is too much), too many antivaxxers and the german government is too passive to support the Ukrain people's fight for their freedom.
Is there any good bands from Germany right now? Is the punkscene/folkpunkscene/hardcorescene big? How is it in your hometown?
-Of course, there are great bands in Germany. The famous ones play german punk as Die Ärzte, Die Toten Hosen and Die Broilers but there are also smaller ones that sound great like Rantanplan. The punkscene/folkpunkscene/hardcorescene is still big, but new blood is missing. Spotify and co. is about to water the music taste of the younger ones. If you ask them what are you listen to, they just say: this and that. Our band originates of a small federal state called the "Saarland". Here is a good local scene but as in whole Germany the scene is unfortunately shrinking.
What do you know about Sweden? Have you been here sometime? What is typical Swedish?
-We love Sweden😊 Some of us already went to Sweden for vacation. In the mid 90's most of us listened (and they still do) to Swedish skatepunk bands like Millencolin, Venera, Satanic Surfers, Fudge Wax, Stoned, Randy, No Fun AT All and as newer one Atlas Losing Grip. What would be really hard for us in Sweden is the price for beer, so touring in Sweden would be very expensive for us 😉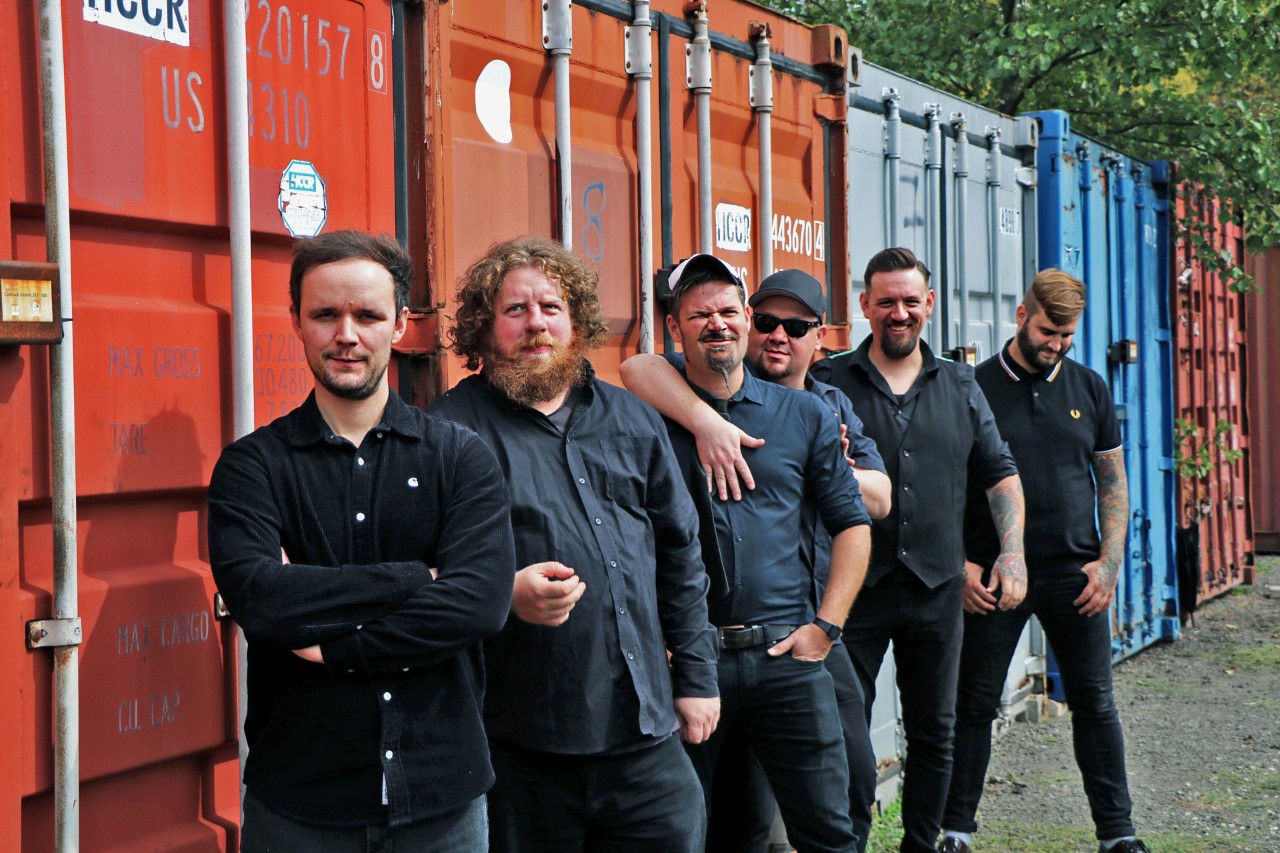 Your lyrics, who does them and what influences you?
-Benni, Schirra, Ben and Günther are writing most of the lyrics but Matze always has good ideas when he comes back from the toilet in our rehearsal room, especially for good catchy choruses.
Please tell me a little about the following songs
-Spineless mass: Kick ass song against the right wing
-Moonshiners : A song about illegal distillers and their hard life
-Last hurray : harsh criticism of mankind destroying our planet earth
Is there any subject that you never will write anything about? Or isn´t anything sacred?
-Probably, we will never write songs about unicorns cuz they don't exist.
Politics and music, does it goes hand in hand? Which is your most political song? Is it important to get out your opinions in music? Or is it OK to play music and not sing about politics?
-This should everyone decide for itself. We take clearly a stand against racism and homophobia. Our most political song to date is probably Spineless Mass, but it will be definitely not the last one.
Best political band/artist?
-Depends and changes from time to time. Currently one of the most committed bands in fighting nazis in Germany is ZSK.
Do you think that music (lyrics and so on) can change anyone's life, I mean people who listens to music? Do you have any example?
-We strongly believe that music can change one's life. Look at us, we all would not be friends and part of the McLouds if all of us has listened to country or Bavarian brass music.
Who does your recordcovers?
-All our artwork is done by Luke of dismay design and he does great work.
And do you have any good record stores in your hometown?
-Yes, we got a few small record stores in our city, probably the best one is Rex Rotari, where you can get everything in terms of punk and hardcore music.
Is it important to get out physical records of your stuff? Why or why not? Vinyl, CD, cassette, what do you prefer if you could choose whatever?
-It's very important to do physical releases, because a new record is like the newborn child of the band and the feeling of holding your new record in your own hand is absolutely payless. Definitely Vinyl and CD. We all are quite old but nobody has a cassette player anymore.
Please tell me a funny thing which have happened during your career and under some gig?
-Lot of funny things happen on tour but most of them are probably only funny for insiders. So, we keep it with the rule: What happens on tour stays on tour 😊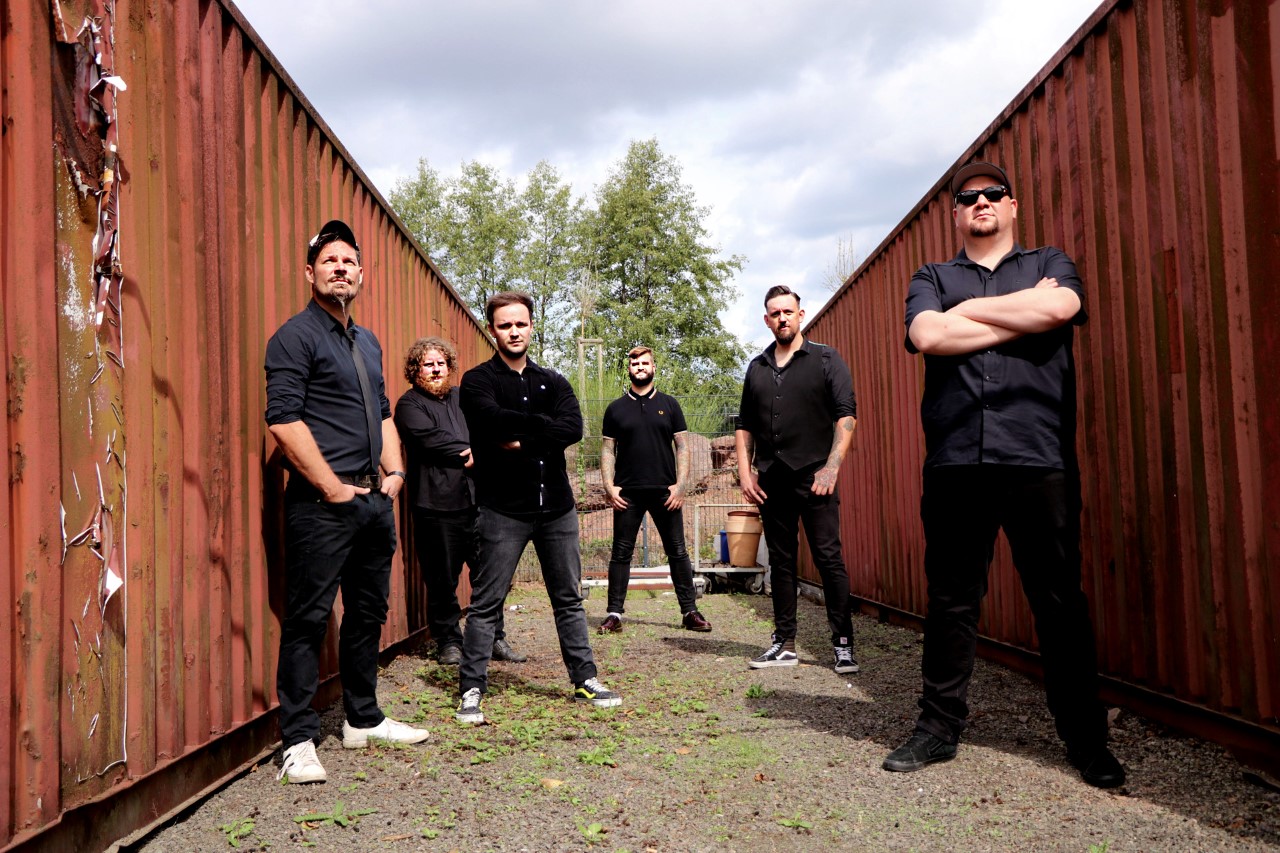 How does your audience look like? Which people do you miss on your concerts? Which is the biggest band you ever have played together with?
-Our audience is very mixed up from old to young. We played with a lot of bands and most of them were very kind to us and we had the time of our lives playing with them. Just to count some up: Flogging Molly, The Real McKenzies, The Rumjacks, Fiddlers Green, The Porters, Lagwagon, The Moorings, Los Fastidios, Sir Reg, Booze & Glory, Street Dogs and The O'Reillys and the Paddyhats.
Please rank your five favorite records?
-Günther: Rancid / Out come the wolves; Rantanplan / Gegen den Trend; The Interrupters / Say It Out Loud; The Rumjacks / Saints Preserve Us; Goldfinger / Hang-Ups
First, last and most expensive record ever bought? Or do you not buy records anymore?
-I don't think that records can be too expensive if you want them so badly 😊
Is it boring with interviews? Is it much interviews?
-Not at all. It's nice when people are interested in us and/or our music.
Do you care about reviews? Which is the most peculiar you ever had, with this band or any other band you have been to? Have you ever changed anything after a bad review?
-It would be a lie, if we wouldn't care about reviews. It is always nice to know what others think about your records, but we would not change anything because of a review. As said before we make the music in first line for our self and then we are happy when the people like our music too 😊
Which bands do people compare you to, is it boring that people compare you to other bands or is it understandable? Or is it boring to be compared to other bands?
-Often our songs are compared with early releases of the Dropkick Murphy's. But we don't think that such criticism should be overrated. Honestly, we think that the Feelgood McLouds sounds like the Feelgood McLouds.
If you could choose five bands from the past and the history and nowadays and both dead and living bands to have a concert together with your band. Which five have you been chosen?
-Very difficult question, I think every member of the band would make a different choice based on his music taste. But playing a show together with The Dropkick Murphy's is definitely on every ones bucket list.
Is music a good way to get out frustration and become a nicer person outside the music??
-Like every hobby, playing in a band gives you much, but to have a little success you have to give everything 😊
Which is the most odd question you ever have got in an interview?(Except this one)
-There are no odd questions basically. Only not asked questions are "stupid".
Which is the question you want to have but you never get. Please ask it and answer it?
-Booker: Would you like to play a tour with Dropkick Murphys?
McLouds: Definitely, yes.
Futureplans for the band?
-Playing lots of shows and having the best time of our lives being on tour.
For yourself?
-Playing lots of shows and having the best time of our lives being on tour.
Wisdomword?
-About the aftershow party: Who still remembers was not in it!!!!!!!!!!!!!!!
Something to add?
-To speak with a song of The Interrupters: "I gave you everything" 😊
One more question…. Beer favorite sort? If you did a beer which sort would it be and what have it been called?
-At home: Karlsberg Ur-Pils, Theel-Bräu are our favorites.
In the rehearsal room: Öttinger-Pils
On tour: We love to taste local beers, but it has to be ice cold