Dezinfekce is a really good Czech hardcoreband. This interview was done in march -2022
Maxeek and Puffy answered the questions ...
Please tell me a little bit history of the group?
Maxeek: It all started in 1991, when 3 young freshly cut punx (sedli - g, sueczek - dr, maxeek - bg, voc) met and after a few weeks and many plans and beers they formed a band in the Fall of that year. The first non-public gig was my 18th birthday in December 1992 and the first official gig was on 12.4.1993 in Budejovice in Gerbera club. Puffy joined the band in 1993 and this line-up (Sedli - g, Sueczek - dr, Maxeek - bg, voc, Pufffy - g) worked for about a year, then Sedli left and shortly after that Sueczek left too. In 1995 we drafted Flash-K - dr (now P.S., The OwnRoadies) from local band Prase, who stayed with us until 2011. There were a few other people in the band, but the basic line-up was (Flash-k-dr; Pufffy -g, voc; Maxeek - bg, voc). Together we played a few hundred gigs (Czech Republic, Slovakia, Austria, Poland, Germany, Balkans, Greece) and made a few recordings: demo tape "Někdo jinej" 1996; cassette "1650 secs" on PH records; split 7'EP se Svině! and LP/CD "Stačí najít důvod " on Pohoda Records and CD "Psi" on PH Records + various compilations. Lou.kaz - dr has been playing with us since early 2012 and since 2015 Hans von Jirkowski - g. In 2015 we released LP "Interval jistot" and this year LP "Předstírat štěstí chce trochu cviku" - both on PH records.
Pufffy: The history of the band started at the end of 1991, but I've been in the band since the beginning of 1993, the only founding member is Maxeek, so he could answer this responsibly.
Please tell me a little about every member in the group right now, age, family, work, interests and something bad about everyone? Earlier bands? Other bands on the side?
Maxeek: Maxeek bass vocs - 47 yrs; wife and two kids; working at the university; hobby - band, beer, bicycling, history, books, used to play a bass for Gride in 2004 - 2010. ...You wanna something nasty for everyone? …well I am the angriest one – I get angry really fast, but I usually get over it quickly and it is my eternal struggle with it. Lou.kaz is able to take up maximum space with a minimum of stuff, the contents of his small backpack are enough to take up an entire rehearsal room. Pufffy has a lot of guitar equipment so he's always moving stuff around (and driving over Lukas' stuff) and they both love Alexander Marcus, and that's really pretty horrible. ...H. von Jirkowski - while the rest of the band drinks or drank almost exclusively Budvar he quite illogically prefers Branik and sometimes sneakily plays his father's favourite songs without warning in the car.
Pufffy: I play the guitar in the band since 1993. I am 43 years old, married, two daughters.
I work as an air conditioning designer. I have played in many bands, sometimes as a regular member, sometimes only as a stand-in. For example in bands Gride, Svině!, PBJP, TBC, Ingrowing, But, Crippled, Slaves of system. Now I have one more band at the same time with Dezinfekce. This band called Idiocracy and we play more fast and extreme music.
I can hear much different influences but mostly punk and some hardcore ? Favorites from the past?
Maxeek: At the very beginning it was definitely Czech punk classics VZ, Telex, Šanov, HNF, locally supplemented by bands from Budějovice like Třetí doba or DDT - because they had lyrics in Czech, because it wasn't metal. From abroad it was probably mainly Dead Kennedys, Sex Pistols, Exploited and Clash - the very first musical definition of "my" punk/hardcore.
Nowadays I'm more interested in what makes a band stand out from the HC punk box (what's there in addition) - of course, the music come first (various interesting crossovers into other genres), lyrics, graphics, network of friends, DIY ethics, support of various NGOs etc. Plus I have a lot of friends in bands and that counts too.
Here's an incomplete list of top of tops without order. I think it should be heard we are influenced at least a little bit by bands listed below
Gorilla Biscuits - NYC, Paint it Black from Philly - melodic hardcore punk and of course some 80's and 90's NYHC; Coliseum to know how to mix punk and metal properly; DK - surf guitar and hardcore punk - melodic, scathing, ironic, classic; Black flag - old and bloody good; JR Ewing, Swing Kids - a little chaos and emo never hurt anyone; Michael's uncle - Czech noise hardcore, poisonous psycho lyrics, even more psycho music; Entombed, Doomriders - my favourite metal bands; Converge - almost always brings surprise, amazing commitment and ideas; Voivod, Nomeansno - 'cause in Canada everything is a bit different in metal and punk and Motörhead - because sometimes you don't have to change anything at all.
Pufffy: There are too many favorites. For example Dead Kennedys, Dayglo Abortions, Black Flag, Bad Brains, Circle Jerks, Spermbirds, So Much Hate, No Means No ….. and I could write a lot more.
Dezinfekce are you satisfied with the name? How did it came up? What does it mean? You weren't afraid that some other band would be named like this? Which is the best bandname you know?
Maxeek: Dezinfekce is the Czech word for disinfection, as far as I know, there is no band with this name and Czech pronunciation. I found that there were bands called Disinfect from the 80's in former Yugoslavia and Dezynfekcja in Poland in 90's and of course a lot of "infections" used as the band's name all over the world. We were even supposed to play with Polish Infekcja some three years ago – imagine Disinfection and Infection on one stage😊, but for some reason they didn't come to the gig. This name (Dezinfekce) was the only one we all managed to agree on shortly after the band was formed. As far as I can tell, this is not a bad result when I compare it with other names we have suggested. I don't think about if this name satisfies me, now the name looks little bit old fashioned and silly – but is like a brand and link to the past and means also some reputation for us and I think the people here know us and know what to expect. And the best bandname? ...maybe Smiling Beasts - name for Czech people used by Reinhard Heydrich - Reich protector during the WWII or maybe Complicité Candide/ Genuine Complicity (band from Rožnov pod Radhoštěm) or Kurvy Češi/ Czechs - the Cunts (band from Prague).
Pufffy: No I am not satisfied with the name. The name is from the prehistoric time we have played true punk and lately we decided not to change the name because the people already knew us. But it is so looong time ago, that I don't care about it anymore. It means Disinfection in English. And no I was always sure that nobody want's to have the band with name like this 😊
The best bandname ……. maybe Svině! (Svine in English).
What´s the best thing with playing live? Have you done any since the covid came? What´s your strength as a live band
Maxeek: To me live playing is like an energy charger - one of the best things that I'm looking forward to and moreover it brings me something like soul cleanup 'cause it is useful output for my aggression and anger. We have played 14 gigs since the covid begun (Jan 2020 – Feb 2022). Hard to say if it is few or lot. Normally we play around 20-25 gigs annually. I think our strength is that we bring a lot of energy on the stage but usually we take much more back as I have already said.
Pufffy: I love playing live. It's all in there. Yes, we have played some shows during the covid time, mainly in summer time, when the open air festival could be.
What's our strenght? That's the question for the fans, not for us, I think.
And where is best to play? And the worst place?
Maxeek: Generally, the best gig is anywhere where the people are really interested – the worst one is where the band don't interest anyone at all. But you probably want to hear some places and names… the first one has to be Festa de la Pohoda annual punk parade of old friends, bands and families ran in Vodňany by Brožík from the band Svině! this year it will be Festa Nr. 24. What we all are surprised is the fact that we are quite popular in North Moravia (Rožnov – former club Vrah, Vrátnice club, Vsetín - Vesmír, Valmez – Přístav) – great gigs and amazing audience on the another end of the country. We have also great memories on shows in Prague (former club Buben, Cross club, 007, Futurum) or Brno (in Yacht club organized by United Crusties). In my opinion some of our best shows we played in Tábor (booked mostly by R-DIY booking in former club Orion or pub U lva) - a town close to our hometown Budějovice - by the way the proverb that no prophet is welcome in his hometown also applies to us – the gigs here are not so intensive and crowded as we want to. Despite of this it should be mentioned NAAB - Noise Assualt Agency Budweis that runs lot of alternative shows here and several places to play as Fabrika club and our favorite old pub Paluba close to the bus station. We have also organized dozens of punk and hardcore shows here in town in several different places.
Pufffy: There are many cool places to play in Czech. Festa de la Pohoda – summer time open air festival in Vodňany, the small town close to our hometown, with the best, almost family atmosphere. To play there is like a law for us. I can named many other places, but I think it is not so important. Worst place …… hmmm well I can't remember right now.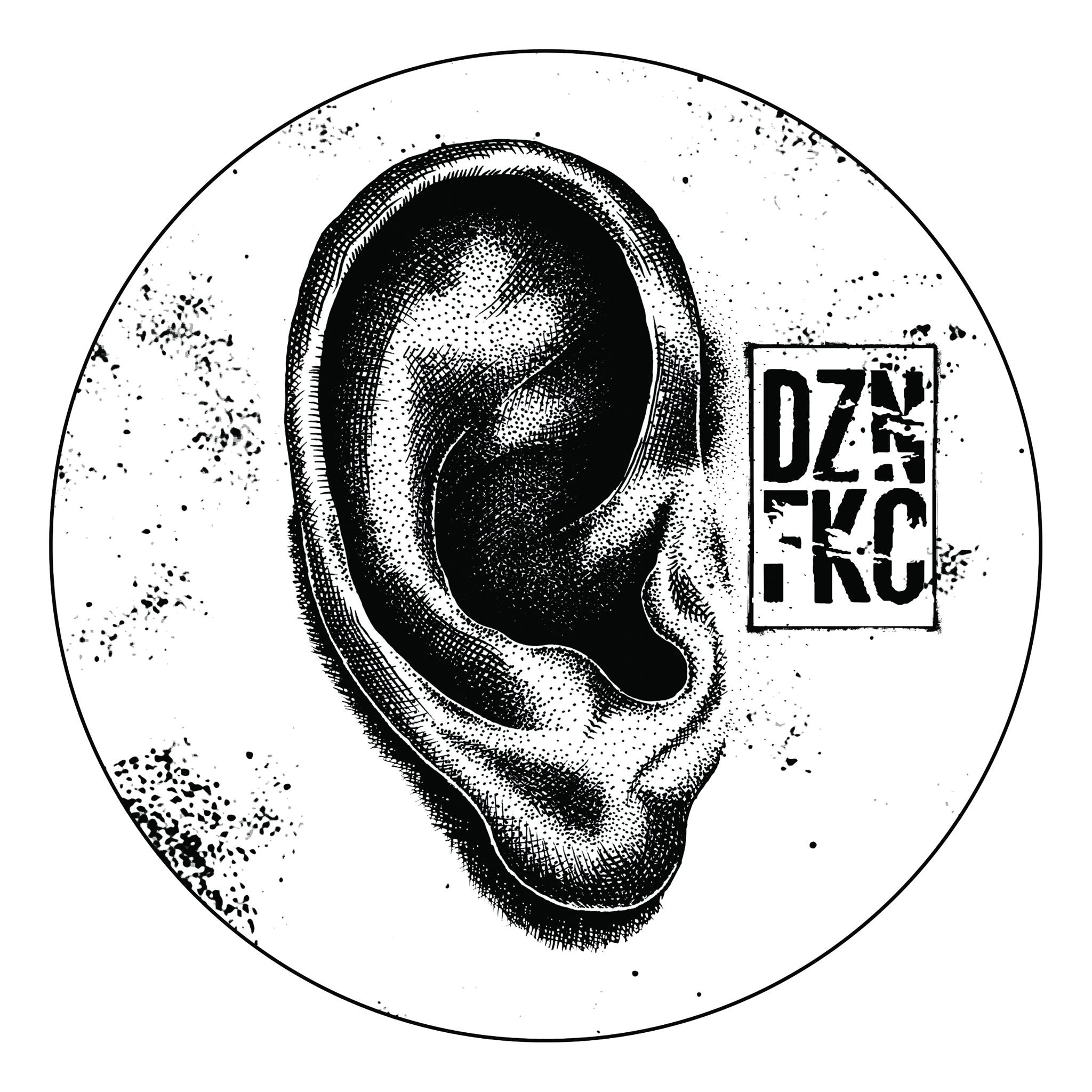 How is to play this sort of music in Czech republic right now? Which types of bands do you have concerts together with?
Maxeek: There are quite a lot of bands here and the scene (although I don't like that word much) works quite well. We also have the advantage of a would-be legend that has been around since practically forever, so we usually have quite a lot of gig offers. But it's also a question of what branch of punk or HC is in vogue at the moment. Mostly we play with bands of similar genre, i.e. Hardcore, punk, thrash/death metal, grindcore... We are more careful not to play with bands we don't agree in our opinions on (for us) important topics
Pufffy: You know, we play hard core punk, so for punkers we are too hard and for HC kids we are too much punky. In our hometown when you are listen to HC, it means that you are listen to metal core or hard core metal. This style is quite popular here. But I don't like it at all. For us, it's almost always better to play somewhere else than in our hometown. Yeah, it's not always like that.
We play gigs with bands of all styles from punk to grind core, we don't care about it. We don't play with any nazi bands, that makes sense for sure.
How would you describe your music in three words?
Maxeek: Angry, loud and sweaty
Pufffy: Hard Core Punk
What does punk mean to you, is it only a word or is it a lifestyle?
Maxeek: …a better and also already longer part of my life? But honestly - punk will be what you wanted it to be. It probably should not be such tabooed and guarded word – I met people with 100% punk attitude without any visible relations to punk but also dozens of well styled fashion punx without any "own punk" inside their head. But there's something what is important in your teen age contrary to something else when you're adult and it probably should be respected. Now who is better, bigger, true punk? I don't want to decide
Pufffy: I try to make it a lifestyle. Of course I'm not the one who's been drinking and smoking weed all morning. I'm not wearing clear on my head, or bullet belts, or anything like that. I mean the attitude as such, I just try not to live like a total consumer.
Which song/album or group was it who took you into punk/hardcore?
Maxeek: Well, it could be 1987, my uncle listened to Pražský výběr and they have on the album "Straka v hrsti" such a punk burner track "Na václavským Václaváku" and then recordings of live concerts of Visací Zámek on various fizzy-sound cassettes, I'm sure it was tracks like Traktor, Cigára... then I started to search for demo tapes quite purposefully, so today I have a whole collection
Pufffy: I'm not sure ......... probably one of those old Czech punk bands. A lot of the credit goes to my brother Maxeek, who is a few years older and brought home a lot of new music in the 90s and I, still a young sucker at the time, had the perfect access to it.
What shall a young guy do today to shock their parents as the way we did when we were young? They have already seen everything ;-)?
Maxeek: I am on the another side of the barricade – I am already a parent – I'm pretty sure that my kids will find a way
Pufffy: That's a tough question, I guess I'm too old for that, so ask some teenager. Maybe I'll find out when my daughters will be older.
How is it to live in Czech republic right now? Politically? Fascists? Antivaxxers?
Maxeek: ...I will not disappoint you – I am afraid we have a little bit of every sort...
In the October elections has lost populist premier and billionaire Babiš (who is unfortunately well known in the whole Europe) and his party. The whole election was about if you accept Babiš and his style of politics (similar to Orbán's politics in Hungary) or not. He was defeated by very fragile and non consistent coalition of different parties, which should be seen as an emergency solution. Personally I am glad that Babiš finished but it was a very close victory. After some time the winner parties are starting to fight against each other which is very dangerous now. The official politics is divided into so-called democratic block represented by the election winners and the rest which is ex-premier's populistic party plus far right assholes headed by one half-Japanese pretending to defend traditional Czech values. The winner coalition has several common points but the final direction of each party is very different. The ex-premier's party is popular mostly among elderly and less educated people - he and his government in fact bribed these groups of people in exchange for their election votes. But there are also next important things which divide the people - growing conflict between vaccinated people and antivaxers movement and relationship to EU and Russia with current situation in Ukraine.... Moreover ex-premier Babiš will candidate in presidential election in the Fall of 2023... you have to wish us a good luck we will need it...
Pufffy: Well, shit, like everywhere else.
Is there any good bands from Czech republic right now? Is the punkscene/metalscene/hardcorescene big? How is it in your hometown?
Maxeek: From the relatively newer Czech bands I like Vole, Decultivate, Skiplife and Wilderness from Slovakia. Long-term favorites will be our eternal co-travellers Svině!, already mentioned Michael's Uncle; Innoxia Corpora; See You In Hell; Slut; Adacta; Tummö; Morkhimmel; Lucifer Efekt; Facan; Autonoé; Commodore 64....
Pufffy: There are a lot of good bands in the Czech Republic. I won't go into each of them here. There is some kind of scene in the Czech Republic, I think it's a bit better now than it was like ten years ago. But it's not and probably never will be as great as it was in the 90s. That was really great. In our hometown there is popular a bit different style of hard core and punk than we like. Most of the young people here listen to hard core mixed with metal or NYHC, but as far as punk goes, the softer, more moderate stuff is more in. Budweis has never been a centre of crust or disbeat. There used to be a lot of grind core bands in the past, but now there's not much of that.
What do you know about Sweden? Have you been here sometime? What is typical Swedish?
Maxeek: Very briefly - Steel; Death metal; Umea HC; Monarchy; Nobel prize; Astrid Lindgren - Six Bullerby Children; Bengtsson – Röde Orm; Runer Jonsson - Viking Vick; Bergmann - The Seventh Seal; neo-noir crime series; meat balls from IKEA that I don't eat. Unfortunately I have never been there.
Pufffy: I don't know much about Sweden, I've never been there, but I'd like to check it out. Something typical ...... Surströmming 😊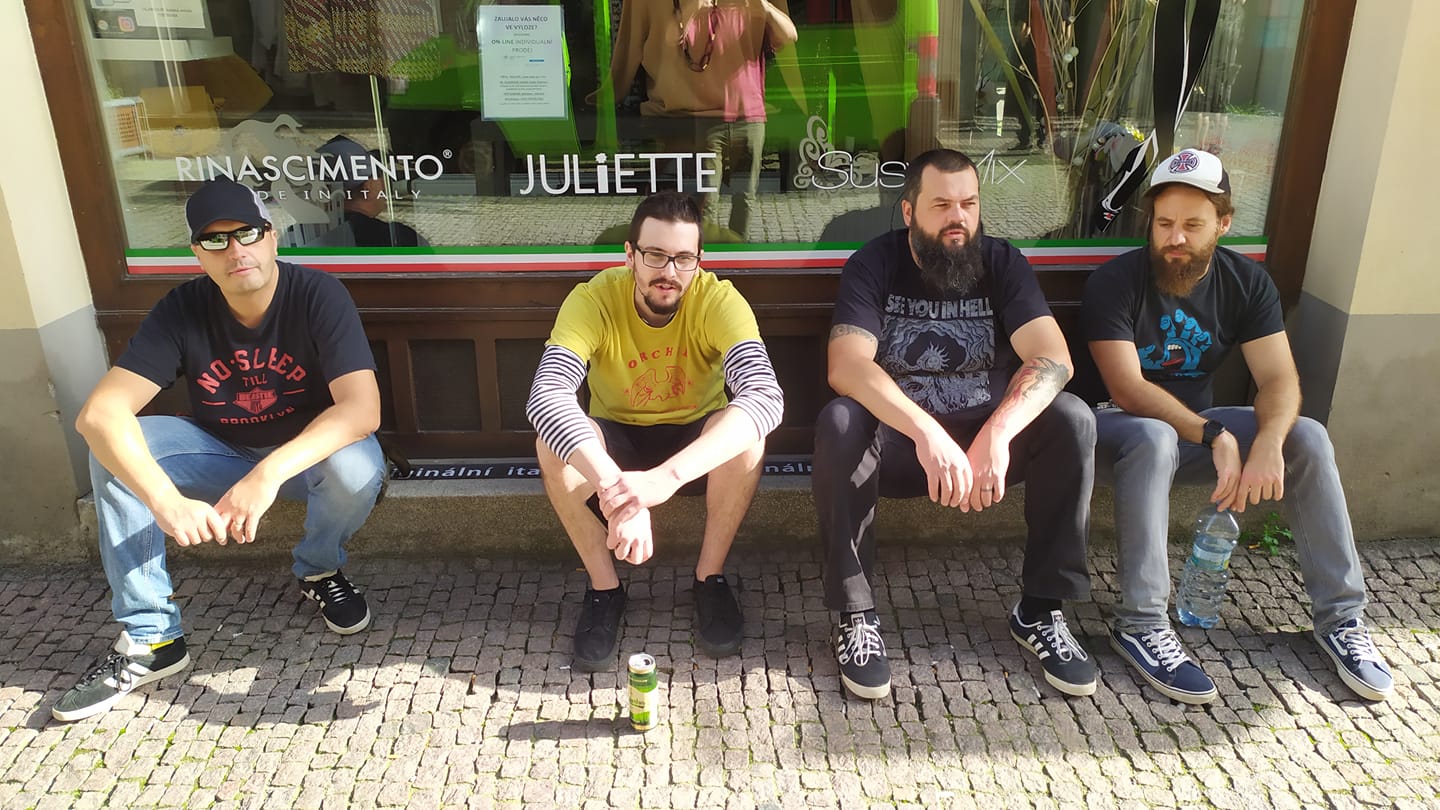 Have you heard any good bands from Sweden?
Maxeek: Yep man for sure …DS13, Outlast, Separation, Victims, Raised Fist, Genocide SS, Totalt Jävla Mörker, Martyrdöd, Entombed, At the Gates, Edge of Sanity, Refused, Randy, AC4, Uncurbed, Wolfpack, Disfear, Driller Killer, M:40…. And of course Abba &Europe
Pufffy: Man, are you kidding me? There are so many great bands from Sweden. I like Swedish death metal and hard core punk. So some names: Entombed, At The Gates, Edge Of Sanity, Dismember, Uncurbed, Refused, DS-13, Separation, AC4, Randy, God Mother …………
Your lyrics, who does them and what influences you? Never in english? Please tell me a little about the following songs
Maxeek: I did several lyrics written in English a years ago just to have a proof that I am able to do that, so it is not that bad like "never ever" - but I miss in English a knowledge of hidden meanings, overtones, proverbs and ambiguities that I use in Czech. The emphasize in singing is often linked tightly to lyrics and I am not sure I would be able to do the same in another language. Moreover the audience is tuned on Czech language so it seems to be natural…
-Vitej doma
Welcome home - the biggest competition is the intra-species one - where you least expect it, you have the same needs as the others do, and that sense of security inside the crowd is pretty tricky and double-edged. We all know each other, we all like each other but .... there's a complex system of acquaintances, favours and contra-favours but it's always quid pro quo - it always takes something from you and gets you where you don't want to go. It's a kind of blackmail circle where the blackmailed actively blackmail, the abused ones abuse, everyone owes someone something and no one is clean, no one knows how to get out of it and maybe don't even want to.
Ukryt
Shelter - The song is about of how comfortable is (a very common) opinion that rather than do only a few is better to do nothing. There are different hideouts for conscience such as would-be trusted values, beliefs, threats or worries – but there is always a hook – you have or should to share responsibility, guilt, fear or danger – but this burden is unwanted so it is rather easier to pretend or choose the complete passivity – safety of hopelessness.
-Neptej se proc
Don't ask why - the last two sentences of the text are the most important, "when I betray you again it will be for your own good, I'll do everything I can to make you learn to be afraid in time". You're worried about your kids, so you force your compromises and your fears on them just to protect them somehow, even if you know it's bad
Is there any subject that you never will write anything about? Or isn´t anything sacred?
Maxeek: I probably wouldn't want to write a beer anthem or some celebratory song about how great we punks are and how much we love each other, I'm too angry and too cynical for that
Politic and music, does it goes hand in hand? Which is your most political song? Is it important to get out your opinions in music? Or is it OK to play music and not sing about politics?
Maxeek: I think that politics will be somehow natural part of (especially punk and hardcore) music however I do not use to write truly political lyrics - simply I cannot do that. Our most political song is definitely Sea it is about migrant crisis – about people we pretend we cannot see them, people of second class. About our fight for not to share a bit of our comfortable life with someone who is from "the outside". The impulse was the famous picture of drowned 3 years old boy – I have kids so I tried to realize all the horror...and our reaction? all those TV spots, big hype and fear ...it seems to me it is suddenly like in the Colloseum - in fact it is you or me who can decide who will survive and it makes me sick...
Pufffy: For me, it's not that important to sing about politics. We don't play political songs.
Best political band/artist?
Maxeek: …Jello Biafra, Banksy, Resist, Oi Polloi, old Atari Teenage Riot, old Asian Dub Foundation, maybe also some reggae stuff…
Pufffy: Dead Kennedys and Jello Biafra.
Do you think that music (lyrics and so on) can change anyones life, I mean people who listens to music?
Maxeek: It sounds noble, but if I may speak for myself, I guess so. It has for sure some influence on most of the activities in my life …and I would be glad if I can help to make needed little step (show a different point of view) for someone else ...
Pufffy: Yes, definitely.
Your favorite recordcover alltime? Who does your recordcovers? And do you have any good recordstores in your hometown?
Maxeek: My favorite one is undoubtedly - Michael's Uncle LP "The end of the dark psychedelia" from 1990 – provokes and perfectly represents what you can expect from this album – the cover is black and white photo of home slaughter of a pig. I also like the works of John Yates for Alternative Tentacles and classic Dischord LP covers and generally I like comic and cut'n'paste works….
The first two demo tapes was mostly homemade and handmade. The second one with help of our friend Lenka who was able to work with PC graphics. The split seveninch and first LP "stačí najít důvod " was made by Lukáš Páral from Pohoda Records; LP "Psi" - main motive was made by tattoo master Gisbern (ex bass for thrash band Lahar) the rest of graphic work by Rob Hopeye (drummer of Kusumam); minimalistic cover of LP "interval jistot" is from Honza Arndt and the last one record cover for LP "předstírat štěstí chce trochu cviku (pretending to be lucky needs some training)" is inspired by the name of the record - the idea is ours and the artwork was made by Víťan (guitarist of Entrapped) and finalized by Flatv5 (member of tons of bands).
There are official record stores in our town but if you want something special it is better to contact some distro.
Pufffy: Ufff, tough question, there are a lot of good covers as well as crappy ones. I like the Voivod covers, for example. The cover of our last record was drawn by our friend Víťan, for which we thank him. The idea for the cover is from Maxeek. The graphics were put together by another friend of ours, Flatus. Anyway, there are no good music stores in our fucking hometown.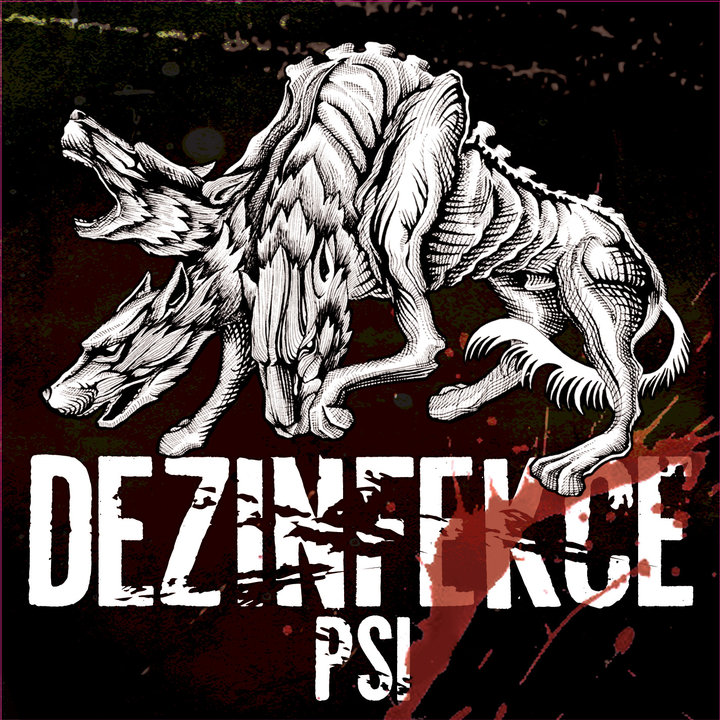 Is it important to get out physical records of your stuff? Why or why not? Vinyl, CD, cassette, what do you prefer if you could choose whatever? Is Papagujev Hlasatel a good label? If you only would release digital music, can you have the feeling that you haven´t done an album then?
Maxeek: I'm pretty old school about this, so I like something tangible, preferably an LP, even though it's not very practical, but it looks nice graphically and it's kind of the "highest level" of what you can release. Other types of media (even digital ones) are fine too - I usually listen to some samples online and that decides if I buy LP. As for PH records, we are friends with Pavel and in fact all our records were released by our friends and if you have a friend who will release a record for you, you are a lucky person...
Pufffy: I speak for myself. Yes it is very important for me to have a record released on a physical medium like vinyl, which I mostly prefer. I think CDs are history. I've noticed a sort of recession of audio cassettes now, but personally I don't have anything to play them on anymore. Vinyl is the most for me.
We've known Pavel from Papagájův Hlasatel for 25 years and we've released basically all of our records there except for the first demo and the album Stačí najít důvod from 2004. I don't think we have any need to look for another label.
Please tell me a funny thing which have happened during your career and under some gig?
Pufffy: There were so many ridiculous situations, it's hard to pick just one. For example, at concerts in Germany, for some unknown reason, I was often the target of drunks and their need to urinate. Fortunately, they never managed to follow through.
How does your audience look like? Which people do you miss on your concerts? Which is the biggest band you ever have played together with?
Maxeek: Mostly older audience these days, aged 25+. There are definitely less of younger ones, but it's a question if we as a band can offer them something they really want, because in terms of lyrics and music we're already a bit different cup of tea. Over the years we've played with lot of bands- most famous ones - the Exploited, the Casualties, Restarts, Total Chaos, GBH, Turbonegro....
Pufffy: I don't really tease people who come to our concerts. But it's true that the concerts of bands like us are mostly attended by older fans, our age. Young HC kids listen to different music than we do, I've mentioned it a few times. So I would like to see a younger audience at our concerts. The biggest or rather the most famous band we played with was definitely The Exploited.
Please rank your five favoriterecords, five favoriteconcerts and five most important things in life?
Maxeek: You pushed me in the corner with the order...order is just for orientation
<![if !supportLists]> 1. <![endif]> Gorilla biscuits - Start today/ Beastie Boys - Ill communication
<![if !supportLists]> 2. <![endif]> Paint it Black - CVA/ So Much Hate - Lies/ Outlast – Positive Hardcore Positive Youth/ Refused – The Shape of Punk to Come/ SOIA – Just Look Around & Build to Last
<![if !supportLists]> 3. <![endif]> Michael's Uncle - The end of the dark psychedelia/ NomeansNo – Wrong
<![if !supportLists]> 4. <![endif]> Doomriders - Black Thunder/ Converge - You fail me/ Entombed – To ride shoot straight and speak the truth
<![if !supportLists]> 5. <![endif]> Voivod – Phobos & Negatron
Shows
<![if !supportLists]> 1. <![endif]> SOIA, Snapcase in České Budějovice in 1993 or 1994
<![if !supportLists]> 2. <![endif]> Converge at Maryland Death Fest 2010 (Baltimore)
<![if !supportLists]> 3. <![endif]> Esgmeq & Kevorkian at Hardcore café mondo České Budějovice 1998
<![if !supportLists]> 4. <![endif]> Reunion of Michaels Uncle - Skrýchov u Opařan 2006
<![if !supportLists]> 5. <![endif]> Gorilla Biscuits – Futurum Prague 2007/ Doomriders, Disfear - – Futurum Prague 2008
Most important things
<![if !supportLists]> 1. <![endif]> Family/ Kids
<![if !supportLists]> 2. <![endif]> Health
<![if !supportLists]> 3. <![endif]> Band
<![if !supportLists]> 4. <![endif]> Friends
<![if !supportLists]> 5. <![endif]> Forget my age
Pufffy: All in no particular order:
Records
Neurosis-The times of grace
Refused – The shape of punk to come
Entombed – Wolverine blues
No Means No – Wrong
Voivod – Phobos
Concerts –
Sick Of It All + Snapcase in Budweis 1994
Neurosis – Prague Akropolis 20??
Entombed – Maryland Death Fest Baltimore 2010
Carcass – Maryland Death Fest Baltimore 2013
Melt Banana – Obscene Extreme
Important things in life:
Family,
Health
Friendship
Music
Beer 😊
First, last and most expensive record ever bought?
Maxeek: First record that I bought was probably Pražský výběr LP "Straka v hrsti", last one Innoxia Corpora – "je stále těžší otočit prst proti sobě", most expensive one - I'm not quite sure probably it was in early 90's double LP "The story of the Clash" – cost about 250 CZK almost all my cash for one month.
Pufffy: First record …. I can't remember, but I think that it was some stupid east german band in Berlin in 1987 or 1988 when I was on the road to vacation on Rujana.
Last record I bought is the LP from Czech band Contrastic. Really cool stuff.
And most expensive record I ever bought was multi LP Negatron/Phobos of the band Voivod.
Is it boring with interviews? Is it much interviews?
Maxeek: Fortunately, we don't do so many interviews, so only readers can be bored, we are quite satisfied...it's more a battle with memory and rather unsuccessful attempt to be concise and hopefully somewhat readable.
Pufffy: I quite enjoy doing interviews when they have interesting questions. It happens quite often that the questions are always the same and it's a bit annoying. If I answer for myself, I've written a lot of interviews. Not just for the band Dezinfekce, but in general.
Do you care about reviews? Which is the most peculiar you ever had, with this band or any other band you have been to? Have you ever changed anything after a bad review?
Maxeek: Of course you're curious to hear what people have to say, especially those who should actually understand it. It's kind of funny sometimes. For example, about the last record I read in one review that my lyrics "don't disturb when listening, but have its limits when reading", then it's interesting how some of the reviewers characterize their strengths, e.g. "metal trained ears". And the most interesting thing was when we got the Angel for the previous album Interval jistot - which we didn't accept anyway – it is the official award of the Academy of Popular Music. So from this moment started to rate us highly even those who might prefer not to know about us. Finally, I guess we're lucky that only those who like us write reviews of our releases, but we wouldn't change anything anyway.
Pufffy: I like reviews, I like to read someone else's opinion on the music I play. I haven't read a downright bad review of our music in a long time, so no, I haven't changed anything after a review.
Which bands do people compare you to, is it boring that people compare you to other bands or is it understandable? Which is the most odd band you have been compared to?
Maxeek: Well we have quite an advantage that it said about us that we have our own sound and approach to things. That's nice to hear and hopefully we won't get cocky. On the other hand a lot of people are clear and would rather go for a copy of famous band or some perfect representative of the genre. I guess I also can understand and survive that. And finally about the odd bands - I guess I wouldn't like it if we were compared to some "agro punk" bands, of which there are quite a lot of here.
Pufffy: At one time we were compared to Poison Idea. Well, at the time, maybe it was a bit fitting. Otherwise, now they don't usually compare us to any other band, or at least I haven't noticed it. We were compared to Unbroken on a poster a long time ago, I think it was a bit of a weird comparison.
If you could choose five bands from the past and the history and nowadays and both dead and living bands to have a concert together with your band. Which five have you been chosen?
Maxeek: DK, Gorilla Biscuits, Paint It Black, Colliseum, SOIA…
Is music a good way to get out frustration and become a nicer person outside the music??
Maxeek: I hope for that and try hard but the results stay very unsure and unstable J
Pufffy: Hehe, I guess it depends on when and who. It might work for me, but that's for someone else to judge.
Which is the most odd question you ever have got in an interview?(Except this one)
Maxeek: Except this one – none
Pufffy: What is typical Swedish? 😊
Which is the question you want to have but you never get. Please ask it and answer it?
Maxeek: What time you will finally quit with a band? Dunno, I still don't want to
Pufffy: Who is one of the two best guitarists in the band Dezinfekce?
Me.
Futureplans for the band?
Maxeek: As always - these plans are unchanging - travel, play, new songs, new ideas and lots of fun
Pufffy: Playing and touring as long as possible. Record as much quality music as possible.
For yourself?
Maxeek: Try to survive the futureplans
Pufffy: Staying healthy with my family and friends for a long time to come.
Wisdomword?
Maxeek: I'd rather not, I already ate
Pufffy: I'm not very wise. I hope that time will come someday.
Something to add?
Maxeek: Thanx for interest, thanx for asking and hope to see you on the gig
Pufffy: Don't act like assholes, think with your head and listen to good music.
Last question…. Beerfavorite sort? If you did a beer which sort would it be and what have it been called?
Maxeek: No doubt the best one Budvar "ring" yeast lager
Pufffy: For me Budweiser Budvar is the best. I don't know under what name it is sold in Sweden. Maybe Czechvar like in US.
I don't know anything about brewing beer, so I'd leave it to the experts.