Cat and the Underdogs releases their LP soon and it's a cascade of punk rock that it's supposed to sound. I mean a little bit more like it sounded back in the day as old as I am. Read and enjoy. May-2022
Tell us the story of Cat and the Underdogs? How did you come to meet each other and start playing together?
Åke: Jarle came up to me at a party and asked if we could start a band. He had a drummer and a guitarist, so he just had to get going. It turned out that the drummer Lars I played with in my first punk band in 1980, Nihilisterna. We started rehearsing covers to get started and eventually started writing our own. After consuming two singers, we really got going when Marcus joined the band, which has since then quit the band.
Tell us a little about each member? Band before, band onte side, what are you working with?
Åke: Works as a Job Consultant at Karlstad Municipality and helps people get out into jobs. Played Punk since 1979, including in Nihilisterna Hollywood Indians, Loss S-hall and E.A.T.E.R. Fredrik: Advisor in IT when I'm not drumming. Played and plays with a little bit of everything. The first time I heard Ebba I was floored and it's still there.
Jarle: Works in a company that deals with digital marketing. Played with our guitarist Håkan in Motor City Madhouse from 89-96, before that I played in various bands in Oslo, including Suicide Pilots.
Håkan: IT-something... Plays guitar in AVSKUM when he gets time from Cat and the Underdogs.
Thomas: Teacher, played in a variety of Punk bands in the early 80s, including in 491, Svea Rike II and Mormors Mamelucker before joining Hollywood Indians, together with Åke in the 80s.
I think there are influences from early punk? How would you describe your music yourselves?
Åke: Yes, that's where we are and listen to Proto Punk and Punk 1977 to 1981. Play the music that we grew up to and still listen to, music that has shaped me into what I am today.
How does it work when you make songs, is it one of you who does the songs or how does it work when you make songs?
Åke: It is usually Håkan or I who brings an idea for the rehearsal room. Then the whole band is included and do things. When we get started, we often end up in a cruel creative flow, tone after note, chord after chord, chorus after verse, nice guitar riffs, choirs, good rhythm section and a lead vocals that tops everything.
Tell us a bit about the songs...
-Positive Id Åke: Some riffs that I put together after a week of intensive listening to OFF!, Circle Jerks and Keith Morris' book.
Thomas: The text started with the title, I think Åke came up with it. Then I built a story around the title. A little game with that image of a tough cop pushing a maybe not entirely innocent kid up against the wall. We've all seen the scene in some Hollywood movie. Hard cop muddies a "punk"! Not so damn serious text really...
-Is there a truth Åke: After an idea by Håkan, I think it was shelved twice before we got it together. When Håkan came with the sting between the verse and the chorus, the song was done.
Thomas: About the text. A reflection on what it is we spread on our social media. That it's quick to spread and share things that we often don't scrutinize so damn closely. Maybe we should take a breath before spreading what we think we know, what we believe is truth. Is there even a single truth... of course not. And it becomes so easy polarization. Right now, the West is following the war in Ukraine as if it's some kind of Netflix series. But we forget other wars, conflicts and disasters that we have stopped following, such as the war in Syria, conflicts in the Horn of Africa, Yemen, etc. We are devoured by one disaster at a time. I'm afraid the news might find something new to follow. Long answer to one hell of a text. But but...
-Gimme everything Åke: I wanted to get the same pressure in the riff that Brian James has in I Feel Alright on Damned's first LP and that The Leather Nun has in No Rule. After a couple of rehearsals, we had gotten the rest together.
Thomas: This song has been released before with Marcus on vocals. Wanted to put my own stamp on the song. Wanted it harder in the song. More desperate.. "Give me anything.." is the last phrase in the text. I've been there, and it's easy to identify in that part of the text that Marcus wrote.
What types of bands do you play with when you're out playing?
Åke: Other Punk bands that do the similar style to us, Punk Rock n Roll, 77-Punk some UK82 bands and so on.
What's the weirdest band you've had a concert with?
Åke: We haven't had anything really weird, have we!??
Thomas: The weirdest thing is the members of this band. An unlikely constellation of people.
Jarle: The Wharf Street Galaxy Band that we played with in Leeds and York were perhaps not strange but a bit odd, in a good way.
When we're talking about music, how do you see on punk?
Åke: I try to look for new good bands at Bandcamp and also buy a lot of records at Bandcamp, the best source for new bands if you ask me. The best way is to check other users who bought the same discs and then check what they have bought for other discs. So, I've found Stiff Richards, Sons of Southern Ulster, Satanic Togas, Bad Nerves, Chain Whip, Zero Zeroes, Cyanide Pills, can say bands all day.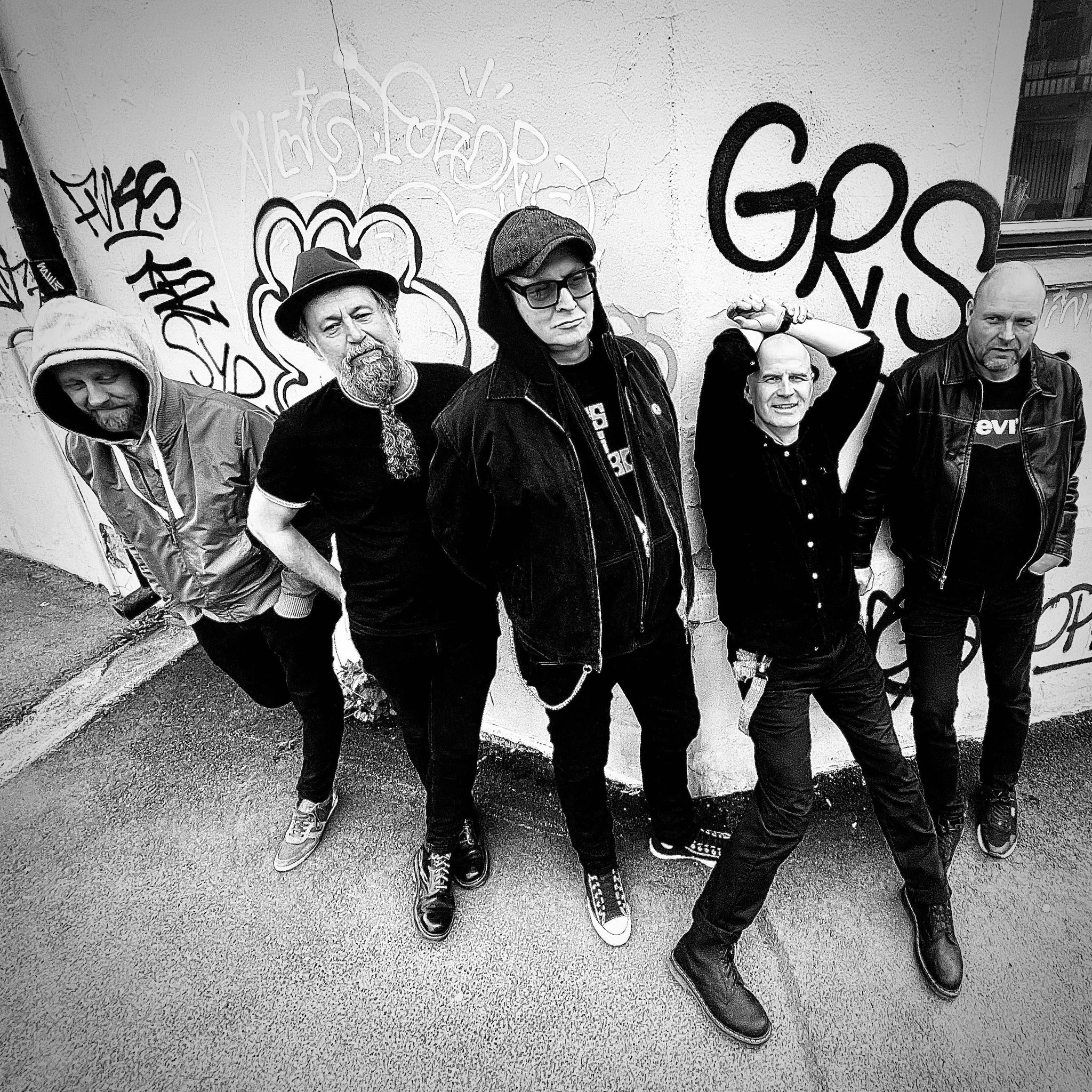 Is it just a style of music or a lifestyle?
Åke: If you used to be Punk, then you probably never was.
Jarle: A style of music that became a lifestyle, punk has shaped me into who I am and it never go out...
How has that idea changed over the years?
Åke: Guess Punk has shaped large parts of my life, a lot of stupid choices, but also some hopefully wise choices based on how you live and have lived. To old to die young! More punk or less punk? Åke: It depends on how you define Punk? The irresponsible bit, give the fuck in everything attitude is well back in time. But always trying to be present in the here and now.
Cat and the Underdogs how did that name come up?
Jarle: A friend and I decided one day just over ten years ago to start a band after I hadn't played anything for 15 years (with the exception of a substitute in Håkan's second band Avskum at a festival in Finland). Her name is Catrin, she's called Catta so there we had Cat. Then I have a penchant for underdogs in sports, the fact that I'm a fan of both Leeds United and Degerfors IF says the most about that particular bit. We thought Cat and the Underdogs sounded like a good name so we just went on with it.
Who is Cat in the band and who are the underdogs?
Åke: We are always the underdogs who beat at a disadvantage!
Otherwise What is the favorite band name around the world?
Åke: It must probably be The Clash, actually, I like short, punchy names. OFF! is also quite difficult to beat.
Jarle: Personally, I'm very weak for Flesh for Lulu as a band name. Åke's old band Hollywood Indians also had a brilliant name.
How is it to you play this kind of music today, what kind of groups inspire you?
Åke: As I said earlier, this is the music that we grew up to and love just as much still, we play music that we like ourselves and have no ambitions to develop the band into something else. I listen a lot to KBD-Punk, the bands I find on Bandcamp, Aussie Punk, British 77-Punk and a lot of US-Punk.
What kind of audience do you have?
Åke: Very mixed audience, 65-year-old proggpeople, overwintered old punks, teachers, out-of-towners, the occasional youth and people who like punk in general.
Are there any people that you are missing?
Åke: It would be fun to have a little more young people who could lower the average age a little... Haha!
You've got a pretty lovely sound on your recording, do you do everything yourselves or is there a producer involved?
Åke: We are very proud of the record that Chips Kiesbye has produced and Henryk Lipp has mixed. When Chips got some time to go when he made Hellacopter's latest, he mixed up Cat and the Underdogs. He managed to find things in our songs that we didn't even know about. So there's a lot of work behind the record and a couple of years in the rehearsal room.
Your lyrics otherwise, what are they about? Does music and politics always belong together? Why or why not?
Thomas: There's always a risk of getting a little high-minded and pretentious when you're going to raise politics or current affairs. And sounding angry like you were in your teens doesn't work the same way anymore. So then there will be some texts more open to interpretation. But also some universal human reflections. About life, relationships, addiction and freedom from addiction. And someone is like a contemplation of cybersex, about porn surfing... Where does it go? Some lyrics we have inherited from Marcus, he had a way of finding cool phrases that I can envy sometimes.
Are there any good political bands that you guys like?
Åke: The Clash of course, Billy Bragg, early Crass, Sons of Southern Ulster, Stiff Little Fingers... I guess I like bands that have something to say, like Baxter Dury says "If you got nothing to say, don't say it".
Are there any other bands in Sweden that you can recommend?
Åke: There are many good Swedish bands, Trubbel, Tjänstemännen, Headons, Paper, Troublemakers, APA GBG, Viagra Boys, Åtgärdsprogrammet, RP, City Saints, The Bwanas, Hjelle, Les Big Byrd, can rattle off bands here also the rest of the day...
Any good bands in your hometown?
Åke: Yes there are, RP, Rob Coffinshaker's different constellations and a bunch of doctors who have a band called Lyrica.
Thomas: Deadly Spirits from Karlstad.
Is it important to get physical records out do you think?
Åke: For me, it's important to be able to release an LP or 7", it's a piece of culture I think. The feeling of being able to take on music, it is priceless.
This will be a vinyl or how is it?
Åke: In mid-July, it will be released on DDR Records in Ludvika, we also have some contacts outside Europe, but nothing is ready yet.
Do you buy a lot of records yourself, are you collectors?
Åke: I buy a lot of records and collect, sad only when the UK left the EU and that it became so much more expensive to order records from there.
Jarle: I buy a lot of vinyl and if you have a specific record in, for example, five copies with five different color shades on the cover, you are probably some kind of collector - then it's an eternal search and hunting for things you miss...
Which is the most expensive record you have?
Åke: There are a few, a test press on a Cramps picture 12", Vårdad Klädsel and quite a few more. I had eight original 7" with Misfits, including a perfect copy of Cough Cool, but unfortunately I sold that in 2002.
Jarle: Andrew Matheson & The Brats – Grown Up Wrong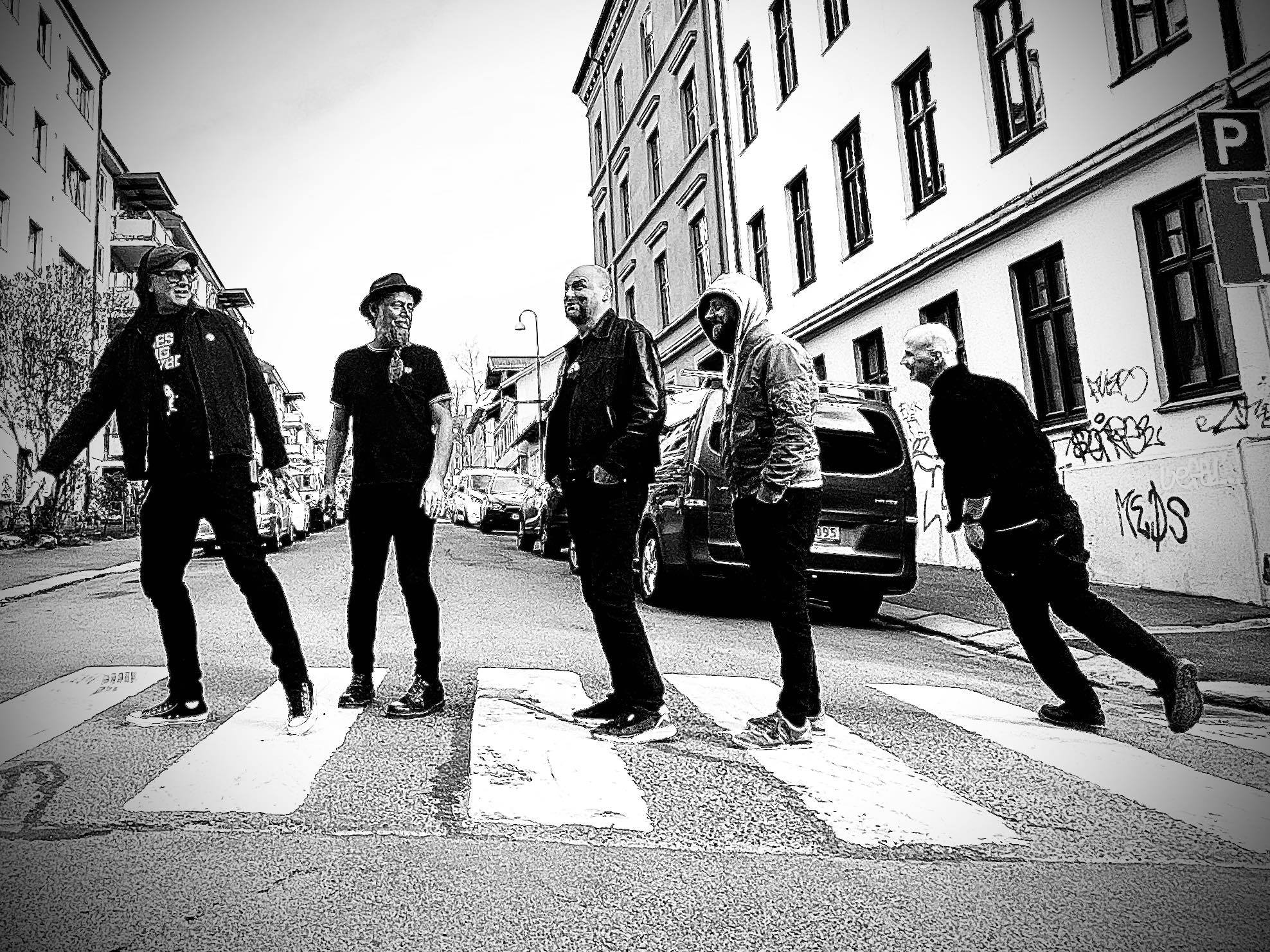 Just releasing music digitally, is that something for you?
Åke: Single songs may well be ok, but never an LP only. Also, I believe that there are record labels that want to release Cat and the Underdogs.
What do you think it is to live in Sweden today, politically with the brown-blue mess Ebba Busch's statement etc?
Åke: In terms of myself, I have better than I have ever had, good job and family and a few kronas left in the account at the end of the month. But there are many who have a tough time, fall outside, get no jobs, have bad feeling, addiction and never any money, almost like the text of Ebbas Ung & Sänkt... Well, what do you say about the blue-brown shit? I think the right-wing parties feel scary. How can half of Sweden's population vote for parties that only benefit 10% of the population?
Thomas: I find that I'm getting more and more political for real, compared to when you as a teenager spread a lot of political statements because it belonged to punk. I'm more empowered in wanting to share what I have. Feel free to tax me, I can afford it. I often talk to my students about how rich and how damn good we have who drew the winning ticket to be born in Sweden. Know that not everyone has a dance on roses here, with alienation, drugs, violence, poverty... But if you raise your eyes a little, take up perspective, we have a lot of opportunities and support in Sweden if we look out over the world. But I get really scared of the dark and reflect on how we ended up with over 20% voting for SD. And how did we end up wanting to arm and join NATO in a matter of months. It's so often about winning votes in the short term, not about ideas and visions for the future. Believe in our democracy but sometimes lose faith in humanity. CCC
Do you play a lot of gigs? Abroad?
Åke: We've done well over 30 gigs, including a short tour of England. Stockholm Punk Rock Weekend and Rebellion in Blackpool were really good. We have also played some in Norway. This summer we play at Hugo Fjäderben Kalaset in Kalmar, Be There!
If you made a beer like many other bands do, what would it be called and what kind would it be?
Ake: A double IPA that would be called The Hops are Coming, maybe Positive IPA or Time's Hop!
Thomas: An alcohol-free...
What's the best thing about playing live?
Åke: The rush, to be on a stage and that people come to see and listen to us, unbeatable. Then after the gig and have a beer and meet people, unfortunately the time is usually too short. Thomas: Sweat and adrenaline. And some confirmation...
Jarle: The tension before and the relief after when things have gone well and on the way to a gig when we sit and talk both shit and seriousness while listening to Åke's glam rock playlist...
Snälla ranka dina fem favoritskivor, dina fem favoritkonserter?
Åke: Skivor just nu: Saints - Eternally Yours The Cure - Pornography David Bowie - Aladin Sane Wire - Chairs Missing Stooges - Fun House Kollar man vår Spotify-sida så har alla i bandet gjort en varsin favvospellista!
Favoritkonserter: Budgie, Ishallen, Karlstad 1975 Cosmic Overdose, Musikcaféet, Karlstad 1980 Gun Club, Kolingsborg 1983 Theatre of Hate, Rockmagazinet, Örebro 1981 Social Distortion, Studion, Sthlm 1994
Jarle: Skivor: SLF - Nobody's Heroes Radio Birdman - Radios Appear Saints - Eternally Yours Sisters of Mercy - First and Last and Always Wannskrækk - ... Wannskrækk.. 12"..
Konserter: Sisters of Mercy - Vikateatret, Oslo, 16 maj -85 The Cramps - Chateau Neuf, Oslo, -86 The Barracudas, Hope and Anchor, London -84 Lords of the New Church - Club 7, Oslo -82 The Replacements - The Roundhouse, London, 3 juni -15
The most embarrassing record in your collection?
Åke: I don't think anything that I think is embarrassing, but there's Tommy Körberg, Taylor Dane, Yes, The Police, etc.
Jarle: Has a Van Halen I'm thinking strongly about why I bought in his time?!
Do you play covers live or songs from your other bands?
Åke: We've played a lot of covers, including songs by Gun Club, Supersuckers, Radio Birdman, Crash, Buzzcocks, Plastic Bertrand, Sex Pistols, Saints, etc. A few years ago, we did a Joe Strummer tribute with just Clash songs a whole thing, which was really good and appreciated. There are some clips on YouTube, Clash and the Underdogs!
If so, which ones?
Åke: I guess we've played some Hollywood Indians song at some point.
Is theree a lot of interviews, is it boring?
Åke: For a small band like us, we appreciate every interview, but preferably live.
What is the most common and boring question?
Åke: could probably be "What are your lyrics about"!?
Words of wisdom?
Åke: I've might be old, but I've seen all the good bands!
Jarle: Marching On Together!
Future plans for the band?
Åke: That the album will come, out and play as much as possible, start recording new material and release an EP in the future, maybe already in the fall / winter. Rehearse Rehearse Rehearse !
For yourself?
Åke: Get more time and do fun things that feel good, like playing in and hanging out with Cat and the Underdogs!
Anything to add?
Åke: Feel free to get in touch and we will come and play for you and we are damn good!!