Burning Dead is a french thrashmetalgroup which I like because I think they a little special sound in their music. Here´s an interview done with them in February 2022
Please tell me a little bit about the history of the group?
Orco: Burning Dead is born from our common love for metal, from Saraknyal and I. We are longtime friends. For a time, it was just about jamming, but after many sessions we began to put together what would become our first songs.
Months passed, and the band was then completed with the arrivals of JP at bass guitar and Drina at vocals. The EP "Their Coming" was released in 2018. We then performed it live, opening for bands like Nemost, Scolopendra or W.I.L.D.
New songs were written to release a LP, but the recording process was delayed by the COVID pandemic. We are finally very happy to release it now, with the support of M&O.
Please tell me a little about every member in the group right now, age, family, work, interests and something bad about everyone? Earlier bands? Other bands on the side?
Orco: I'm Orco, I play the guitar in the band. I'm 43, with wife and kids, and I work in IT. I love playing guitar and listening to music, mostly metal, rock, blues and chanson française. Bad part? I may be too demanding. I previously played in Eleventh Plague, a heavy metal band, and I still hope to bring our few recordings online, but there is some work to do.
Saraknyal: I'm Saraknyal, the drummer. I'm 43 with wife and kids too and I work in insurance. I listen to different kinds of music, Metal especially Black & Death, rock and the old Cypress Hill. Something bad: I never forget and I can explode at any time…
JP: I'm JP. I play bass guitar; I am 53 and married with 2 daughters. I work in events. I listen to a lot of kinds of music except sampled music without players. I am obstinate but not stubborn.
Drina: Drina Hex, 39 years old (well almost), in a relationship. I have already sung with other groups in a clean voice but it was not what I wanted. Otherwise, I do covers on my side (Disturbed, Amon Amarth, Static X, Six Feet Under, Drowning Pool...). I have fun and I progress...
I can hear much different influences but mostly thrash and some bit of hardcore, you have an own drumsound I think ? Favorites from the past?
Orco: There's a lot of different influences in our music, as we all four listen to different things. For sure, we have a lot in common, we all listen to metal, but also many other things. I'm a lot into old school metal, thrash, prog, death, and hard rock. It's true that I listen to a lot of old bands, of which the most notable is Magma. Their music still wonders me, and as a live band they are incredible.
We have in common, but also a lot of personal influences. Some things are completely unknown to me: for example, Saraknyal listens to brutal death and Drina to pagan, and I know nothing about those genres!
Saraknyal: We are mutually complementary at both personality and musical touch, which make us a great original unity.
I love a lot of drummers, I also just give five names, for talent, sounds, music, etc.: Nicholas Barker, Gene Hoglan, Vinnie Paul, Hellhammer, and in a different style Christian Vander. They are a constant source of inspiration. Thank you so much men!
Burning Dead are you satisfied with the name? How did it come up? You weren't afraid that some other band would be named like this? Which is the best band name you know?
Orco: Yes, we are very satisfied with it. We had a long time finding it, and during a rehearsal we just threw random names. After many shitty names, Burning Dead appeared and pleased us all.
We checked and found no band with that name. There's a horror movie named "The Burning Dead", but I didn't see it. It's not about music or metal, so it should be no problem.
Best band name? That's a very tough question. "Metallica" sounds universal. "Magma" has a lot of impact. "Behemoth" is dark and powerful.
What's the best thing about playing live? Have you done any since the covid came? What is your strength as a live band?
Orco: Playing live is all about energy. It is really exciting to play in front of people with as much power as we can. Seeing them dancing, jumping and screaming for our music is a really thriving experience.
We gave only a few shows since the pandemic began, as rules changed often regarding what was allowed or not. We always do our best to make energy flow between the audience and us.
JP: The most important thing is to give pleasure while receiving it.
Drina: I love it when I go on stage. It's like a big energy discharge. It's my world, I feel at home!
And where is best to play? And the worst place?
Orco: There is not such a place as a worst place. As long as we can play, it's the best place and you'll find us.
How is playing this sort of music in France right now? Which types of bands do you have concerts together with? Is it only metal bands or what?
Orco: Metal is not a mainstream genre in France, so it's not easy to find gigs and it's not easy to get attention. We played most concerts with metal bands and some with rock or punk bands, as in France we don't expect to share the stage with other kinds of artists.
How would you describe your music in three words?
Orco: Groovy, powerful, unbordered
What does punk mean to you, is it only a word or is it a lifestyle? I know you don´t play punk but you surely have some views on it?
Orco: One word for different things, related or not. It can be a broad musical genre, with roots in rock, ska or reggae and growing in many directions. It can be a lifestyle. And it can also be a look. But playing or listening to punk music, wearing a mohawk or living with your own rules don't necessarily come as a package. At least I believe so.
Drina: Freedom of speech, courage to say what you think (also by the way of living, of dressing) without imposing it on others. A punk is a modern-day corsair.
Which song/album or group was it who took you into music and played by yourself?
JP: Most of us grew up with the influence of the 80s and 90s.
Music is part of our life, at the time it was easier to find oneself in a musical style than today. hard-rock / metal and everything that revolves around it was obvious to us.
It's not just a group or an album that led us to make music but a spirit of life.
Orco: At that time, we had fewer records as we didn't have easy access to uncountable albums as it is now. So when you own something like twenty albums, you listen to them a lot. I remember at 13, listening to French rock bands Noir Désir and Téléphone, and dreaming of playing those songs on stage. But at this time I don't even play or own a guitar!
Drina: A few years ago I heard Nymphetamine from Cradle of Filth and I thought...this is how I want to sing.
What shall a young guy do today to shock their parents the way we did when we were young? They have already seen everything ;-)?
Saraknyal: I think, do something unexpected at all, in fact the same thing for every generation.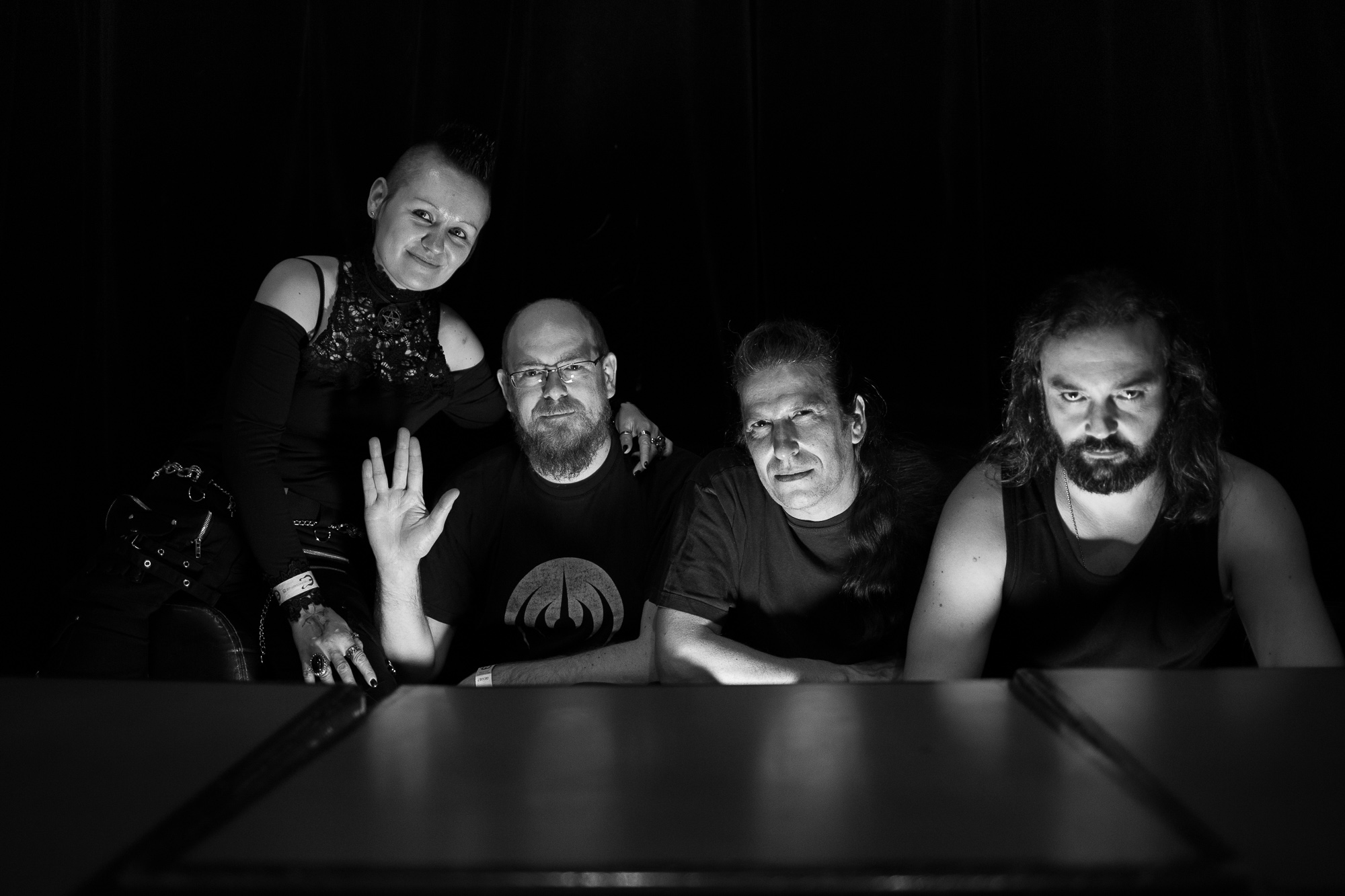 How is it to live in France right now? Politically? Fascists? Anti Vaxxers?
Saraknyal: As Attila from Mayhem, policy bothers me and I bother policy.
Drina: Not easy... But you have to be yourself.
Is there any good bands from France right now? Is the punkscene/metalscene/hardcorescene big? How is it in your hometown?
Saraknyal: There are some great French bands such as Benighted, Gojira, Loudblast, Seth, Misanthrope and many more, but France is not a Metal country at all, you know… We played with a french punk band the Critters and that was fuckin' amazing !
Orco: There are a lot of good bands, but they lack visibility except for a few ones.
What do you know about Sweden? Have you been here sometime? What is typical Swedish?
Orco: Sadly, I never went here, but I hope I will someday, may it be to play with Burning Dead or just as a tourist. I would be so proud to play our songs in a land of metal like Sweden! I must admit that outside of Metal, ABBA and Ikea we French don't know Sweden well, or at least me.
Drina: It's a beautiful country with the climate that I love. And above all it's the country of metal. I hope we will have the opportunity to go there with Burning Dead.
Have you heard any good bands from Sweden?
Orco: Oh man, so many bands! Entombed, Opeth, Meshuggah, Soen, Graveyard, Therion…
Saraknyal : We can add Amon Amarth, Cult of Luna or Bloodbath and many others (Therion is one of my favorite bands)
Drina: Sabaton!
Your lyrics, who does them and what influences you? Never in french? Please tell me a little about the following songs Eternal war, See who I am, devastation…
Orco: Drina writes the lyrics for all songs. All songs are in English, and for now all working titles are in English too. We should never say never, but don't expect French lyrics too soon!
-Eternal war: Along with "The Warrior", those two songs tell a story of war, about all the losses that came with it.
-"See who I am" deals with the modern world erasing identities and making people lose their identity. Work, social media, all these bring a great pressure on individuals.
-Devastation: When I wrote this, I did not think to use it on the album, it was just something to play on an acoustic guitar. As the production of the record went on, the idea to use it as a closer came. There are many different atmospheres, and we felt that this song has its place here.
Drina: Orco summed it up well. When I wrote Eternal War, I knew it would become a sequel with a different sound. It's a story of a Viking warrior who lost everything and still keeps fighting… How do we go through it today.
Sing metal in French? No, I don't think so... The French language is beautiful but not for metal music...I think.
Is there any subject that you will never write anything about? Or isn't anything sacred?
Orco: Maybe…Never about sacred things?
Drina: Maybe love, but never say never
Politic and music, does it go hand in hand? Which is your most political song? Is it important to get out your opinions in music? Or is it OK to play music and not sing about politics?
Orco: Politics and music are different things, music can be about anything, and politics is one among many things. To be honest, I am more into music than words. I'm not against sharing my ideas, but I don't feel ready to put words on it and have them sung.
"Silent Scream" is the most engaged song. This song deals with animal abuse, which is a subject we don't hear about very often.
Drina: My texts are committed to human and animal suffering, the psychological impact... That says it all. But talking about politics, I don't think so.
Best political band/artist?
Orco: Neil Young and Rage Against the Machine. What a crossover would that be?
Do you think that music(lyrics and so on) can change anyone's life, I mean people who listen to music?
Orco: I can't imagine life without music. A lot of memories of events, places, friends, are associated with songs or bands of that time. Music, listened to or played, has a great place in my life. So yes, I think it can change a life.
Saraknyal: Clearly, music brings something to all: it makes us stronger, better, helps in difficulties, feeds spirit and mind and, as our best friend, follows us till death!
Drina: Surely, provided that we listen and that we understand.
Your favorite record cover all time? Who does your record cover? And do you have any good record stores in your hometown?
Orco: Abbey Road has a simple and beautiful cover. Sgt. Pepper's lonely hearts club band is also beautiful, but much richer. If I remember well, that one did cost a lot. All Pink Floyd covers are great, Led Zeppelin, Yes… The 70's saw so many masterpieces!
Saraknyal : The One for me is the Iron Maiden's Live after Death cover.
Orco: Yeah, that one is awesome! About stores, sadly there are fewer of them nowadays. Most of them are large stores, and independent stores are rare by now.
The cover of both our records was realized by Pierre Santamaria. He's a fantastic artist and we must thank him for his amazing work!
Is it important to get out physical records of your stuff? Why or why not? Vinyl, CD, cassette, what do you prefer if you could choose whatever ? If you only had released an album digitally would it feel that you have released an album then?
Orco: Yes, physical records are very important, because it creates a link between us and the fans, or fans-to-be. After the gigs, we can share a moment with the attendees around the merch. I think that you will listen to a record more if you bought it at a peculiar moment.
Vinyl is the most beautiful one. Great touch, detailed artwork, it's a shame it became so expensive. I hope we will be able to release our records on vinyl.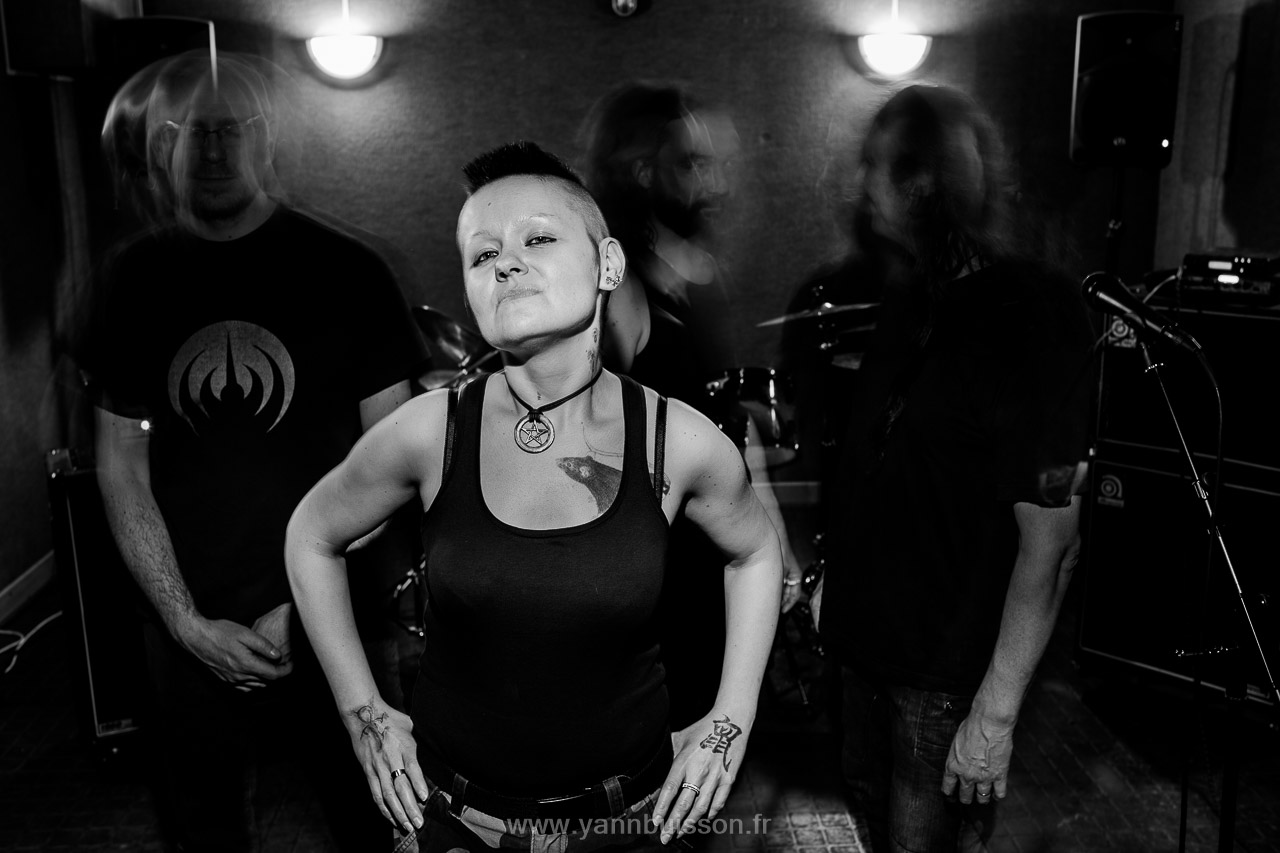 Please tell me a funny thing which have happened during your career and under some gig? With this band or any other band?
Saraknyal: Once, during our show, toilets were not accessible because of pogos and pit was the only way to salvation :-)
How does your audience look like? Which people do you miss at your concerts? Which is the biggest band you ever have played together with?
Orco: Young or not so young, metalhead or not…It surprises me that people who don't listen to metal actually like our music when they discover it. In France, metal tends to be put aside, and people who don't know this world kind of fear it because of the very things they know about metal is through television, for example.
Please rank your five favorite records, five favorite concerts and five most important things in life?
Saraknayal: My five favorite records are Satanica (Behemoth), Ceremony of Opposites (Samael), Legion (Deicide), Secret of the Runes (Therion) and Puritanical Euphoric Misanthropia (Dimmu Borgir). Concerts: Cannibal Corpse and Samael in 1993, Magma in 2004, Therion (the 20th anniversary in 2007), Pantera (the both in Paris 1998 & 2000) and Porcupine Tree in Hellfest 2008.
Orco: Records - Led Zeppelin II, MDK (Magma), Metropolis part II (Dream Theater), Grace (Jeff Buckley), Blackwater Park (Opeth). Concerts - Magma (30th anniversary), Tool (Hellfest 2019), System of a Down + Sepultura + Slayer, M, Steven Wilson. Things in life? Wife, kids, family, music, happiness. With all that everything's OK.
Drina: My five favorite records: Down with the sickness (Disturbed), Yarilo (Arkona), First kill (Amon Amarth), Wrong side of heaven (Five Finger Death Punch), 40:1 (Sabaton). My five favorite concerts: Amon Amarth in Zénith (Paris) 21/11/2019, Sabaton in Zénith (Paris) 16/02/2020, Arkona in Trabendo (Paris) 2014, Acyl in Trabendo (Paris) 13/11/2013, Within Temptation in Zénith (Paris) 2018. Five most important things for me are stay free of thoughts and choices, surround myself with good people, live happily in my new life with my boyfriend, know that the beings I love are happy and… stay myself.
First, last and most expensive record ever bought?
Orco: The first LP I bought with my own money was "Steel Wheels" by the Rolling Stones, the last is "A Farewell to Dawn" by 7 Weeks, only because the new King Buffalo album can't be found on vinyl at that time in France. The most expensive was the last Tool album. This album is incredible, but the package is ridiculously luxurious, and the bad part is that there was no "normal" package. But it is worth it.
Saraknyal: The first CD I bought was Fear of the Dark by Iron Maiden and the last is Existence is futile by Cradle of Filth. I don't remember the most expensive.
JP: The first album was "blue album" by The Beatles, the last was "Horhen" by Dolorosa and the most expensive record was "This means war" by Tank, at that time it was only found on import. My father bought me it for my birthday one week before dying.
Is it boring with interviews? Are there many interviews?
Orco: No, it's not boring at all. It shows that our music raises interest. I'm glad to answer your questions!
Do you care about reviews? Which is the most peculiar you ever had, with this band or any other band you have been to? Have you ever changed anything after a bad review?
Saraknyal: No fuckin' care, we just do what we fuckin' want to!
JP: Yeah, I'm right!
Orco: We once had a review showing that the reviewer barely listened to the record. It was a mixed review, but we didn't care as the reviewer didn't even try to do it well. We have control over our music, we decide what to change or not. Reviews can be a booster, it can give a hint about what is noteworthily good or bad. But we don't make music for reviewers, we make music for us and for our listeners.
Which bands do people compare you to, is it boring that people compare you to other bands or is it understandable? Which is the most odd comparison you have got?
Saraknyal: Due to our "crossover" style, people don't really compare, and we enjoy it !
If you could choose five bands from the past and the history and nowadays and both dead and living bands to have a concert together with your band. Which five have you chosen?
Orco: Dio, Pantera, Opeth, Queen, Slayer
JP: The Who, Motorhead, Tool, Jinjer, The Exploited
Drina: Amon Amarth, Disturbed, Sabaton, Arkona, Cradle of Filth
Is music a good way to get out frustration and become a nicer person outside the music??
Saraknyal : For sure !
JP: It is evidence.
Which is the most odd question you ever have got in an interview?(Except this one)
Orco: With my previous band, I once had a question about how influenced I was by a band given that our music was so close to theirs. The odd thing was that I had never heard about neither that band nor their songs!
Which is the question you want to have but you never get. Please ask it and answer it?
Orco: It's hard to tell. We're accustomed enough to interviews to have an answer to that question.
Future Plans for the band?
Orco: We already started to work on new songs. So we plan to do gigs as soon as we can and bring you a second effort!
For yourself?
Orco: Burning Dead still rages on!
Drina: Burning Dead...more lives, more shows. My cover album with my favorite songs by Amon Amarth.
Wisdomword?
Orco: Take care of yourself. Listen to us. Isn't it the same thing
Something to add?
Orca: Thanks for the attention. It´s very pleasing to know that someone shows interest in what we do
Saraknyal: Thanks man
Drina: METAL RECYCLES FOREVER