Boatsmen comes from Örebro and has made a bunch of records and I got the last two and was very pleasantly surprised. I sent them a bunch of questions and they answered them in December 2021.
A little history of the group?
-The Boatsmen was formed in 2007 as a counterpoint to all the sleepy flumrock that was trending at the time and we wanted to play rock with speed and lyrics about taking care of life and that life is a party.
Tell us a little about each member, age, job, family, band before and band on the side?
-Jacob Martinsson: plays guitar, is 35 years old and lives with his partner in Örebro. Previous bands include The Durango Riot and band next to Troubled Horse and Papilons.
Johan Söderberg: plays guitar, is 34 years old and lives with his partner and a child in Fjugesta just outside Örebro. Previous bands include Frenzy Four, Let Me Out and Square.
Martin Ficks: plays drums, is 36 years old and lives with his wife and two children in Malmö. Previous band is Square.
Håkan Ficks: sings and plays bass, is 33 years old and lives with his wife and 3 children in Örebro. Previous bands include Square, The Durango Riot and Uniform. The band on the side is Troubled Horse.
I can hear a lot of punk and some garage rock. In the 1970s, am I right? Was it better before?
-The music was better and worse in the past. All the other bands were better in the past, but we're better now.
Boatsmen, are you happy with the name? How did this name come up? If the best band name hadn't been occupied, what name would you have chosen? What's the best band name?
-Yes we are satisfied, it is like with names of babies as with names on bands, everyone grows into them and we could even make a cool logo with a T as an anchor. We wanted an immortal name like The Beatles and then make immortal hits. The best band name must be The Pricks.
What's the best thing about playing live? I can imagine that your music is very suitable for playing live? Have you started playing live after covid yet?
-Live is when you can live fully without inhibitions and someone who stops you, the ultimate feeling of freedom! Everything else stops and you only live in the here and now. Inside the walls of the venue in the shadow of the disco lighting, the life we all fantasize about living all the time takes place. The squeaking bass of the dance floor makes your heart pump with life and the stage floor gives you a sense of security you don't feel on the ground that you share with strangers.
Where is the best to play, where is the worst?
-Best to play is in Spain, the country full of canjas, sangria and an unsaturated hunger for rock n roll. There are no bad places, we have fun.
What's it like to play this kind of music in Sweden today?
-In Sweden, the masses are probably not interested in music anymore, they are only interested in trends. We like good music.
How would you describe your music in three words?
-Lust, pleasure and chaos.
What does punk mean to you, is it just a word or is it a lifestyle?
-Punk is made to give strength to those who feel they don't fit in. We love punk! All punk has to rock.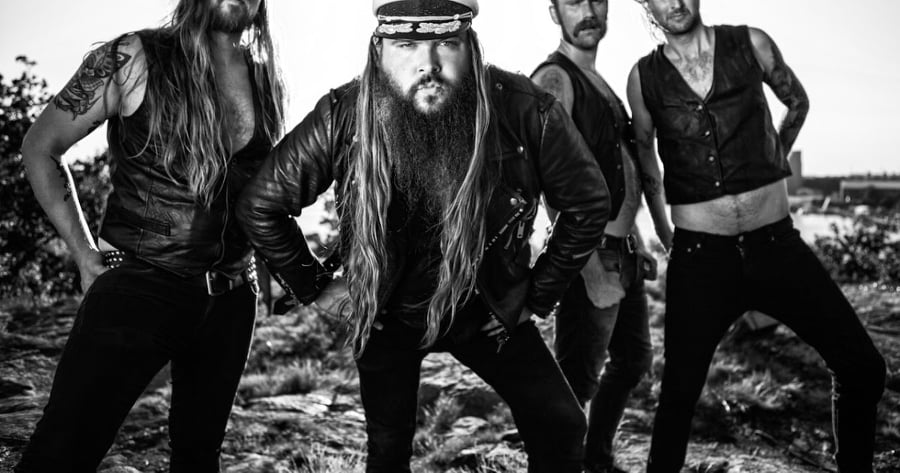 How do you see downloading, mp3 and the like? Does it benefit smaller bands?
-The day you think about losing money on downloading, you are so big that you don't have to care.
What do you think it's like to live in Sweden today, politically? Or do you don't give a fuck about politics? -We don't give a fuck about politics, but we think others are more knowledgeable about talking about it. We are very knowledgeable at playing rock.
Are there any good bands in Sweden today? In your hometown?
-We love The Hives and The Hellacopters and garage bands like The Maharajas. Other good bands are, for example. Märvel and Bob Hund. In our hometown it's a bit sparse on the band front right now, but the V8 Interceptor, Troubled Horse, Lowest Creature and The Strollers are damn good!
Do you play anything outside of Sweden? Where have you been and played and how have you been received?
-We have played in Norway, Denmark, Germany, Poland and Spain and we have been received very well everywhere!
Other good bands from abroad?
-Who plays today: Turbonegro, Boogie Hammer, The Rokets, The Flaming Sideburns, RMBLR, Giuda.
Your lyrics, what are you influenced by? Never in Swedish?
-All texts are written by me and are taken from my or one of my friends' reality. Never really got it in Swedish and don't listen to so much music in Swedish, but you should never say never.
Tell us a little about the following songs
-Pizza and Beer Therapy Is about the power of a date with a friend over a pizza and a few beers can provide. You hardly need to talk, but the common energy you create is balm for the soul. Pizza and beer can also reverse the biggest hangover anxiety, unfortunately no pizzerias open earlier than 11.00 in Sweden.
Born and raised shitfaced Is about Fjugesta, a small village outside Örebro where everyone drinks and listens to Eddie Meduza, 3 of 4 members of The Boatsmen has their roots there.
I don't want to lose this time The song is based on several sentences, a longing for a weekend that never ends, a sadness over a pandemic that never ends and a desire to start winning!
Tell us a little about the following albums and what you think of it today.
The first record you bought or got?
- The first album I owned was on cassette and was Eloise with Arvingarna. The Beach Boys of Sweden.
The album that changed your life?
-Have more records that have changed my life: The Doors - In Concert, Ramones - Rocket To Russia and Turbonegro - Ass Cobra.
Last album you bought?
-Mad Rollers - Get Mad
The album you're ashamed of?
-Don't be ashamed of any album, a good song is a good song.
The album that makes Boatsmen sound like you do?
-The Damned - Damned Damned Damned
The album that must always be on the tour bus?
-MC5 - Back In The USA
The album you'd have liked to have played on?
-Turbonegro - Apocalypse Dudes
Is there anything you will never write about? Or is there nothing sacred?
-Nothing is sacred, just what feels pure and it´s real .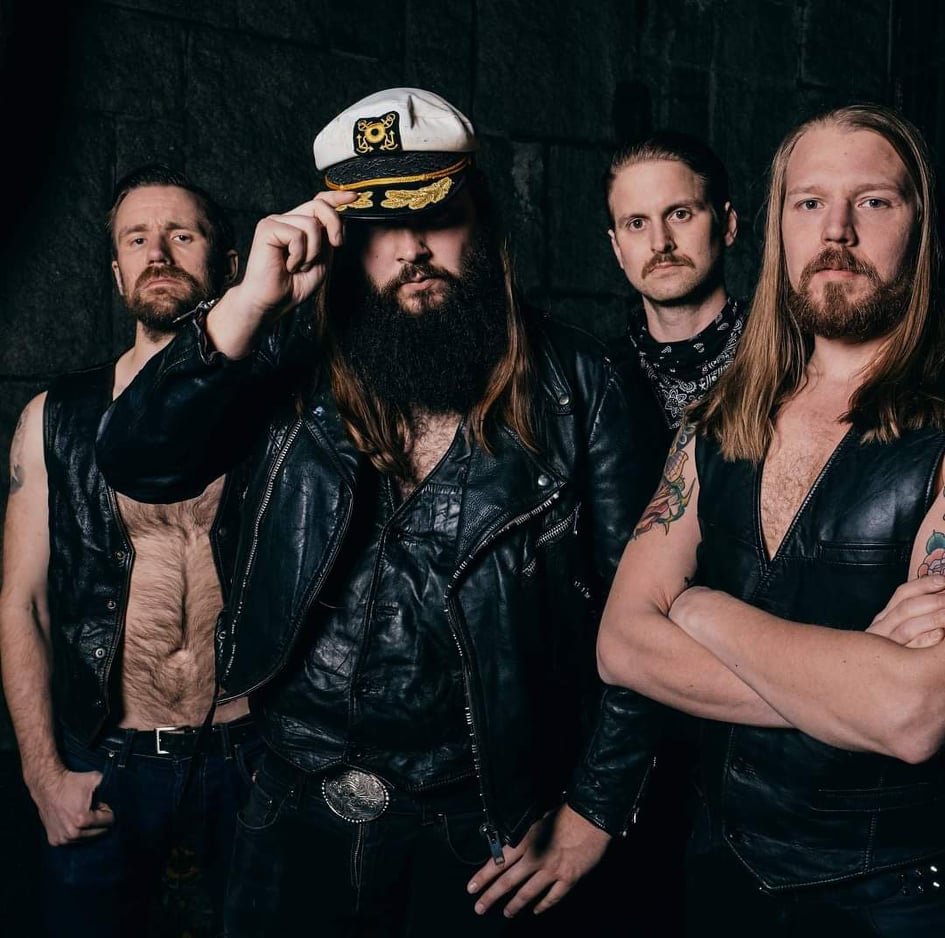 Politics and music, does it always go together? Or should we not mix them? Which is your most political song?
-A common sense and a feeling that everyone is equal should all have, and that applies to politics in music as well. Perhaps our most political song is I've Had It, which is about not having to do what big brother says. But personally, I think it's more important to convey a feeling than the facts with the music.
Best political band/artist?
-Dead Kennedys
Do you think music can change someone's life, I mean lyrics etc? Do you have an example of that?
-Turbonegro and the Ramones changed my life, made me believe in myself and feel like you don't have to fit in and that you can go your own way and drive full steam....
Your covers is really cool on your records, who made them. Is it important to have a cover that you understand the type of music you play? What's your favorite cover of all time?
-Many of our covers have been made by the record companies but we are very careful to approve before, we believe that the album as a format is very important, in all the details. My favorite cover is Thor - Keep the Dogs Away.
Is it important to get out physical records ? Vinyl or CD or both? Is there a good record store in your vicinity left?
-Vinyl and CD are proof of what we´ve done, a way to grip the explosion.
Please tell me something really funny that happened during your career on stage or backstage etc?
-Most of what we think is funny or remembers, we probably have to censor too much for it to be fun here.
How does your audience look like? What kind of people do you have on your concerts? Are you missing any kind of people?
- It comes all kinds of people. Quite a lot of older people in Spain, but they've been around since the rock was good and know what they're talking about.
Are interviews boring?
-Great fun with interviews and reaching out to new people.
If you could choose five bands from history, dead and alive to have a concert with your band, which are the dream bands?
-The Beatles, Ramones, Iggy And The Stooges, Turbonegro and MC5.
Is music a great way to get out frustration and become a kinder person? Are you angrier today than you were young punks?
-We're angry hungovers but never when we're drunk, so try to stay on the positive side, but we try to stay on the positive side.
What's the strangest question you've been asked in an interview? (Except for this one)
-A lot of questions about some of us having long hair and beards but it's not so strange when all the good bands throughout the ages have had long hair.
What's the question you never get, ask it and answer it?
-How can you be so good and so sexy? It came naturally.
Future plans for the band?
-We sincerely hope that this pandemic is over soon so we can go on a planned European tour and promote our latest album VERSUS THE BOATSMEN. Before that, we have a big gig with many guests on December 26th in Örebro at Satin, to celebrate the record and life.
For yourself?
-I try to enjoy every day.
Words of wisdom?
-Say yes to life and treat yourself.
Anything to add?
-Thank you and hope to see you soon! Rock!