Big Fish came in the early '90s and drove us over with its medieval-like punksynthrock or whatever to call it. Now they're back and it was 27 years ago last. But they touch me as much now as they did then. July-2022
It's been a while since you were heard and seen, what's happened since the last time...:... have you played all the time... many membership changes?
-We have all kept going in the meantime, Tomas and Andreas and I have played in several different other bands right up until now, and Arvid has also made music in his own way. We are the same line-up now as we were in 1990 when we recorded our first record!
What's the difference do you think playing today if you compare it to twenty years back in time?
-It probably feels a bit more focused and kind of professional, for lack of other words. Before the gig at Hultsfred -94, for example, we drank a six-pack of Åbro and a bottle of Aurora before each. You don't have to do that now!
How old have you been now? No thoughts of retiring from rock music (I had it at the age of 45 but it's passed)?
-We'll be almost 50 all! And we're in top shape! Our music feels like a very vivid and important expression for us in the here and now.
What does punk mean to you today and what did it mean to you at the beginning of your career?
-Right at the beginning it was mostly synth for me but I identified early on as a punk, maybe around the age of 14. In addition to all the Ebba, Clash and Pistol songs on alternate nights at the youth centers, it was mainly Bad Religion that made me seriously like that expression when "Suffer" came out in 1988. It was also with punk that we decided to start singing in Swedish, because such a style of music needs a very direct appeal to the audience.
SD got 18.5% of the vote, comment on that? Comment on the state of politics in Sweden at all? Easily messy?
- So parliamentarism can get exactly this messy and tends to be in many places when it starts to be about issues that are really outside of politics, such as religion or lifestyle. Look at the United States, they have a similar chaos. Since much of the financial elite in the world relies on more conservative systems to survive but the greater amount of voters has an economy that is at the lower end of the scale, it is easy to find sponsors for theories that seek to unite low-income people toward more contrived problems than the actual economic injustices.
I really like the lyrics on När idag blir igår(When Today Will Be Yesterday), were there problems with Nazis at your gigs,? Did they get the sense that you were a Nazi band or what?
-So we often played at anti-racist events, so then they were drawn there to fight. But even early on when we were a more pure synth band, there were some fascist flirters in that crowd, we had to make it clear on a few occasions where we stood. Then there were also for a period of time skinheads and Nazi punks who actually liked our music but "disregarded" the lyrics, very problematic. In general, it was quite often that the groups were confronted at youth events, many times the Nazi gangs had sat and drunk somewhere and wanted to go out and fight, it was their way of socializing.
Do you think it's important to make songs where it's about important things? Or can you make songs about banal things?
-We make songs about love, drunkness, the universe, stress, sadness. Everything is in a way banal things, it's about trying to portray it in a valid way so that one's experience becomes accessible to several.
Do you play any covers when you play live?
- Not nowadays. But before, we have done songs by Blue for Two, Beatles, November, Depeche Mode, Cornelis, Cassandra Complex and Einstürzende Neubauten among others.
What types of bands do you play with at gigs? Are they just like-minded bands and what's the weirdest thing you've shared the stage with?
-I don't know if we have any like-minded bands in Sweden really... We often end up alone at the concerts lately. Once in Prague, there was a guy playing before us who wore a gas mask and sang through a vacuum cleaner hose stuck in his ass. It was fucking alternative.
Any new good bands in Sweden you can enlighten me about?
-Love Daniela Rathana!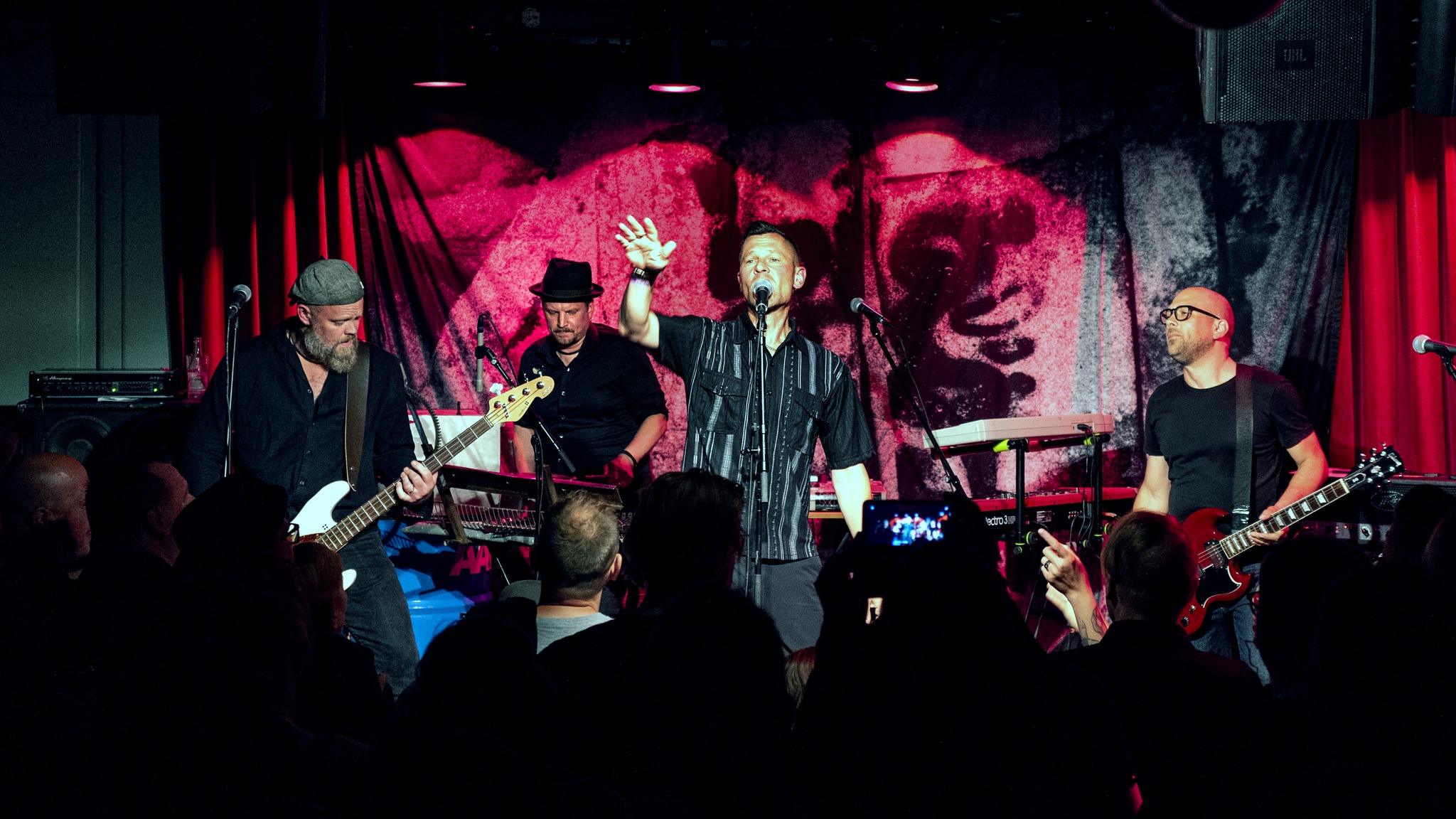 Progress Productions, tell us about that?
-A steady and good synth company in Gothenburg that loves the new material and has backed us to the max!
What do you prefer most CD, cassette, vinyl or digital?
-I love vinyl records!
Many people don't think you have released something for real if it is only available digitally, what do you think?
- It depends on the number of listeners actually. If it's narrow stuff that might attract a few hundred, it's more real if you give it out on cassette or vinyl compared to a sad Soundcloud file without spin.
Tell us a bit about the following songs and how the lyrics came about.....
Döden vidJärva Krog: To be brief, I needed to find a strong and specific memory, a crucial event in my life to be able to depict. I hadn't written lyrics in decades and needed to get started. The song is about when I drove from Stockholm towards Uppsala to check on my father, who suddenly became unwell, and at the interchange Järva krog in Solna received a phone call from my aunt that he was already dead.
Bösebrucke: Again back to my dad, he was born east of Berlin in the middle of World War II, and fled from there with his mother and sister as a child. Had he remained, he would have ended up in the GDR, and I sometimes play with the idea that if I had grown up there instead, then I would have been 16 years old when the wall fell and this could be my story. I like to study specific transformative events and imagine the individual's perspective on it all. I have spent a lot of time in Berlin, both before and after the wall, and think I have a slightly more multifaceted view of the event than is usually reproduced in the Swedish media. This song is also about the obedience to prevailing systems that humans tend to develop both here and there, and for which they are rarely rewarded in the end.
Färdvisa från Röda Linjen: I live in Vårberg outside Stockholm, a so-called "vulnerable area", and I really like it there. It becomes so clear up close how the tragic settlements between criminals are hated and bemoaned by all those affected but are maintained by a strong economic cycle that extends far into the residential suburbs on the opposite side of the metro's red line, i.e. Danderyd, Lidingö and Djursholm. I was trying to write a song about all the human activity going on simultaneously along this logistical cross-section of town, and how people interact.
How would you describe your music in three words?
-Heaviness, melancholy, precision.
Do you play a lot outside now, abroad there has been a lot there?
-No, we don't play much at all. One of our members Arvid Eriksson lives on the opposite side of the globe.
When you're making songs, is it one of you doing the song and coming to the rehearsal or how does it work when you're doing songs?
-Often one of us comes up with a relatively clear idea, then we try to get the arrangment and the song to sit together.
Latest record you bought?
-Per Svensson-Gothenburg Sounds
What's your relationship to punk like?
-A bit divided, you could say. As a creative impulse, punk is completely inevitable, none of the music that made us start a band would have existed without punk and mainly its backlash which is usually called post-punk or new wave. Punks, as a rule, are good people. Then punk can become quite dogmatic these days, and a lot sounds the same.
Tell us about the worst gig you've ever had with Big Fish and the best? What makes a gig good?
-We did some boring gigs when we started touring full time, around 93-94, strange bookings like 2 pm at city parties in Gävle and Friday night at some costume and tie place on Avenyn. But then we decided to always go all in, especially if the response is weak. This meant that we haven't experienced so many bad gigs since then. Best is hard to say but Pustervik on this Saturday was great, definitely up there in the top 10 ever.
How does the avarage Big Fish digger look like?
- There are slightly different categories I think I see. Hippies and green-wavers, sensitive bikers, extreme hard rockers, old synths. Slightly other younger completely normal people. A couple of Finnish dudes in their 30s always cross the Baltic Sea and show up when we play. They look like normal IT guys but get loose worse than anyone. Then I can reveal that famous artists in both hip hop and black metal are among our fans, It's mixed simply.
Do you read reviews on your records? What's the weirdest you've ever gotten?
- Yes, it's pretty fun with reviews. I don't remember much though, there was some time we got sawed in Slitz, which was some kind of semi-porn lifestyle magazine for men in the 90s, they hated all of our style, our lyrics and our fans. I didn't want to bother but took it anyway I remember.
Do you have any favorite zines etc that you often come back to?
-Nope not directly, but love that there are zines. I was doing zines myself in kind of elementary school, that's how I learned to draw and kind of design. I was just in New York and found a fanzine store with great zines from all over the world at low prices. Bought with me a bundle.
Unless one of the prime ministerial candidates can put together a government and one of you is asked to take the opportunity to form a government. What would you do then?
-I would use the enormous infrastructure of the Social Democrats and build a solidarity-based welfare state that everyone really has confidence in. It shouldn't be impossible, we have a lot to be proud of in this country after all.
Five favorite records, five favorite concerts, and the five most important things in life?
-For Big Fish, these five are super important:
Haus der Lüge with Einstürzende Neubauten
Songs from a pale and bitter moon with Blue for Two
L'eau Rouge with The Young Gods
Suffer with Bad Religion
Some Great Reward with Depeche Mode.
Tomas and I were and saw Neubauten at Fryshuset in September 1989, which was absolutely crucial. Then there's that important concert I saw with my dad in Berlin in 1988, with the industrial jazz band Vladimir Estragon. It gave me a blueprint of what our band would sound like when I got home. I still have the poster on the wall. I also pitched into a Blue for Two concert in Bollnäs in 1988 as a 15-year-old, and even managed to get into the lodge and meet Freddie Wadling and Henryk Lipp. Lucky that I was fearless haha.
Future plans for the band?
-Very hard to say, the response to the new record has been so good so it doesn't seem like a total mistake that we made it. But right now we are in a state of contentment with what we have managed to accomplish rather than future plans.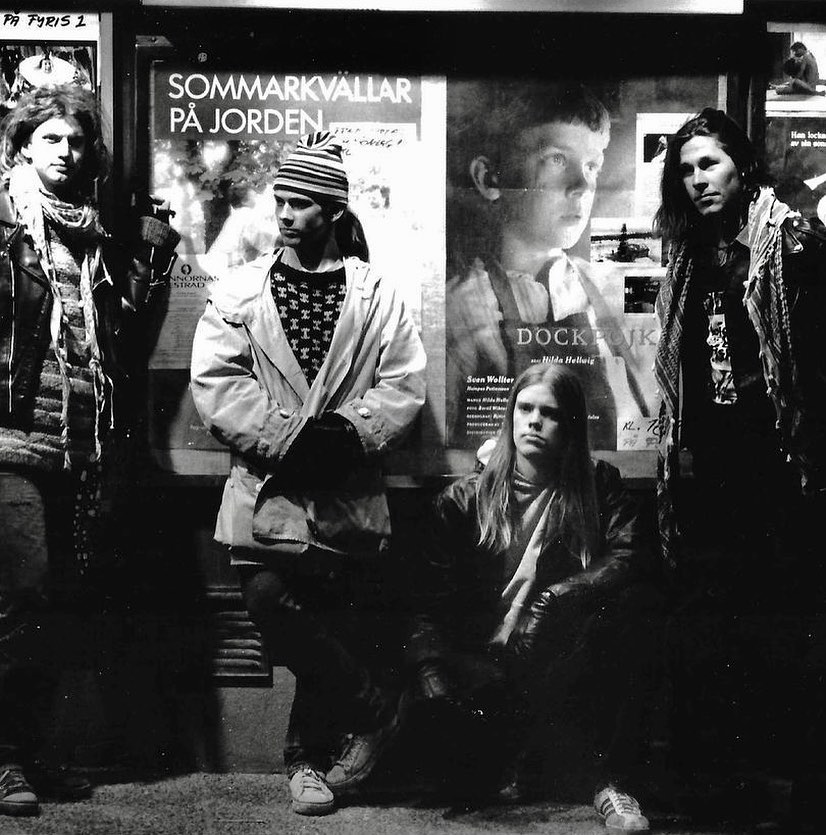 For yourself?
-It is powerful and tumultuous to stand on stage and sing again, but it also awakens old things in me that are not completely uncomplicated. If I may wish for myself, I would probably like to be able to calm down a bit and be happy with it. But you are the way you are, even if some can be worked with.
Anything to add?
- No, this was verbose, I think. Thanks and hello!