Beckmörkt became the first group out on Danne Paulsson's newly started record label Sockiplast Records. I was very pleasantly surprised by their record so I had to interview them and this was done in February 2022.
A little history of the group?
In 2016, Anders and Peter started playing together. Did mostly covers of Asta Kask and Strebers and bassist Palle hung on for a while. Due to lack of time, Micke took over the bass and participated in a few gigs and on the first album "och sen". After a while, Micke couldn't participate and like 2 weeks before Punkfesten in Klippan we borrowed Mike on bass instead. It turned out that he wanted to stay later and that was welcome! We recorded album no. 2 "BCKMRKT" and there somewhere the idea was that we wanted another guitarist. We also sound live the way we want it to. David hung on, put his guitar on all the songs on "BCKMRKT", and we still have that set to this day. In 2021, we started talking to Danne on Sockiplast records which resulted in "Övertramp" which will be released on LP and CD now in February 2022. Then we have had a hell of a fluency with gigs when we managed to share the stage with Asta kask, Strebers and Dia Psalma, Lastkaj 14, The Casualties, Charta 77, Slaveriet, Björnarna, Vet Hut, Järncell, Sardo Numspa, Rövsvett,, etc.
Tell us a little about each member, age, job, family, band before and band on the side? I understood you have another group too because you were wondering if it was Beckmörkt I wanted to interview. Which group is it?
I, Anders turns 49 this summer and is a few years older than the others, drumming with David in Kamelritt for 20 years. I also play in Selfish and at the moment quite sleeping Kurbits IR. Works at Studiefrämjandet and has a house, Volvo, wife and 2 children and 1 fur daughter (cat).
David also plays in Kamelritt and the rather fell asleep Krüger. He works at Ecophon and lives on his farm with his wife and 2 children, cat, chickens and barn rats.
Mike lives with girlfriend and 2 cats and makes sure people get mail and packages early in the morning. He's also in Future Idiots.
Peter lives in Ängelholm and works as a student assistant. He's the support house for three cats.
I can hear a lot of punk, both trallpunk and a little tougher too? Was it better before?
We play what we want and that inspired us. But in common are the Swedish punk type Mimikry, Lastkaj 14, Dia Psalma and such.... But we put a little everything in our own package and then it sounds like it sounds like it sounds. There were a lot of good bands before, but it's also appeared very well lately.
Are you happy with the name? Were you surprised that no other band was called this before? If the best band name hadn't been occupied, what name would you have chosen? What's the best band name?
We were going to be called Becksvart after Lastkaj 14's record – but Beckmörkt felt better. It's not all black. (Listen to the song "En strimma"). But we are happy with the name. 😊 There are so many good band names, so we don't even get into rattling everyone up. Choosing one doesn't work...
What's the best thing about playing live? Have you started playing live after covid yet?
We have played a little live during covid as well. In connection with the release of "Övertramp" we did a live stream (Feb 11, 22). Then we don't have anything booked until the summer (Hugo Fjäderben). Playing live just feels too damn good in body and soul. But also terrible. It's nerve-wracking and self-confidence can be at rock bottom. But afterwards, that storage has usually been filled properly!
Where is the best to play, where is the worst?
Every gig has its charm.
What's it like to play this kind of punk in Sweden today? Does it feel like a better market given the troubled political times?
There has been a bit of a resurgence in recent years.
How would you describe your music in three words?
Good. Better. Best.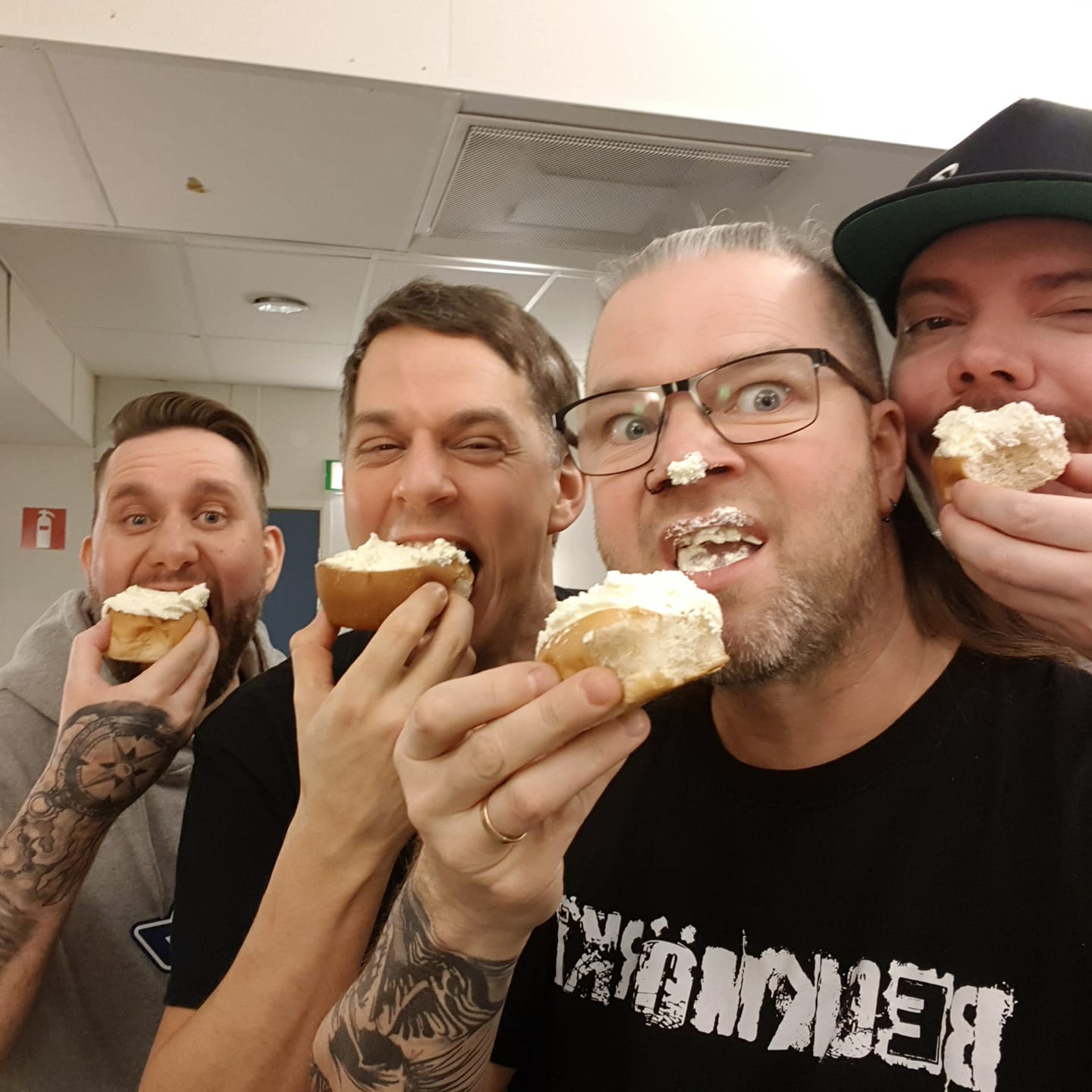 What does punk mean to you, is it just a word or is it a lifestyle? Do you call yourself a punks or aren't you so fussy about labels?
Labels are not fussy but punk culture has meant an incredible amount to me, Anders. (Listen to "Om det gick"). Everything from starting to want to play when I couldn't, to forming a band, getting a rehearsal room, forming a music club, learning PA and light, learning how to arrange concerts myself, making cassette tapes/CDs, learning how to record my own music videos, etc,,, this whole "do it yourself even though you're not very good at it but it doesn't matter what others say"....
How do you see on downloading, mp3 and the like? Does it benefit less band?
As long as we get our music out and that it's available, it benefits us, we think.
How is with the records from 2018 and 2020, are they only available digitally? If not, how do you get them physically?
Unfortunately, they only exist digitally. Some of the songs from BCKMRKT come as a bonus on the CD "Övertramp" though. The first album "och sen" we printed up in 50 copies that we gave away at gigs.
To be the first band on Danne Paulsson's new record label Sockiplast... How does it feel?
We are so grateful and happy for that! He's great to deal with and an interesting person. Then it will be smooth because he makes sure that records / shirts can be bought at Punkrockstore and Grönpeppar.
How do you think it's like to live in Sweden today, politically? M-SD-KD....
We're damn good. But of course it is nasty that many people think that it has gone to hell and that the only solution is to be angry and vote for people and parties with a wrong view of humanity.
Are there any good bands in Sweden today? In your hometown?
In Klippan there are currently about 25 bands and it is steadily increasing now that the corona is starting to release. There are everything from 12-year-olds who play hard rock/punk to 70-year-olds who play blues. In Sweden there are lots of good bands and to rattle them up takes their own book.....
Do you play anything outside of Sweden? If so, where have you played?
No. Nothing has happened to this band.
Other good bands from abroad?
There are a lot of bands, and as I said, we listen to a lot of different things.
Your lyrics, what are you influenced by? Only in Swedish? You didn't have a text sheet in your record, why not?
Life. How people behave towards others, mental illness and other tricky things. Yep, only in Swedish... or yes... different as southswedish dialect(skånska) and middle Swedish(östgötska)... We have text sheets in half of the records – the ones we have and sell ourselves. We decided to print up and it turned out the way it did. have someone ordered the LP on Grönpeppar or Punkrockstore and want the text paper – get in touch and we can send or something.... We will try to post so all the texts are on our Facebook as well.
Is there anything you will never write about? Or is there nothing sacred?
We write about what we want or need to write about.
Politics and music, does it always go together? Or should you not mix them? What are your most political songs?
No, it doesn't have to. One writes about it, and if it becomes political, it will be. The most political song we have is probably "Taggarna utåt". It's about SD and their unpleasant rampage.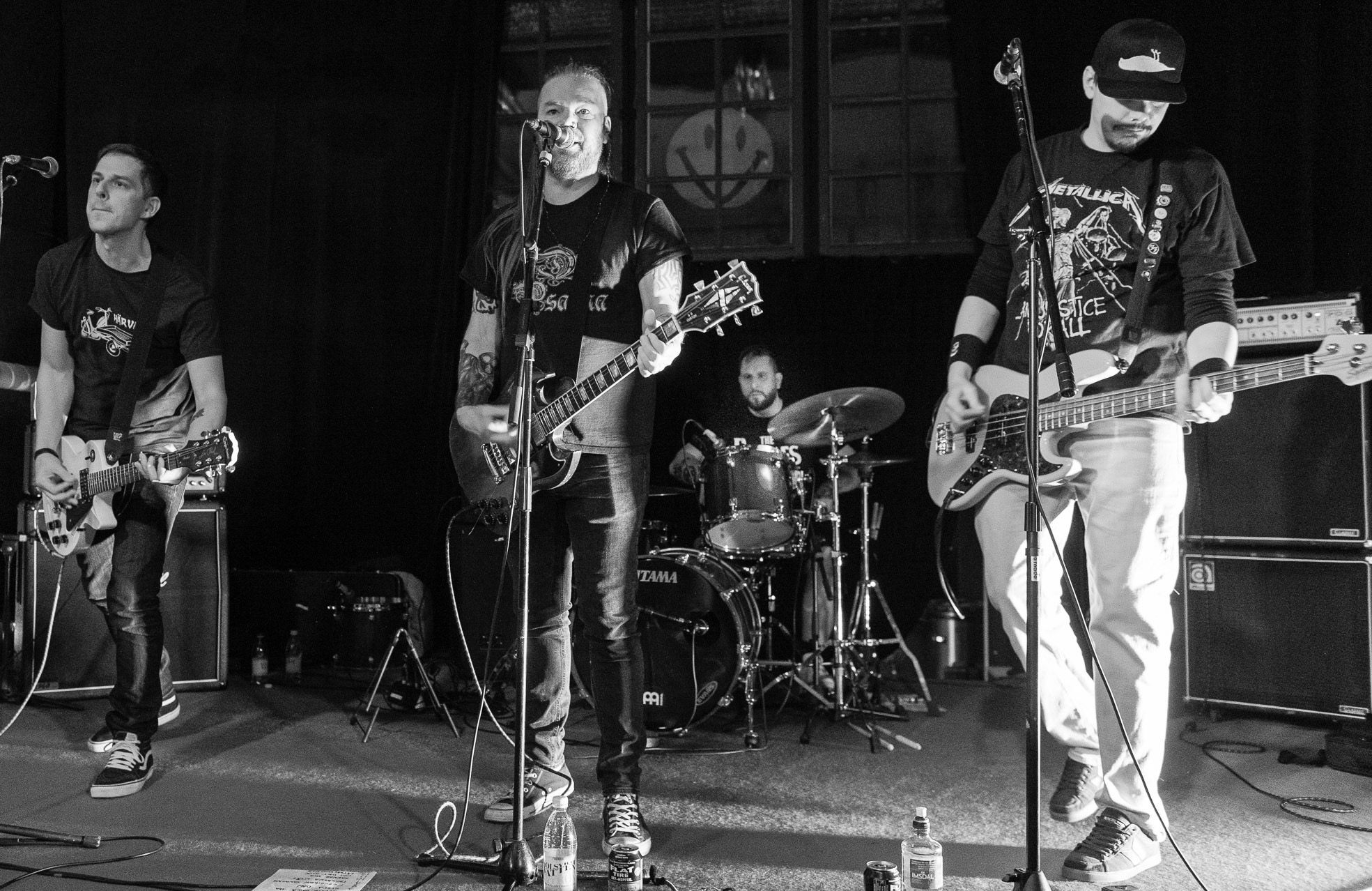 Best political band/artist?
The ones we're coming up with right away... - Lastkaj 14, Clash, Björnarna... And many more...
Do you think music can change someone's life, I mean lyrics etc? Do you have an example of that?
Oh yes!! Your own playing, but listen to others. I, Anders, have personally gained and gained a lot of strength from it, which has clearly affected my life – for the better. 😊
Your cover is really cool on your LP, who did it? Is it important to have a cover so that you understand the type of music you play? What's your favorite cover of all time?...
Thanks! It's Mike who fixed the "forbidden to step on..." picture and then we've together fiddled the rest together. Yes, we have been pretty careful that the cover should fit our music. Favorite cover... Hmmm?
Is it important to get out physical records? Vinyl or CD or both? Is there a good record store in your vicinity left?
It's too damn fun to make them. And at gigs there is always demand for vinyl and/or CD. Important... well.. It's a little more "real" to let go physically. We have Electric mud in Ängelholm. Otherwise, it is a bit sparse with record stores nearby.
Please tell me something really funny that happened during your career on stage or backstage etc?
We drank Lastkaj 14's beer in the dressing room at KB in Malmö. When they were on stage. Hahahaha! In Halmstad they didn't have electricity in the lodge so we had to cuddle with Asta Kask with candles instead. (Very romantic, especially in the bathroom. When we got home, it turned out that there was electricity. Very strange... .... Peter was nicknamed Krampen after a gig in Motala. Looks hysterically funny. Available on Youtube...
How does your audience look like? What kind of people is coming? Are you missing any kind of people?
It seems to be just about all sorts of ages.
Please rank five favorite records, five favorite concerts? The most embarrassing album in the collection?
David: Record:The Hellacopters - Supershitty to the max, Concert: Foo fighters - Ullevi 2015 (when Dave falls off stage and breaks his leg) Has no embarrassing record. <![if !vml]>
<![endif]>
Mike: Record: Mimikry – Alderland, Concert: Same as David, Embarrassing record: U2's Greatest Hits? <![if !vml]>
<![endif]>
Peter: Record: Beach Boys - Pet Sounds (Lastkaj 14 - Storms Deluxe edition if it's going to be punk). Concert: Difficult... Asta Kask + Mimikry in Köping 2003 perhaps? Embarrassing album: I don't have one.
Anders: Record: Strebers-I fädrens spår, Concert: Punkfesten i Klippan 2019, Embarrassing record: Eddie Meduza – fruntimmer ska en ha och k****a med.
Are interviews boring?
No, it's fun and fun to think a little.
If you could choose five bands from history, dead and alive to have a concert with your band, what are the dream bands?
Asta Kask, Dia Psalma, Mimikry, Bad religion, Nofx, Millencolin, 2 ton satan, oh,,, it turned out to be 7. There are many more we would love to share the scene with!
Is music a great way to get out frustration and become a kinder person? Are you angrier today than you were young punks?
Yes, definitely get a lot of shit out of it by playing (and even listening to) music.
What's the strangest question you've been asked in an interview? (Except for this one)
This is the first time Beckmörkt has been in an interview.
Future plans for the band?
Keep making songs we like and rehearse, record and perform them live. Hopefully Sockiplast wants to do more collaborations with us.
For yourself?
(Anders) Continue playing in different bands, arrange concerts (among other things Punkfesten i Klippan), be with my family, pet the cat, build on the house, record something new with my one-man band "Lillpunkaren", work with population education, learn singing techniques, renovate electric guitars, do more tattoos and a little more.
Words of wisdom?
"If you're wondering, it should sound like this."
Anything to add?
Many thanks for a nice interview! Thank you to those of you who read!
If you're the little punk(lillpunkaren), who's the big punk?
I got that nickname when I was 13 years old. I'll be 50 next year, so I'll be the big punk. 😊