Banned in GBG is an experienced band if you look at the members. Here's Paul which sings who answers a bunch of questions from me. December-2021
A little history of the group?
-There is not much history about the group yet as it is relatively freshly started and that the pandemic put everything on pause for a long time, But we were formed in 2018.
Tell us a little about each member, age, job, family, band before and band on the side? Why did you come together for this band?
-Tommie (Drums) has played with Nisses Nötter.
Zee (Bass) earlier in Smash It Up, On Parole.
Joke (Guitar) in The Nuts. R
at (guitar) also plays with Cherokee Death Cats, Ladida
Paul V (Vocals) ex. Tornado Babies, Not Enough Hate.
Our age, what we work with besides the music and family relationship has nothing to do with the band and thus I choose to leave it outside. We started as a music project and would record 4 songs in the studio and since everything worked so well, we felt that we wanted to continue. Erik, who played drums on the EP, dropped out and joined Troublemakers. The drum chair was replaced by Tommie.
I can hear a lot of punk, but also metal. Sure, there's a bit of Hardcore Superstar/Backyard Babies but I think I mostly hear punk, am I right? Was it better before?
-You probably hear right about Punk and Metal as these are our influences but disagree when it comes to the bands you mention. HCSS is a great band but I've hardly listened to BB to be honest. I think you hear all sorts of things in our music, which is a bit of a thing. We've all played in punk bands before so it's no wonder it's heard the most. Everything was better before! (haha)
Banned in G.B.G, are you satisfied with the name? Is that how it feels or why the name? If the best band name hadn't been occupied, what name would you choose? What's the best band name?
-Of course we are happy with the band name otherwise we would probably have changed. A band name is a name for a band, you have to be called something. It's also funny that almost everyone in the band now lives outside Gothenburg! What is the best band name? I have no idea... I think a good band name should reveal what style of music the band plays e.g. Motörhead, Metallica, etc.
What's the best thing about playing live? How is a dream gig?
-Difficult to specify what is best but the contact between the band and the audience is most important, if there is no contact then it will be a crappy gig. The energy and kicks you get from being on stage and finally getting to play in front of an audience after all the hours you put in the rehearsal room. A good gig is when everything works, it sounds good and the audience are with us..
Where is the best to play, where is the worst?
-The best gigs are done at less intimate clubs with good technique and hearing. Worst in places where it sounds shit. If it sounds like shit on stage, it won't be a good gig.
What's it like to play this kind of music in Sweden today? Is there a good scene for hard music?
-I think it feels really good as our music places on some different stages and it probably opens up for more opportunities for us to play live. I think there's a really good scene for a little harder music. This is especially noticeable as new rock clubs are opening up all the time.
How would you describe your music in three words? I'm thinking of those who have never heard you?
- Oh, it's going to be hard. I think the listener should come up with this. But three words: Hard, funny and melodic?
What does punk mean to you, is it just a word or is it a lifestyle?
-First of all, we don't want to call ourselves a "Punkband" but a Rock band as we are spread in slightly different directions. Punk is a lifestyle.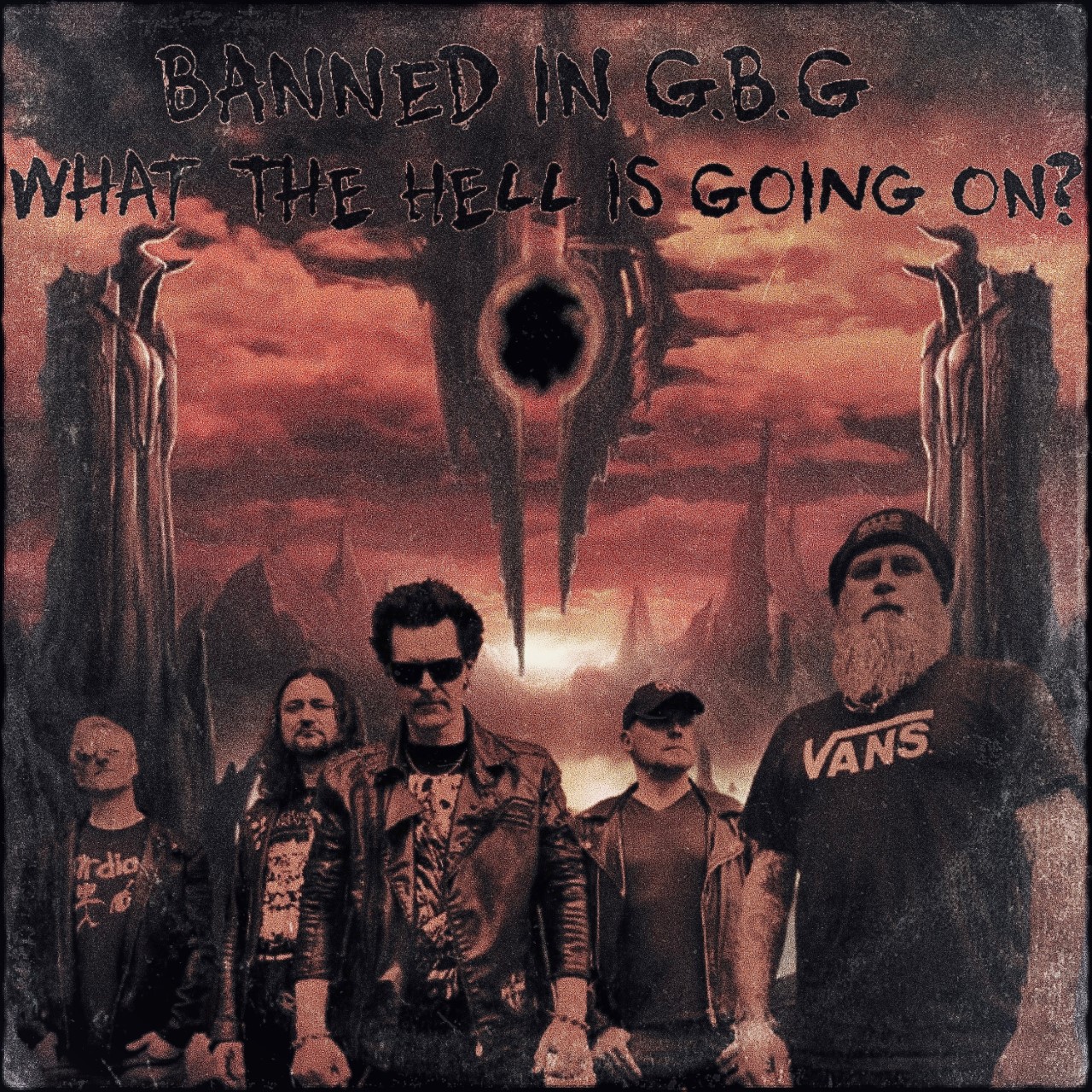 How do you see download, mp3, Spotify and the like? Does it benefit smaller bands more than established ones?
-What happens to the bands if everyone just downloads their songs for free? (It costs a lot to record a record. At some point, you have to raise money to be able to go back into a studio and record. Spotify and other streaming services do not generate any large sums of money, in addition, the bands pay an annual cost to post their records there (for those of you who did not know this). If you are a new band, you want to reach as many people as possible with your music. But as I said, you can't just have expenses, you have to have income.
What do you think it's like to live in Sweden today, politically?
-Sweden is a good country to live in if you compare with many other countries but I think we will leave politics outside, since we are not a political band but we play rock n roll and nothing else.
Are there any good bands in Sweden today? In your hometown?
-Yes, there are many good bands, too many to start rattling them up here. In Gothenburg we have (to name a few) HCSS, Troublemakers, etc.
Do you play anything outside of Sweden?
-Yes, as soon as we get the chance. Like I said, we´re a new band, debut album just out who knows what awaits us?
Other good bands from abroad?
-Everyone in the band likes different bands and musical styles so it will be difficult to name a few bands.
Your lyrics, what are you influenced by? Never in Swedish? Tell us a little about the lyrics on -See it, Say it, Sort it-Money (a little Godfather's feeling on it) -Damned & Banned?
-Yes I write most of the texts, you are influenced by everything around you, feelings, events, etc. things that people can relate to. No, I can't write lyrics in Swedish, so that's not going to happen. See It, Say it, Sort it: If you've been to London, you can read this text in slightly different places like the Underground. It came up after the terrorist attacks and is just about that.
Money: Godfathers yes I get what you mean (birth, school, work.death) A little the same thing yes, Don't really remember what their text is like but my text is about money governing, That it is expected that everyone will "make a career" whether you like it or not.
Damned & Banned: It's about us in the band, written with a lot of irony.
Is there anything you will never write about? Or is there nothing sacred?
-I don't think we're going to write purely "political texts" but there are those who say that everything is politics. Given all the boring things that are happening in our world, I think it's more important to write about funny things, and try to convey positivism.
Politics and music, does it always go together? Or should we not mix them? Which is your most political song?
- No, I don't think so, it's up to everyone what they want to write about. Our most political song? Do we have any? Not that I know of...
Best political band/artist?
-KSMB
Do you think music can change someone's life, I mean lyrics etc? Do you have an example of that?
-Of course, again think positive and everything will be okay!
Your cover is really cool on your CD, who did it. Is it important to have a cover that you understand which type of music you play? What's your favorite cover of all time?
-... Thanks, the cover idea comes from the Netflix series Stranger Things and is an idea that our bassist Zee came up with. The cover is made by Zee and Klaudio. Yes, the cover should also tell you what the content is. Favorite cover? hmmm... There are so many good... Never mind the bollocks.
Is it important to get out physical records? Vinyl or CD or both? Would it feel like you made a record for real if it just came digitally?
-Yes, it is important to have a physical record, it is only when it feels like a real record. Vinyl is the best option, but CD works. Digital is boring but convenient.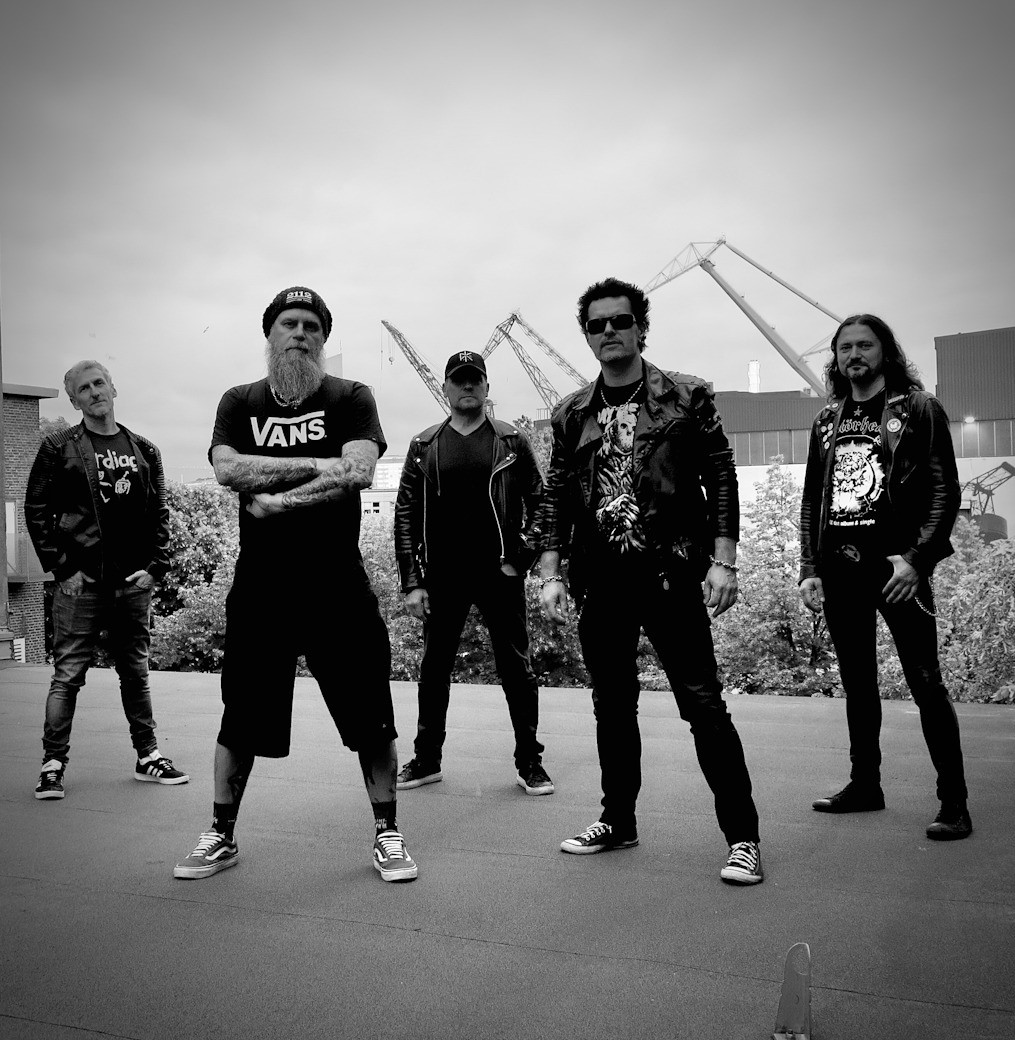 Please tell me something really funny that happened during your career on stage or backstage etc? With this band or with something else?
-I played the opening act for Motörhead and had a party with Lemmy & co. That's pretty funny!
How does your audience look like? What kind of people do you have on your concerts? Are you missing any kind of people?
-Too early to say yet, the album just came out and we've done too few gigs to be able to make any estimate of this.
Please rank five favorite records, five favorite concerts? The most embarrassing album in your collection?
1. Sex Pistols - Never mind the bollocks
2. Hanoi Rocks - Two steps from the move
3. The Cult - Electric
4. The Exploited - Troops of Tomorrow
5. Rhino Bucket - Get used to it
1-5 D-A-D - All gigs in Gothenburg.
I don't have an embarrassing record in my collection.
Are interviews boring? Is it a lot?
-No, it's just fun, you keep the scene alive. Not too many interviews yet.
If you could choose five bands from history, dead and alive to have a concert with your band, what are the dream bands then?
-Well five bands is probably too many to choose but would have liked to see the Sex Pistols with Sid.
Is music a great way to get out frustration and become a kinder person? Are you angrier today than you were young punks?
-Music is a very good way to get rid of all the hard work, but don't know if you become a kinder person, well you probably will :) Maybe not angrier today, but you probably get angry at other things today than in your teens.
What's the strangest question you've been asked in an interview? (Except for this one)
-It was probably this one, I don't remember any other strange question.
What's the question you never get, ask it and answer it?
-Are you making money from your music? No, we are minus thousand of money.
Future plans for the band?
-Gig as much as possible, Write new material and release a new album in the future.
For yourself?
-Become a better writer and singer.
Words of wisdom?
-Don't believe in a God believe in yourself.
Anything to add?
-Buy our new album: "What the hell is going on" directly by us in the band via our facebook page: Banned in G.B.G - band
Thanks for the interview Peter!