Davis from Autumn Kids can a little bit of Swedish and that´s fun I think. Here have the german group answered a lot of questions from me. May-2022
Please tell me a little bit history of the group?
Davis: 'Autumn Kids' was founded in late 2016 by Adrian (drums) and me (vocals / sampling). We met through a German musician forum and after a few months we met Marvin (bass). Through a friend of mine, our former guitarist Mirko joined us. We were a group of 4 for a good 1 1/2 years and recorded our first self-titled demo together. Unfortunately Mirko moved back to his hometown in Northern Germany together with his girlfriend and through another friend of mine the 3 of us met Patrick (guitar) and Basti (guitar). So since 2018 there are five of us!
Please tell me a little about every member in the group right now, age, family, work, interests and something bad about everyone? Earlier bands? Other bands on the side?
Davis: I think we can all speak for ourselves!
I'm Davis, 25 years old and besides music I work as a software developer and study philosophy, literature and history. I played in 2 more or less known hardcore and metal bands before 'Autumn Kids'. Besides 'Autumn Kids' I have a post-rock project called 'Albatrosses Over Munich'.
Patrick: My name is Patrick, 29, I work in retail and I'm probably the most impatient person on earth. I live in Bamberg with two cats, a dog and my lovely girlfriend. Together with Basti I played in a band called "All Is Not Lost" and I was also in "Kotov Syndrome".
Adrian: My name is Adrian, I'm 24 and work as a caregiver / male nurse. Besides autumn kids, my girlfriend and my 2 cats mean the world to me. I never played in any bands before so this is a whole new experience for me. I started playing drums at the age of 6 and started looking for bandmates when I was 16 but it never worked out until I met Davis.
Marvin: My name is Marvin, I'm 22 and currently unemployed but I will start an apprenticeship to become a train driver in September. Before Autumn Kids I only played in the band of my former high-school haha. Which was actually quite fun though because our music teacher had a cool music taste. I started playing bass when I was 14 and besides Autumn Kids my family and my girlfriend are super important to me.
Basti: I'm Basti, 27 years old and quite at the end of a masters program in power engineering. Besides I have a job at university. Together with Patrick I was in a band called "All Is Not Lost". I'm not that guy that sticks two one hobby, so they change quite a lot. I sometimes take stuff to personal haha.
I can hear much different influences but much emocore and and some hardcore etc? Favorites from the past?
Davis: That is definitely correct. I think mainly Marvin and I have an emo background but the cool thing about our band is that we all come from different subgenres. One of my first CDs was Fugazi - In On The Kill Taker from my dad. But my favorites are acts like Saetia, Funeral Diner, Inside Out and Black Flag.
Patrick: I'm also interested in lots of different genres like Mathcore, Deathcore but also Indie Rock/Pop or general Pop music. Some of my favorites are Lana Del Rey, Ariana Grande and Biffy Clyro.
Marvin: I don't really listen to Hardcore that much anymore so sometimes when the other guys are talking about Hardcore or Metalcore bands, I don't have a clue what they are talking about. I mainly listen to (Post-)Punk, Indie music, Math-Rock, Emo and Pop. When I was younger I listened to more Metal and Hardcore of course.
Basti: If you'd ask Davis, probably he would say slayer and stoner rock haha. In the end it's quite diverse and you can find post punk, garage punk, surf rock, wave stuff, stoner, indie, metal, hardcore and currently also hip hop on my playlists. Tbh I'm not the biggest fan of autotune-sounding stuff.
Autumn Kids are you satisfied with the name? How did it came up? Are you all born in the autumn or what does it mean? You weren't afraid that some other band would be named like this? Which is the best bandname you know?
Davis: We often get asked this question and in fact 'Autumn Kids' has no real profound meaning. We were brainstorming for a long time when we started and Marvin came up with the idea of 'Autumn Kids'. We all thought it was cool and we haven't changed the name since. But for me personally, autumn is my favourite season. The best band name is really difficult. But I think I'll go with 'I Would Set Myself On Fire For You', a screamo band from Atlanta, USA. The name is so nice and straightforward.
What´s the best thing with playing live? What is your strength as a live band? Is it good to be back on stage after the covidthing?
Patrick: It's basically everything connected to a live show. Meeting people, visiting different cities, presenting the music you worked a lot on, being able to perform. Performance is probably our biggest strength. Everyone has his own style and together there is always a lot of energy on the stage. Adrian, our drummer, is a machine live and Davis was just born to perform. We couldn't be happier to perform in front of people again and there are lots of shows coming this summer!
And where is best to play? And the worst place? Or isn´t it any worst place?
Patrick: There isn't really a bad place to play a live show, but we will probably never play in Mannheim again. Had two shows there, drove about 400 km to play in front of 3 to 4 people. Still fun times though.
Davis: One of my favorite shows was in a small bar in Hamburg probably! fun times.
Marvin: It was perhaps not our "best show ever" but I really enjoyed playing in Pilsen last April.
How is to play this sort of music in Germany right now? Which types of bands do you have concerts together with?
Davis: We play rather melancholic music. We've had shows where the audience felt us every second, but we've also played hardcore shows where we weren't tough enough for some people. We played a lot with hardcore, indie or emo bands the last years before Pandemic but one band that stood out a lot are our friends from 'Oakhands'.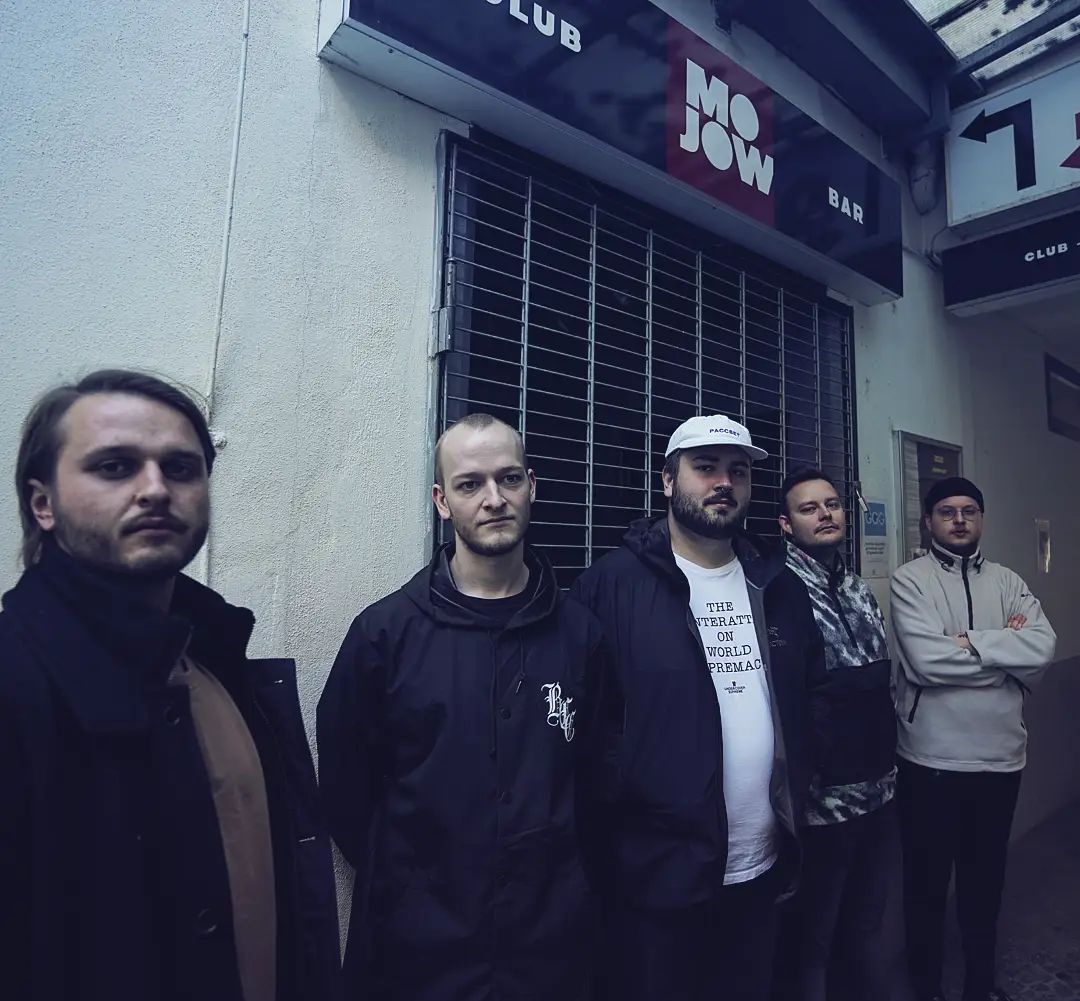 How would you describe your music in three words to people who never have heard you?
Patrick: Energetic, emotional, eclectic
What does punk mean to you, is it only a word or is it a lifestyle? Have it changed through the years?
Davis: For me, punk is swimming against the grain, individuality and going your own way. I guess I was always the 'black sheep' who always questioned everything somehow. But from time to time I turned away from all the punk fashion bullshit and drinking beer at station squares. I'm still a rebel at heart.
Which song/album or group was it who took you into punk/hardcore? And did so you wanted to play yourself?
Patrick: The Dillinger Escape Plan got me into "harder" music and seeing them live made me want to play live, with the same energy. Still working on it though.
What shall a young guy do today to shock their parents as the way we did when we were young? They have already seen everything ? Or isn´t it necessary to be shocking your parents?
Davis: Difficult question. I don't think it's necessary to shock your parents, because that always happens on its own. For my parents it was a shock that I grew my hair long.
How is it to live in Germany right now? Politically? Fascists? The antivaxxers? What do the german government says about the war in Ukraina?
Davis: I think in Germany it's just as shitty as in many other countries in Europe. Too many old farts are in government, too much corruption, the far-right is growing more and more every year, and stop with these idiots who refuse to vaccinate. These morons are also to blame because many DIY venues and promoters had to close during the pandemic. First of all: Freedom for Ukraine! Destroy Fascism! This country is being literally massacred by a fascist and our government has been watching and not reacting for 2 months. At least they show "some sort of" solidarity and also say no to the war.
Is there any good bands from Germany right now? Is the punkscene/metalscene/hardcorescene big? How is it in your hometown?
Davis: Yeah, the scene is pretty big here in Germany. But Bamberg can definitely stand a little more DIY! To name a few good bands that I personally listen to: Oakhands, Slon, Spirit Crusher, Maulgruppe and Akne Kid Joe.
Patrick: I love to watch all the bands we are playing with, no matter how "big" or "small" they are. Especially in the metal/hardcore scene some people just attend concerts to see one specific band and they don't really care about the others playing.
Basti: totally agree with Patrick. There are so many "small" bands worth listening to and it's always amazing seeing them live.
What do you know about Sweden? Have you been here sometime? What is typical Swedish? And you can a little Swedish, how have you learned that? And what is typical german?
Davis: Ja! Jag talar lite svenska. I was in Stockholm and my family has some crossovers there. Swedes are all super friendly in my opinion, will probably always talk to you in English when they realize you are not 100% from Sweden and have super weird eating habits. But hey that's totally okay because we have them too!
Have you heard any good bands from Sweden?
Davis: Definitely. DS-13, Refused, Suis La Lune, Katatonia to name a few. We even covered New Noise by Refused for a while!
Your lyrics, who does them and what influences you? Never in german. Please tell me a little about the following songs
-Sleep
-Monument
-Coma
Davis: I write all the lyrics. Mostly they are personal experiences or dealing with emotional conflicts. Lyrically, however, poems by Bukowski, books by Kafka, Dostoevsky or Hermann Hesse have influenced me a lot.
'Sleep' describes the first 4 of 5 stages of grief, a model by Elisabeth Kübler-Ross. The protagonist is confronted with the phases of denial, anger and bargaining and finally ends up in a deep depression, which is a one-way-ticket to deepest remorse and hopelessness.
'Monument' is an ode to obsession and acceptance. Falling in love can sometimes lead into an extremely unhealthy and toxic construct without noticing it for a long time. You get so obsessed with the social definition of 'love' and the implausible idea of a conflict-free relationship between 2 persons that you totally forget that this sort of pressure is hurting your partner. The 'art of letting go' is something that we all need to learn at some point.
'Coma' is a very personal love song and is about the acceptance of not being perfect but to still try everything to be loveable. 'I silently accept that these shadows will stay with me, because I know you'll walk this way with me' describes exactly that. 'I tried to hide from myself for so many years but If I could be someone you used to know It would mean everything to me' describes the fear of not being good enough. 'The Temptation That Is You' by 'The Saddest Landscape' was a big influence for the lyrics of this song.
Is there any subject that you never will write anything about? Or isn´t anything sacred?
Davis: I generally try to pack a lot of metaphors into my lyrics, so it's not necessarily hard for me to write about uncomfortable topics like depression or drug abuse. If it feels right then I will write about it.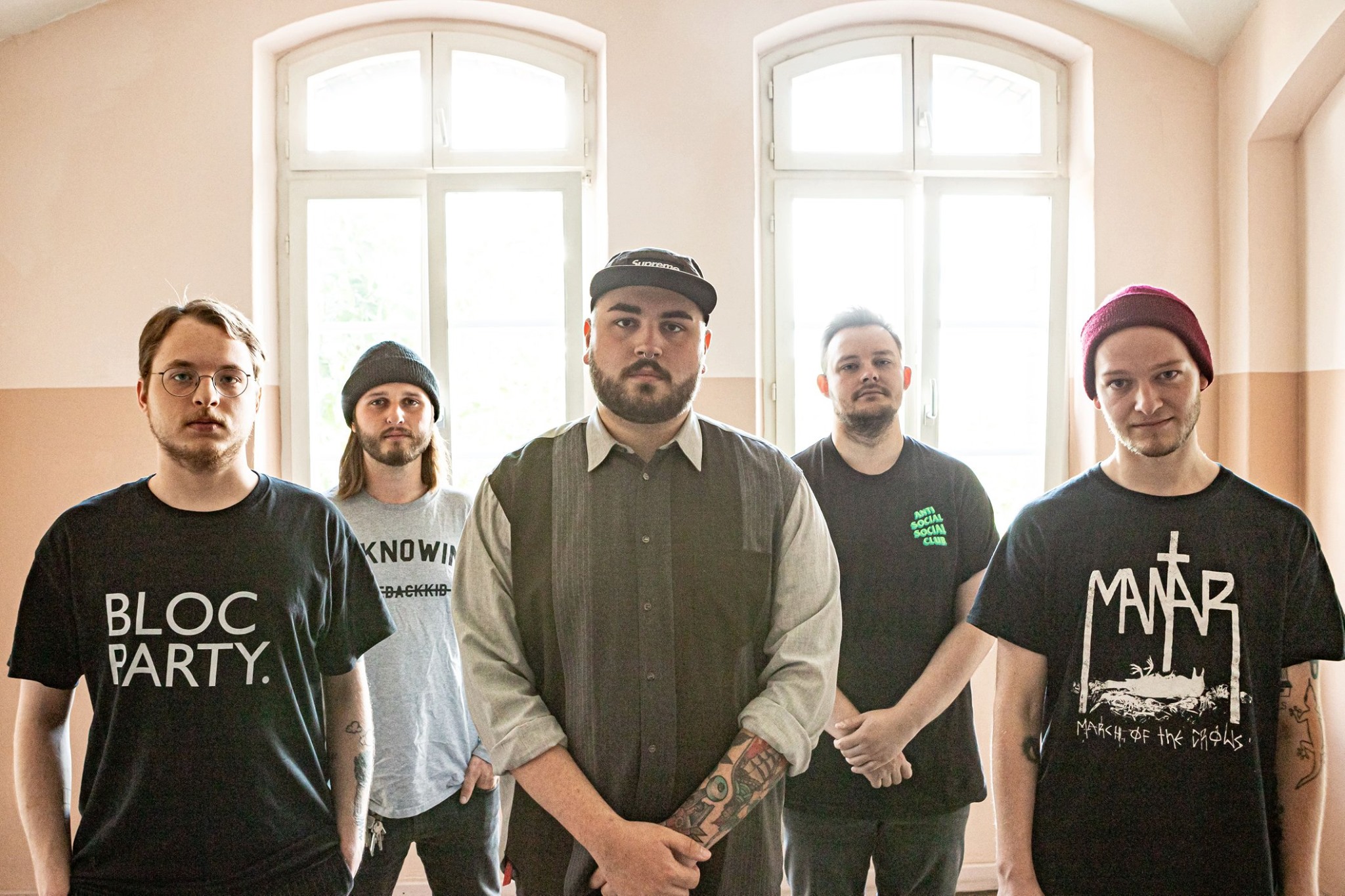 Politic and music, does it goes hand in hand? Which is your most political song? Is it important to get out your opinions in music? Or is it OK to play music and not sing about politics? Otherwise it is important as a band to show where you stand in political questions as fascism etc?
Davis: I wouldn't say that 'Autumn Kids' is a band with a lot of political content but we are all straight up anti-fascists and politically left. Our most political song is probably "Retrospektive" which is completely in german and is about the growing right wing spectrum and our resistance against it. For me personally it's totally okay if a band doesn't want to have political lyrics, but I think it's even more important that you position yourself politically. All this trash talk about "being apolitical" is just lying to yourself as an artist.
Best political band/artist?
Davis: Body Count!
Do you think that music(lyrics and so on) can change anyones life, I mean people who listens to music? Do you have any example?
Davis: Absolutely. Bands like Have Heart, Gorilla Biscuits, Black Flag and a lot of the other punk, hardcore and emo bands made me the person I am today.
Your favorite recordcover alltime? Who does your recordcovers? And do you have any good recordstores in your hometown?
Davis: Favorite cover artwork: Joy Division - Unknown Pleasures. Even after over 40 years of existence it's still timeless. My girlfriend and artist Tamara Grünwald did all of our designs. Marvin: Good choice, Davis! I also really like the cover artwork of "Ants From Up There" by Black Country, New Road.
Is it important to get out physical records of your stuff? Why or why not? Vinyl, CD, cassette, what do you prefer if you could choose whatever ? How does your new record come out, is it only vinyl or?
Davis: Nowadays in times of Spotify, iTunes etc. I don't think it's too important to release your music physically. As an artist, however, it's important to hold my product in my hands, at least in the form of vinyl, after years of work and tons of money that I have put into it. Otherwise, of course, the usual promo CD's !
Please tell me a funny thing which have happened during your career and under some gig?
Patrick: Sometimes I fuck up a part during a live set and i have to instantly check if Basti recognized it. He always does. But we always share a smile after it.
Davis: One day Marvin was so drunk that the next morning he pissed in front of the hotel that was booked for us. We are still pretty mad at him for that.
Basti: we're all weirdos you know. And most of the time somebody is doing some pretty akward/funny thing. But one of the best stories is when Patrick and I wanted to drive Adrian to the train station in Nuremberg. He's not very talkative so we
How does your audience look like? Which people do you miss on your concerts? Which is the biggest band you ever have played together with? Is there any of your fans who have done any "crazy" thing as a tattoo with your name or something like that?
Davis: Mostly a lot of people from the punk/hardcore/emo spectrum. We would be very happy if more girls would dare to come to our shows. Hardcore is not just boys fun so show them and kick their asses! Nothing really freaky. We once felt very much like rock stars when we were supposed to sign a CD. hehe Patrick: Fun fact, we're probably our biggest fans ourselves because we all got the same autumn leave tattooed (by Davis) on our legs.
Please rank your five favoriterecords, five favoriteconcerts and five most important things in life?
Davis: Records: 5. Interpol - Turn On The Bright Lights 4. Fugazi - Repeater 3. At The Drive In - Relationship Of Command 2. Lifelover - Konkurs 1. Have Heart - The Things We Carry
Concerts: 5. Earth Crisis - Fluff Fest 2016 4. Foxing - Café Wagner Jena 2017 3. Raein - Fluff Fest 2015 2. White Fields - JUZ Domino Coburg 2012 1. Have Heart Reunion - Essigfabrik Cologne 2019
Import Things In Life: 5. My Bookshelf 4. My Spotify Playlists 3. My Dogs 2. My Friends / Autumn Kids 1. My Girlfriend
First, last and most expensive record ever bought? Or do you don´t buy records?
Davis: It's been a while since I bought a record but it must have been the first press of Godspeed You! Black Emperor - Lift Your Skinny Fists Like Antennas to Heaven. Fantastic record.
Marvin: I think the most expensive record I've ever bought was "Blazing Fires And Helicopters [...]" by the Swedish band Suffocate For Fuck Sake on Discogs. This record was pretty rare at some point but to my bad luck it got reissued some weeks later after I bought it and would've been much cheaper then haha.
Is it boring with interviews? Is it much interviews?
Patrick: We don't get interview requests a lot, so it's a huge honor for us to share something about us with you. We would love to do some more in the future.
Do you care about reviews? Which is the most peculiar you ever had, with this band or any other band you have been to? Have you ever changed anything after a bad review?
Patrick: Reviews are very important to us. It's always helpful to get someone's opinion and we use this , especially after our last EP, to improve ourselves the best we can.
Which bands do people compare you to, is it boring that people compare you to other bands or is it understandable? And which is the most odd band you have been compared to?
Patrick: We get compared to bands like La Dispute, Defeater, or Fjørt from Germany and we can see why, because we are influenced by bands like this a lot. But there are always just a few certain songs compared to another band's sound and people are telling us that we still have a unique style to Autumn Kids which makes us very proud.
If you could choose five bands from the past and the history and nowadays and both dead and living bands to have a concert together with your band. Which five have you chosen?
Davis: Orchid, Hot Cross, Sinaloa, Jawbreaker, Slint
Is music a good way to get out frustration and become a nicer person outside the music?
Patrick: For sure! But it's also about having fun, being creative and balancing out my everyday life.
Which is the question you want to have but you never get. Please ask it and answer it?
Patrick: How does it feel to headline Wacken Open Air? Answer: As great as the last few times ;)
One more question….beerfavorite sort? If you did a beer which sort would it be and what have it been called?
Marvin: My favourite type of beer is probably, as we call it in Germany, "Helles". I don't have a favourite brewery in particular, however, Reckendorfer or Mahrs-Bräu are never bad choices. There is also a local brewery called "Bro-Bier" with whom Patrick has good connections and we sometimes joke around about having an "Autumn-Kids-Bräu" together with that brewery. Hey Patrick, make that happen! Haha