Adits come from Canada and I have only heard a few songs with them but I really wanted to interviewed them and I think they´re a hybrid between Dead Kennedys, D.O.A. and their own punkstyle. April 2022.
Please tell me a little bit history of the group?
-The Adits started in the summer of 2018 after drinking 48 beers and eating a dozen cheeseburgers at a barbecue in the small mountainous region known as the West Kootenays in British Columbia, Canada. After kicking ass for a few years on the local scene, Covid came and decimated the band…but now…The Adits are back with a couple new members and are more fierce than ever.
Please tell me a little about every member in the group right now, age, family, work, interests and something bad about everyone? Earlier bands? Other bands on the side?
-Andy Kesslar - the best punk rock drummer in Canada with glasses! Andy is happily married and enjoys pulling his wires through walls, both as an electrician and pervert. Andy's two-pack-a-day smoking habit limits the bands jam sessions to only 4 hours at a time. Andy's old bands include: Herd of Wasters, Savage Henry, Xembroys and Grand Lodge (to name a few.)
Kirk Stevedore - guitarist and vocals, but more importantly gold miner with the bad back and beard to prove it! Kirk likes to dig holes in the ground in search of shiny rocks, crush cheap beers and consume as much baseball as humanly possible. His obsessive compulsion disorder finds him dusting and cleaning amps, drums and instruments in between rehearsals…it's a real problem. Kirk's old bands include: Dirty Bird, The Stevedores, T.W.A.T. and The Vagrants.
Max Cayer - bass guitar and backing vocals with a funny accent. Max is a French Canadian from Montreal, Quebec. Max's best qualities are his fantastic hair and bass tones…his worst is, well…being French…hahaha! He wanted to be a race car driver, but after seeing Duff on TV at age 11, being Nigel Mansell took a side seat. He once failed to qualify at the Indy 500 on a bicycle. His love for Primus is creepy and strange, but the band puts up with it because he can dance like Les Claypool on stage. Most importantly, Max runs a killer record label out of his home in Castlegar, British Columbia named: Coup sur Coup. He's also played drums in: Nous Etions and Fuck Toute. Max also wanted to reassure his mom that he still does wash behind his ears.
I can hear much different influences but mostly old Canadian (DOA(), and american music(Dead kennedys)? Favorites from the past?
-The Adits love all kinds of music, from Scandinavian rock n roll to English punk rock. But yes, we do pull a lot of our influences from so many great Canadian bands, like: SNFU, No Mean No, Dayglo Abortions and DOA. We like the speed and fury of bands like Poison Idea, the cock-rock of bands like Turbonegro and the comedy of the Quincy Punx.
Adits are you satisfied with the name? How did it came up? What does it mean? You weren't afraid that some other band would be named like this? It´s very lookalilke to the Adicts… Which is the best bandname you know?
-The band name, The Adits, comes from a gold mining term. An adit is basically a cave or passage that leads to a mine deep inside of a mountain. We like the name as much as we like The Adicts from England. The goal is to one day be on the same bill as The Adicts and really confuse the fuck out of people.
What´s the best thing with playing live? Have you done any since the covid came?
-The best thing about playing live is the free beer. Smiling fans are ok, only if they give us beer. Otherwise, we prefer them to leave…after buying one of our t-shirts. Covid has eliminated local shows, but they are slowly coming back. The Adits did a few live-streams during the pandemic, but like everyone else's, they were boring.
And where is best to play? And the worst place?
-The best place to play in our small mountain region is in Rossland or Nelson, British Columbia…lots of venues and great crowds! The worst place to play is Quebec.
How is to play this sort of music in Canada right now? Which types of bands do you have concerts together with?
-The scene is Canada is slowly coming back to normal. Covid has ruined many bands, forced others to make member changes (including The Adits) and has delayed many concerts and albums from happening. But, perseverance is felt in the scene…music is in fact life! The Adits typically play with other punk rock bands, metal bands and whatever hippy-shit that may be rolling out of campers here in British Columbia.
How would you describe your music in three words to people who never have heard you?
-In 3 words, The Adits are a: Good Fuckin' Time!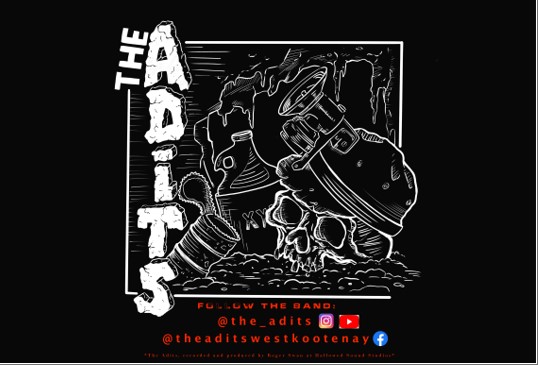 What does punk mean to you, is it only a word or is it a lifestyle? Have it changed through the years?
-Everyone ages and everyone changes throughout the years, but "punk" seems to be the only constant in life. Hair falls out and turns grey, but guitars and drums always sound the same. It is the energy and good times that we thrive on, and punk rock continues to provide, even after all these years!
Which song/album or group was it who took you into punk/hardcore?
-Bands like the Ramones, Sex Pistols and DOA were the bands that first guided us into punk rock. But also so many of the killer Canadian bands as well, like: Forgotten Rebels, Teenage Head, The Subhumans and the Pointed Sticks.
What shall a young guy do today to shock their parents as the way we did when we were young? They have already seen everything <![if !vml]>
<![endif]>?
-As a young kid these days, it is not easy to shock parents, unless you support The Adits, or marry a french person. Purple mohawks and tattoos are fucking lame in 2022…we need a new G.G. Allin as soon as possible.
How is it to live in Canadaright now? Politically? Fascists? What do the canadian government says about the war in Ukraina?
-Canada is a huge country, so politics differ from coast to coast and province to province. What remains consistent is: Fuck fascists and stop the war in Ukraine. The people forced to be involved in the war in Ukraine are in our hearts and in our thoughts…The Adits hope for peace.
Is there any good bands from Canada right now? Is the punkscene/metalscene/hardcorescene big? How is it in your hometown?
-Again, Canada is huge! There are tons of great bands in Toronto, Vancouver, Saskatoon and every single shit-hole in between. Record labels like Wasted Wax Records in Alberta, Canada are really helping to bring new Canadian bands into the light of day.
What do you know about Sweden? Have you been here sometime? What is typical Swedish?
-The Adits have never been to Sweden, but would love to come over and enjoy some of those delicious Swedish Fish candies! We know that the people are very attractive in Sweden and that the weather is just as cold as Canada, other than than…we gotta come see for ourselves!
Have you heard any good bands from Sweden?
-There are so many awesome bands in Sweden! A few of our favourites are: Raised Fist, 59 Times the Pain, Refused and Meshuggah.
Your lyrics, who does them and what influences you? Please tell me a little about the following songs -I hate the summer -Mexican Tonight -Piggy palace
-Kirk Stevedore writes the majority of the lyrics for The Adits. He gets his influence from living life and having an eye for all the odd shit that is in the world. "I hate the summer" is about climate change and how the wildfires that come every year to our region of the world…not nice stuff. "Mexican Tonight" is a weird little tale of cannibalism…Google Armin Meiwes. "Piggy Palace" is a true crime hit about the asshole serial killer Robert Pickton of Vancouver.
Is there any subject that you never will write anything about? Or isn´t anything sacred?
-The Adits will write about anything, as long they feel like it. There is zero pressure to try and be a political band or anything like that. The Adits are just a fun, punk rock band.
Politic and music, does it goes hand in hand? Which is your most political song? Is it important to get out your opinions in music? Or is it OK to play music and not sing about politics?
-Politics and music can go hand-in-hand, but not always for The Adits. If an Adits song is political, it may be cleverly disguised…we'll leave that up to the fans to sort out.
Best political band/artist?
-Favourite political bands: Dead Kennedys, The Clash and Propagandhi
Do you think that music(lyrics and so on) can change anyones life, I mean people who listens to music? Do you have any example?
-Music can definitely change a person's life and can definitely help drag people in and out of hard times. As a musician, it is most certainly therapeutic to play. As a listener, there may be no better way to forget about the problems of the day than to crank up your favourite records.
Your favorite recordcover alltime? Who will do your recordcovers? And do you have any good recordstores in your hometown?
-Fear "More Beer" or Meatmen "Pope on a Rope" are a couple of our favourite record covers. We are creative guys, so we make our own record covers. Our favourite local record shop is: the Late-Night Record Shop in Trail, British Columbia.
Is it important to get out physical records of your stuff? Why or why not? Vinyl, CD, cassette, what do you prefer if you could choose whatever ? The three songs I got will it be something physical?
-It is important to get out some physical copies of our music. We like both vinyl and cassettes, but a band nowadays must also have shit online…we like to make videos for most of our songs…find us on Youtube already.
Please tell me a funny thing which have happened during your career and under some gig?
-A funny story about a live show is: One time Kirk Stevedore opened for the Misfits in Toronto, and when speaking with Jerry Only without makeup, Kirk thought he was the bus driver…oops!
How does your audience look like? Which people do you miss on your concerts? Which is the biggest band you ever have played together with?
-Our audience is always drunk and ugly…real Canadian punks! We've played with: DOA, Chixdiggit!, The Real McKenzies and countless other rad bands.
Please rank your five favoriterecords, five favoriteconcerts and five most important things in life?
-The Adits have too many favourite albums, spanning many genres, to be able to limit it to a Top 5. The most important things in life are: family, music, gold, cigarettes/weed and beer.
First, last and most expensive record ever bought? Or do you don´t buy records anymore?
-We all buy records all the time…they are all too expensive!
.Is it boring with interviews? Is it much interviews?
-Interviews are not boring, they are fun and are the best way to learn about the bands we like.
Do you care about reviews? Which is the most peculiar you ever had, with this band or any other band you have been to? Have you ever changed anything after a bad review?
-The Adits have never had a bad review, even after 3,087 interviews. Maybe we are just that kind…or maybe we are liars!
Which bands do people compare you to, is it boring that people compare you to other bands or is it understandable? Which is the most odd band you have been compared to?
-The Adits like to think they have their own, original sound, but it is impossible to think that many of our influences don't unconsciously end up in our songs. The band has been compared to SNFU and Dayglo Abortions…both of which humble us.
If you could choose five bands from the past and the history and nowadays and both dead and living bands to have a concert together with your band. Which five have you been chosen?
-Five bands we'd like to play with: Meatmen, Fear, The Chats, Dwarves and Refused.
Is music a good way to get out frustration and become a nicer person outside the music?
-Music is the only release of frustration we have as a band. Whether it's depression, stress or family-issues, music is always there waiting to heal. Music is the lifeblood of our souls.
Which is the most odd question you ever have got in an interview?(Except this one)
-There are no annoying questions. Every question gets an answer which, in turn, just gives the fans more information about The Adits!
Which is the question you want to have but you never get. Please ask it and answer it?
-Q: What happened to the old lineup? A: The Covid pandemic pulled the original Adits in different directions, leaving a void in the band. But the band is steadfast and will last through anything…there are not too many bands out there that haven't had lineup changes over the years, The Adits are no different.
Futureplans for the band? You have a some huge shit happening this year…tell us?
-The future for the band is brighter than a solar flare. A killer record is coming, concert dates are coming back and The Adits will be producing several more hilarious music videos! After all that, we're coming to Sweden…please get on that for us, Peter!
For yourself?
-The plan for the next little while is to continue reenforcing our song material through rehearsal, concerts, recording and good times.
Wisdomword?
-Word of wisdom: Never stop digging. You may be one kilometre away from a million dollars, but you could also only be a centimetre away. Keep on!!!
Something to add?
-Thanks for the recognition and the support from Sweden. The Adits love ya!
One more question…. beerfavorite sort? If you did a beer which sort would it be and what have it been called?
-If The Adits had a beer it would be a pilsner or lager named: Golden Gods.
Tell us about the cartoon musicvideo Cops & Roger
-The Cops & Roger cartoon is about overzealous cops that like to wait outside concert halls and bust people for having two beer.